Women journalists make history in Georgia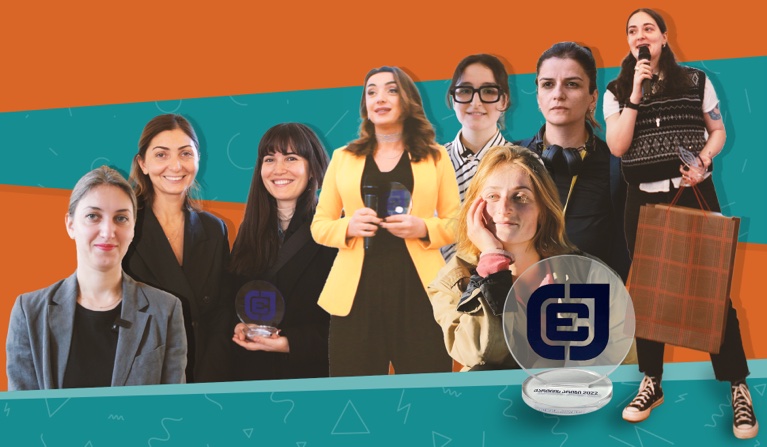 Launched in 2012, the Georgian Charter of Journalistic Ethics under the USAID Media Program in Georgia recognizes ethical, fact-based, and rigorous journalism through its prestigious Charter Awards. For the first time in its history, all the winners were women journalists. In addition to being honored, each winner received a trophy and a new laptop so that they can continue their critical work. Equipping and empowering women journalists is essential to a quality media environment, especially as abuse and violence towards them increase.
Selected from over 120 applications, the nine winners for 2022 were Eva Artmeladze, Anano Bakuradze, Nino Bidzinashvili, Eka Kadagishvili, Manana Kveliashvili, Marian Nikuradze, Nino Ramishvili, Nino Tarkhnishvili and Teona Tskhomelidze.
Three of the winning stories covered women's issues. Nino Tarkhnishvili won Best Multimedia Article for her story about impoverished surrogate mothers who give birth as a way to raise money for their own families. Despite surrogacy being a taboo issue in Georgia, Nino's careful research and ethical reporting brought it to light. "We can play a vital role in covering women's issues because we have a better emotional understanding of them and our interviewees sense this. I honestly believe my articles can help to solve problems. In fact, I've already seen positive results. It's clear that by choosing the right topic and approaching it in an ethical way, journalists can change society," said Tarkhnishvili. 
For Nino and Teona Tskhomelidze, the award also gave them their first personal laptop. "I even wrote my Masters thesis on a smartphone," said Tskhomelidze. With their new laptops, their articles will be easier to transcribe, and their life-saving stories will reach more of their audience. This is important as women worldwide are continuing to report on key gender issues such as early marriage, domestic violence, and femicide.
Mariam Gogosashvili, Director of the Georgian Charter of Journalistic Ethics, also praised this historic achievement, "the jury evaluated journalism only, not gender, yet all 2022 winners are female. It's great that we have so many such professional, successful women journalists contributing to positive change."
USAID Media Program is a 5-year project implemented by IREX in Georgia and funded by the United State Agency for International Development. It aims to build a culture of solidarity across the media sector while bringing up new voices and creative formats that reach audiences across platforms. More specifically, the program will work with media outlets to challenge gender stereotypes to advance the role of women. To achieve this, IREX is working together with Zinc Network, the Georgian Charter of Journalistic Ethics, Media Advocacy Coalition (MAC), and Open Society Georgia Foundation (OSGF).