Transforming education for students in Pakistan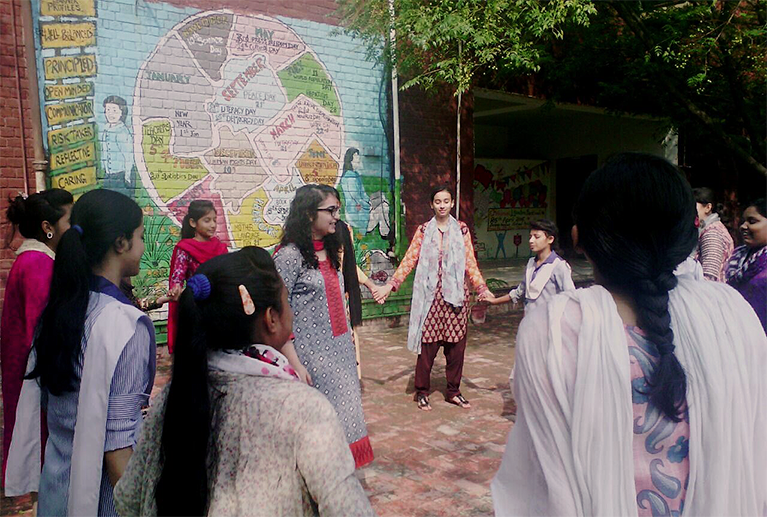 "Lasting change is incremental," states Hina, an alumna of the Global Undergraduate Exchange Program in Pakistan (Global UGRAD-Pakistan). "If I can get one student to improve, even by one or two [grade] points, I know I'm making a difference in their life and the [lives] of others."
Hina describes herself as a change-maker. Since returning to Pakistan after the completion of her program in the United States, she is now an active part of Pakistan's commitment to improve both the quality and access to education for its youth. The government of Pakistan is currently supporting and engaging in country-wide efforts to grow the number of students enrolled in higher education in order to create a knowledge-driven economy. Most notably, this is occurring through a recent "knowledge corridor" initiative that will enroll 1,500 Pakistani students in American PhD programs in fall 2017.
Hina currently manages operations for a partner school for Rabtt, a social entrepreneurship initiative that provides supplemental support to existing school curriculums by engaging students in activities that develop their critical thinking skills. As a Rabtt fellow, she leverages the hard skills she learned in the Global UGRAD-Pakistan program such as budgeting and leading a team, and soft skills such as patience and empathy. 
Hina oversees seven other Rabtt fellows and works with 40 students to strengthen their mental acuity and critical thinking. Through workshop activities addressing art, math, and recreation, Hina and the other Rabtt fellows strive to bring a holistic approach to students' overall academic education. Watching the step-by-step improvement of the young people around her keeps Hina motivated.
Building leadership skills to create lasting change
"During the [Global] UGRAD-Pakistan program, I got out of my comfort zone," explains Hina. "Now I'm trying to do the same at Rabbt, to understand that there is a whole other world out there."
Hina regularly volunteered with different organizations on and off campus at her host institution, Minnesota State University, Mankato during her time in the US. Working at the Lincoln Community Center in Mankato, Minnesota in the basic education program for adult learners, she gained another set of leadership skills critical to her current work in education: budgeting and curriculum development.
These new abilities continue to expand through her role as a camp manager—another part of her portfolio at Rabtt. In collaboration with established educators that volunteer their experience, Hina assists with the development of new curriculum that both challenges and empowers students.
"I always knew I wanted to contribute to make my community stronger, but the [Global UGRAD-Pakistan] program taught me [the] skills and tools to turn my intentions into a reality," says Hina.
Every day, Hina sees how her camps help students to think critically and value their education. She celebrates each victory, such as seeing a disengaged student begin to finally participate. 
Extending access to quality education for communities
Hina's experience with the Global UGRAD-Pakistan program and with Rabtt has strengthened her ambition to make a lasting impact through education in her community—particularly in improving access to education for women.
"I've heard many personal accounts of women that were unable to or could not afford to continue their education for a variety of reasons," says Hina. "I hope to bridge that gap in our society by making education accessible and affordable, so no woman feels like she has to choose a life without it."
This is a personal goal for Hina. She plans to use her own experience as an example, as she pursues higher education in the hopes of inspiring others toward education.
"After [the Global UGRAD-Pakistan program], I learned how we have to make a change in ourselves in order to understand our role in our societies and communities."
The Global Undergraduate Exchange Program in Pakistan is sponsored by the U.S. Department of State with funding provided by the U.S. Government and administered by IREX.