Teaching youth digital literacy skills for careers in technology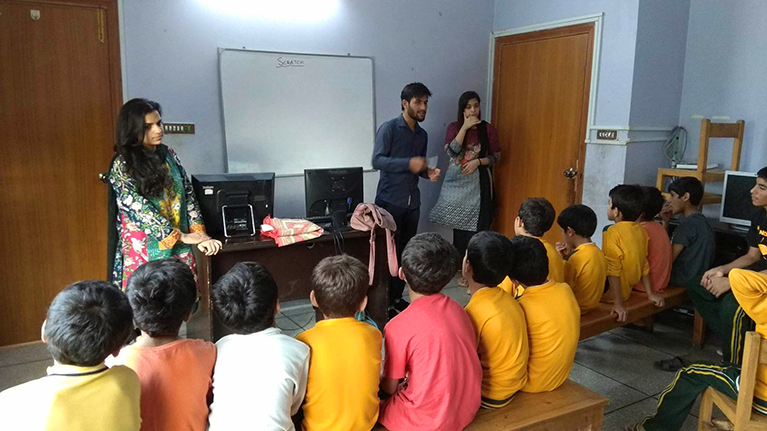 Urwa, an alumnus of the Global Undergraduate Exchange Program in Pakistan (Global UGRAD-Pakistan), noticed a growing trend in Pakistan: The country ranks 20th in the world by number of internet users, with over 34 million people accessing the internet. This has created a need for skilled labor to meet the demand for information technology jobs in the country and an opportunity to help young people start careers in technology.
As a software engineer, Urwa wanted to bridge the gap between the demand for skilled labor and the supply of trained technology professionals in Pakistan. Inspired by the community service projects that he pursued during his time at Grand Valley State University through Global UGRAD-Pakistan, he decided to partner with VOICE, an orphanage, to empower underprivileged youth to learn basic IT and computer skills.
"Most of these children don't grow up with access to even the most basic technology," says Urwa. "So when and if they decide to pursue a career in this field, they have a difficult time adjusting to and familiarizing themselves with different tools of the trade."
Making an impact in marginalized communities
While at Grand Valley State University, Urwa gained an appreciation for how volunteerism can support marginalized communities through participating in community service work. He noticed how working directly with others using a hands-on approach can foster and sustain learning, especially for youth.
The leadership skills I gained [through Global UGRAD-Pakistan]... enhanced my outreach to community organizations to support training in digital literacy.Urwa, a Global-UGRAD Pakistan alumnus
"The biggest takeaway from my experience in the United States is that to have a lasting impact… you must physically engage in community service," says Urwa.
Urwa credits the Global UGRAD-Pakistan program with giving him the opportunity to engage with people from different backgrounds, strengthen his interpersonal and leadership skills, and gain the knowledge and experience to lead and manage a community-based project.
"The leadership skills I gained [through Global UGRAD-Pakistan] helped me create a successful partnership with VOICE to sustain the trainings in the future," says Urwa. "They also enhanced my outreach to other orphanages and community organizations to support training in digital literacy."
Increasing access to education and meeting workforce needs
Empowering underprivileged youth with digital literacy skills not only meets a key workforce demand, but also extends much needed access to education throughout various communities. When Urwa first began his trainings, he was working with 10 students. That number has since expanded to 72. Alongside trained volunteers, Urwa now teaches computer and technology skills each week to youth in orphanages across his city. As part of the trainings, Urwa takes youth to an information technology awareness workshop held at the software company where he works.
"The workshop is a vital component of the training because it gives the youth firsthand exposure to a career in the software and computer industry, which is an experience that they would not easily forget," says Urwa.
His enthusiasm has even inspired his colleagues to get involved, which resulted in raising sizeable donations at an annual fundraiser for one of the orphanages.
In the future, Urwa plans to develop his training project into a formal social entrepreneurship venture where he can recruit and train additional volunteers that will help expand the reach of the initiative. He sees university students, with their increased availability, as key players in his vision.
"I have very ambitious plans for this project since I sense great potential to bring about positive change in [the] lives of many people," says Urwa. "I desire to recruit volunteers from various universities to spread this message and actively [bring] such initiatives [to] other orphanages."
The Global Undergraduate Exchange Program in Pakistan is sponsored by the U.S. Department of State with funding provided by the U.S. Government and administered by IREX.