Leadership training improves graduation rate at minority language school in Georgia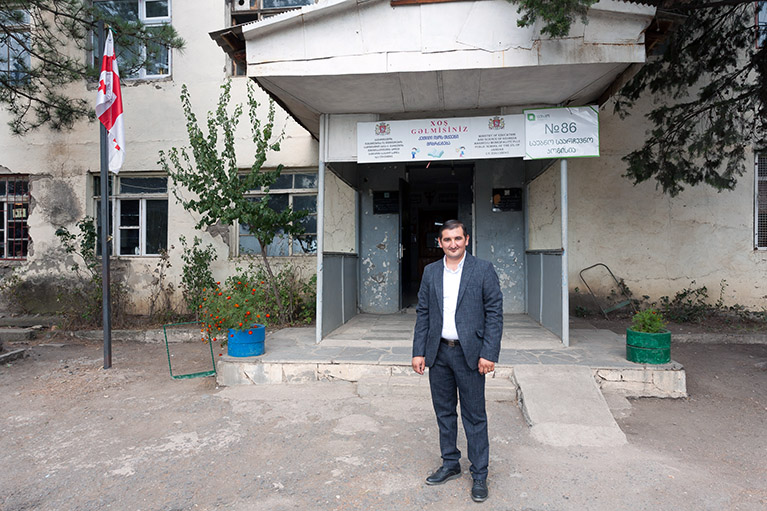 Principal Vusal Bairamov of Jandara Public School in Marneuli, Georgia, recently completed the Training Educators for Excellence training, the first government-provided professional development support for educators conducted in Vusal's native language of Azerbaijani. By applying what they learned during the two-year training cycle, Vusal and the teaching staff at Jandara Public School increased the graduation rate by more than 30% and doubled the number of graduates who went on to pursue a higher education.
At the crossroads of western Asia and Eastern Europe, Georgia is the most ethnically diverse state in the south Caucasus. The country's largest ethnic minority, Azerbaijanis compose 6.5% of Georgia's population. They oftentimes struggle to fully integrate with Georgian society due to a language barrier, which contributes to high rates of unemployment and migration.
In Marneuli, a small city in southern Georgia home to 98,000 Azeris, Principal Bairamov is committed to changing these trends for his students at Jandara Public School, which educates over 200 Azeri students from primary school through secondary school.
Vusal's commitment to change is personal. Born and raised in Marneuli, Vusal graduated from Jandara Public School in 2002 and returned there to teach following his university education. In June 2017, he was appointed principal.  
Fostering shared leadership and supporting teacher initiative
As a new principal, Vusal faced no shortage of challenges, including poor student discipline, tardy teachers, and low graduation rates. At first, he tried to tackle each challenge alone.
"When I became principal… I took on all the work myself, and I worked after hours as well," remarked Vusal. But he and 304 of his fellow principals from Azeri-, Armenian-, and Russian-language schools across Georgia started changing their approach after participating in the Training Educators for Excellence training.
The idea of shared leadership was very new to me.

Principal Vusal Bairamov.
"The idea of shared leadership was very new to me," said Vusal. Following the training, he began seeking ways to distribute leadership responsibility across the school. For example, he assigned accounting duties to his staff and partnered with teachers to organize and lead after-school activities.
IREX supported Georgia's National Center for Teacher Professional Development to map out a full two-year learning cycle for teachers and principals. The learning cycle allowed teachers and principals to support each other's learning, which encouraged a collaborative environment from the outset of the training.
Training in the local language
Educators cite the opportunity for professional development offered in their native Azeri as an important factor in bringing about positive changes at Jandara.
"When we [previously] attended teacher trainings in Georgian, we fell behind because we first had to translate what the trainer was saying, which took time. By the time we caught up, the trainer had moved on," noted English teacher Sevinch Namazova, who has been teaching at Jandara for 11 years.
Vusal echoed Sevinch's thoughts. "If [the trainings] were conducted in Georgian, I only would be able to concentrate on a few words. Since it was conducted in my language, I was able to process the training myself, take notes, bring it to my school and implement something."
Encouraging the pursuit of higher education
Vusal and the teachers of Jandara Public School are now working closely to track student progress and encourage them to pursue higher education. Teachers are also working together to implement a range of activities, including academic competitions and quizzes, ICT and media literacy courses, and free Georgian-language lessons after school. To further encourage teachers and engage students, Vusal began taking high performing students on excursions to local historical sites. 
This work is paying off. In 2015, just 53% of the senior class graduated. Of those who graduated, less than one third of them went on to study at university. In 2016, graduation rates dipped to 38%.
In 2017, following the first year of training in the program, over 80% of the senior class graduated. Of those who graduated, over 78% went on to university.
"I am always telling the students that life is better when you are educated," said Vusal.
"When I meet with students, I explain to them how important it is to pursue higher education, using myself as an example. I graduated from this school, I went to university, and I came back to this school to help my community."
Training Educators for Excellence is funded by the Millennium Challenge Account – Georgia and is implemented by the Republic of Georgia's Ministry of Education and Science through the National Center for Teacher Professional Development with technical support from IREX.