How entrepreneurs are advancing dairy farming in Pakistan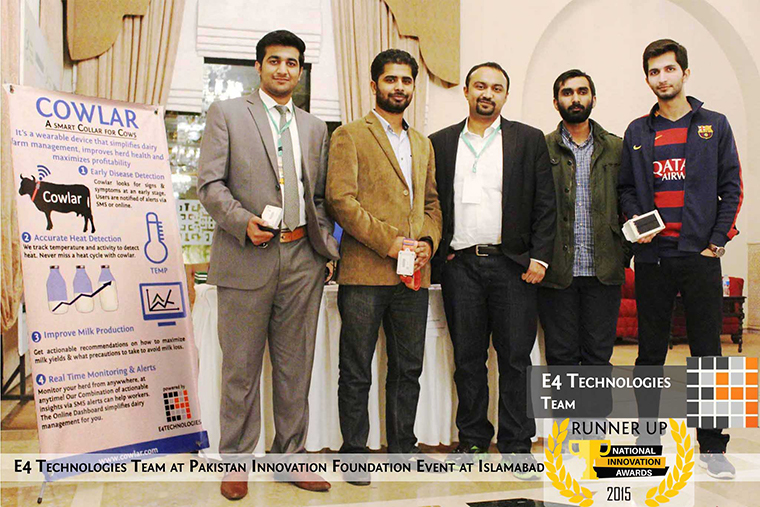 "Pakistan is one of the top five providers of milk in the world, but the average cow in Pakistan produces three times less milk than the cows in Europe and other countries," says Usman, a 2014 alumnus of the Global Undergraduate Exchange Program in Pakistan (Global UGRAD-Pakistan).
Usman is working to improve dairy production in Pakistan by helping cows live longer, healthier lives with an innovative device called Cowlar.
Developing the Fitbit for cows
Developed by Usman and other members of the Pakistani startup E4 Technologies, Cowlar is a smart collar that uses wireless sensors to monitor the health of up to 250 cows in a four kilometer radius. Farmers receive SMS alerts and analytics from the collars in English, Urdu, and regional languages spoken in Pakistan on their phones. This allows farmers to monitor their herd's health and prevent diseases as soon as symptoms arise.
"With this technology, we are tracking milk [production], temperature, movement, disease, and general health of cows," says Usman, who developed the product's user interface. "[Cowlar] detects symptoms at every stage and gives actionable advice to farmers."
According to Usman, Cowlar allowed Pakistani farmers to increase their milk yields by one liter a day, which amounts to an increase of almost $30 USD per cow per month.
Becoming a community-minded technology expert
Usman credits his participation in the Global UGRAD-Pakistan program for inspiring him to improve agriculture in Pakistan. Usman originally came to the United States through the program to study computer science and business development at Alcorn State University in Mississippi. Dr. Dovi Alipoe, Usman's academic advisor and director of Global Programs at the historically black land-grant institution, also encouraged him to explore the potential of technology and analytics for agricultural development.
"Our history as an HBCU lends itself to our commitment to community service," says Dr. Alipoe. "Usman, coming from a developing country, saw some of the problems [facing rural people] and opened his eyes to look for solutions."
Studying at a rural university with robust agricultural research capabilities eventually influenced Usman to apply his knowledge to help rural communities. "I didn't just learn skills to better myself, but to better my community and country as well," says Usman.
Improving dairy production around the world
E4 Technologies is currently taking Cowlar orders from six countries: Pakistan, India, China, Malaysia, the United Arab Emirates, and Germany. Usman and his colleagues are also semifinalists in the GIST Tech-I competition, which awards venture capital from Silicon Valley and opportunities to network with technology professionals from around the world.
Usman is already looking for ways to use the Cowlar technology for buffaloes and other animals. He plans to continue participating in community development projects in the future, and wants to conduct more research on methods to integrate technology and agriculture to benefit rural communities in Pakistan.
"I'm from a remote area in South Punjab and I really want to do things to help the people there [who have] limited facilities and education," says Usman. "My aim is to give power to the farmers and revolutionize the way they produce milk in Pakistan and all across the world, in order to [improve] their lives."
The Global Undergraduate Exchange Program in Pakistan is sponsored by the U.S. Department of State with funding provided by the U.S. Government and administered by IREX.