Empowering girls in Gilgit-Baltistan through sports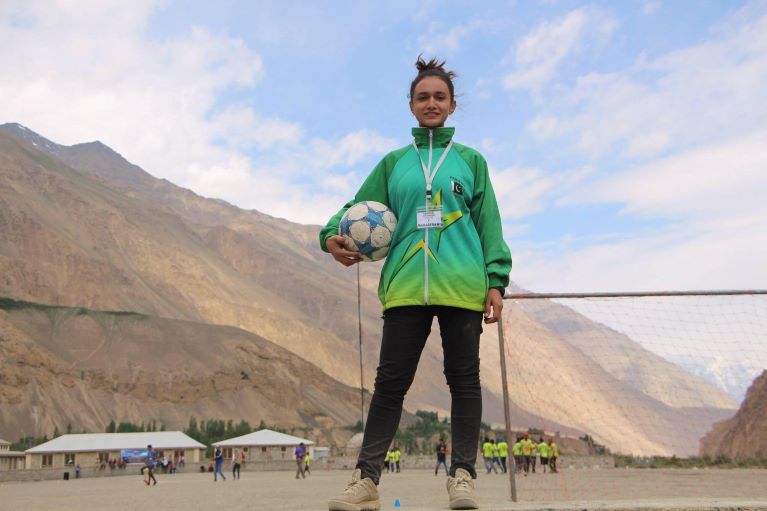 In 2018, Karishma founded the Gilgit-Baltistan Girls Football League with the goal of involving girls in sports. Because of her experience as a participant in the Global UGRAD-Pakistan program, Karishma developed leadership and business skills that helped her grow the league to eight teams in several villages.
Karishma is from a small village nestled against breathtaking mountains in Gilgit-Baltistan in the north of Pakistan. In this remote community of around 2,000 people, there were not many opportunities for girls to become involved in sports. She fell in love with soccer (known as football in Pakistan and in many countries around the world) after her father taught her to play. She then went on to join clubs in Lahore and Karachi and play for her country's team in the 2016 Jubilee Games, an international sports competition for Ismaili Muslims held in Dubai.
"When I started playing football, I did not really see girls," Karishma said, noting that some parents did not allow their daughters to participate. But the experience of representing Pakistan internationally at the Jubilee Games gave her an idea: "why not do something this big in a smaller region?" She headed back to her village with a plan to start a league for girls who had not been given the chance to play.
Initially, Karishma was not sure how the idea would be received, but when she arrived at the field for the first practice, there were more than 100 girls waiting to join. With help from her sister, a few cousins, and many local community members, she slowly expanded the project to other villages in the area. The league now has three seasons under its belt and has expanded to include eight teams for girls ages 12-23 from different villages. The girls attend an annual week-long soccer camp, and the community comes to cheer at their matches.
Gaining the skills to manage a team
When Karishma and her sister first started the initiative in 2018, she had "no idea" how to run a soccer league and attract sponsors. She credits her UGRAD semester at Emporia State University in Kansas during spring 2020 with helping her expand the Gilgit-Baltistan Girls Football League. Since returning home, two additional community leagues have been created consisting of eight different teams of young women. The organization has received increased media attention, including a feature on  ESPN, helping to reach greater audiences.
While living in Kansas as a Global UGRAD-Pakistan participant, Karishma learned financial management, a skill that helped her oversee her league's finances and project expenses. She also developed confidence in public speaking through classes in communication and giving presentations about Pakistan to people in the Emporia community. "That really helped me in my leadership role back home," she said, as a big part of her job is helping to convince local community members of the league's benefits for girls.
Karishma's academic studies at Emporia also widened her vision. "I had a really great teacher for my international business course, and she made me fall in love with… the business cultures of different countries," Karishma said. "That really helped me understand that my league can become something bigger in the future."
Forming leaders on and off the field
Besides the joys of having fun on the field, Karishma says the league has had a positive impact on her players' lives more broadly and produced a "ripple effect" in the participating villages by creating a community centered on female empowerment and changing opinions of what girls are capable of. Over 120 girls have participated in the league over the years, and many have received college scholarships. "We see a lot of change in the overall community," she said. "Families are supporting their daughters."
Karishma is currently working towards her bachelor's degree in marketing at the University of the Punjab and hopes to pursue a master's degree in sports management or business after she graduates. Karishma plans to keep expanding it to reach even more girls: "maybe one day we will make it a national league."