Building interfaith harmony in Pakistan through community dialogue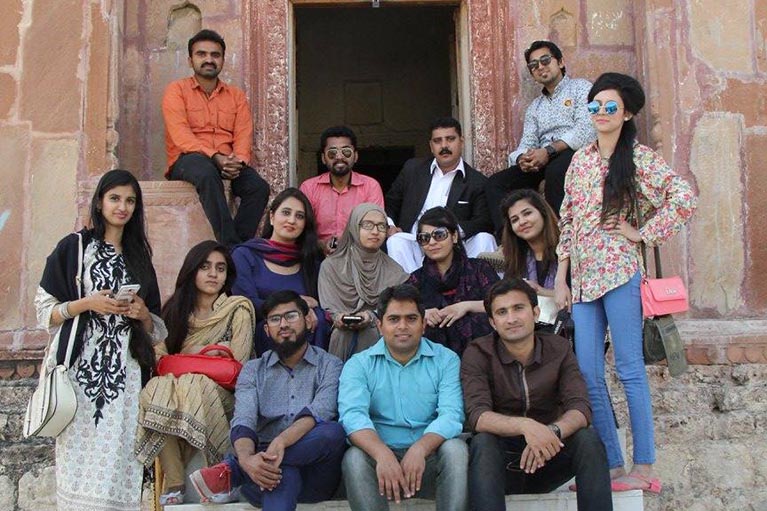 When Laraib arrived in Emporia, Kansas, to attend Emporia State University through the Global Undergraduate Exchange Program in Pakistan (Global UGRAD–Pakistan), she had no idea how much the experience would impact her life in building interfaith peace and understanding in her community. 
Within a month of arriving, Laraib's father suddenly died. Her friendship family in Emporia, with whom Laraib developed a semester-long friendship, helped her through the loss, inviting her to their house and their church to break bread and be part of their community.
Laraib was surprised by the openness and hospitality of her friendship family and their church, as well as by their curiosity about her Muslim faith. Stemming from this, Laraib decided to lead an interfaith dialogue event through Emporia State University's Office of International Education. This was the first step for Laraib on her journey to expand access to information about religious diversity and foster mutual understanding in communities.
"Laraib shared so much Pakistani culture with us while demonstrating curiosity, resilience, and faith," reflects Laraib's friendship mother. "During our first days together, we visited the local mosque [in Wichita] and explored understandings and misunderstandings of each other's countries."
Through this community dialogue experience, as well as the knowledge and leadership skills she learned from Global UGRAD–Pakistan, Laraib was inspired to spark a peacemaking movement among communities in Pakistan.
"I always believed that I knew about the religious diversity of the world, but experiencing what diversity really was in America made me appreciate the diversity at home," Laraib says. 
I want to help build a future of enlightened and passionate Pakistanis who understand that it is the small acts of kindness that change lives.

Laraib, Global UGRAD-Pakistan alumna
Supporting religious diversity and inclusion
When Laraib returned to Pakistan, she launched Mashal, an organization dedicated to bridging the gap between people of different religious and ethnic backgrounds in Pakistan. Through a common theme of shared humanity and civic participation, Mashal aims to promote mutual understanding and peace, while highlighting diversity in communities across the country.
Mashal's first initiative was a dialogue session and experimental learning visit to four religious holy sites in Lahore: a gurdwara, mosque, church, and temple to represent the Sikh, Muslim, Christian, and Hindu communities in Pakistan.
Through the event, attendees learned about each other's beliefs and customs and returned to their own communities to share what they learned. During the event, the hashtag #BeAMashal was born, which translates to "be a light." It has now been shared almost 1,000 times on Facebook and Twitter.
"People were surprised to see someone of my background—an urban, Muslim woman—take initiative for people that were different from me," Laraib says. "I learned that people sometimes just do not know what binds us together as humans. It is my calling to show people that connection."
Fostering interfaith harmony and peacebuilding
Laraib was invited to represent Pakistan at the 2016 Women Deliver conference in Copenhagen, Denmark, which was partially sponsored by the Bill & Melinda Gates Foundation. There, she gained deeper knowledge and expertise in training and project facilitation. She also learned how to create appeal for her initiative, especially for those who are not supportive of the message that Mashal promotes. Laraib credits the facilitation team with supporting her and inspiring her to continue her work. 
"I learned more in a few days about leading people than in all my years," she says.
Now Laraib is busy planning a diversity training to empower other interfaith dialogue supporters. Once trained on the initiative's approach, Mashal facilitators will go to key communities throughout Pakistan to conduct trainings and lead field trips to religious sites within their own communities, creating a spirit of peacebuilding. 
"I want to help build a future of enlightened and passionate Pakistanis who understand that it is the small acts of kindness that change lives," Laraib says. "It is kindness that leads to a more secure and prosperous nation."
The Global Undergraduate Exchange Program in Pakistan is sponsored by the U.S. Department of State with funding provided by the U.S. Government and administered by IREX.