Advancing economic opportunities for women in Pakistan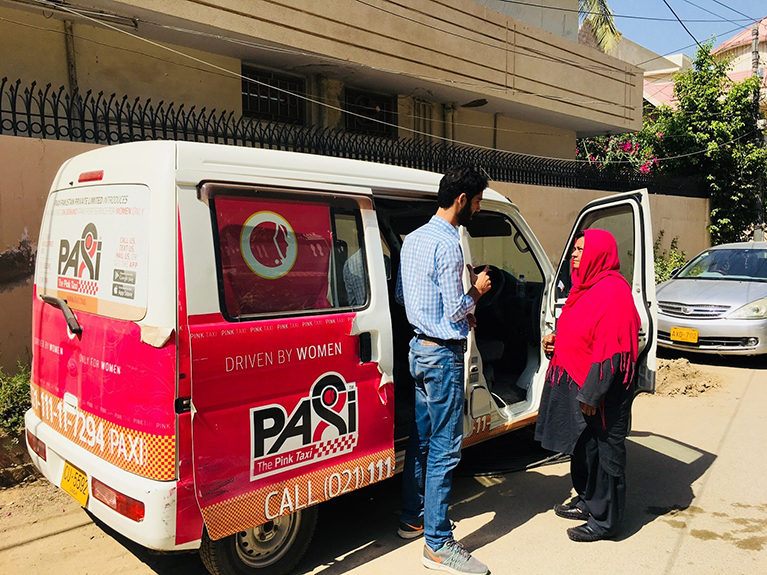 Before his time in the United States through the Global Undergraduate Exchange Program in Pakistan (Global UGRAD–Pakistan), Haris was determined to advance women's empowerment. After participating in the program, Haris gained the leadership skills to support economic opportunities for women through a viable initiative called Pink Taxi.
In Pakistan, women make up only 22.2% of the labor force. When Haris's sister became a single mother, Haris assisted her financially. He realized how difficult it could be for a woman to find employment and provide for a family on her own. His sister recently passed away, and Haris pledged to honor her memory by supporting other women in need.
During his Global UGRAD–Pakistan experience at Murray State University in Murray, Kentucky, Haris volunteered at the campus Women's Center, where he assisted women in need by connecting them to financial services, childcare, and career training in the local community. While volunteering, he gained respect and awareness of the needs of diverse populations in his host community and the impact that service organizations can have to promote inclusion for marginalized communities such as single mothers.
Supporting inclusive employment opportunities for women
When he returned home to Karachi, Pakistan, Haris combined this community experience with the new project management skills he developed during the Global UGRAD–Pakistan program and examined ways to serve disadvantaged women. He discovered and applied to work at a new start-up: Pink Taxi.
Pink Taxi is a mobile transportation app, similar to Uber or Lyft, that employs female drivers to provide transportation for women. Women-for-women taxi services first began in London in 2005 with Pink Ladies, created to arrange safe transportation, free of potential harassment from male taxi drivers.
Inspired by the success of Pink Ladies and women-for-women taxi services in other countries, the CEO of Paxi Pakistan Private Limited (Paxi), Shaikh Zahid, saw an opportunity to develop the same type of service for women in Pakistan. Paxi is a technology-based transportation company in Karachi. Pink Taxi was officially launched on International Women's Day in 2017.
Haris was attracted to Pink Taxi's socially conscious model. The model supports women in need of financial assistance, making it easier for them to lead independent lives and obtain employment that pays above the minimum wage.
"We are a social entrepreneurial entity and are trying to raise the standard for women, single mothers, divorcees, and women with drug-addicted spouses," Haris says. "Pink Taxi is trying to make lives easier for these women... we support them and train them so they can become professional drivers."
I am hopeful that with Pink Taxi, we will have a better tomorrow for these women, and for women in the transport industry across Pakistan.Haris, a Global UGRAD–Pakistan alumnus
Now Haris leads the administrative and training departments for Pink Taxi. He credits Global UGRAD–Pakistan for building the leadership skills that he uses on a daily basis: time management, communication, critical thinking, and project management.
"These skills have been crucial, as I manage the recruitment and training of Pink Taxi pilots, a three-month comprehensive training program for the new recruits, and the Pink Taxi car fleet," says Haris.
To ensure that Pink Taxi engages women from marginalized communities, Haris oversees a rigorous recruitment and selection process. Pink Taxi conducts outreach through popular internet sites, social media, and local TV channels. Recognizing the limitations of certain media outreach, Haris also mobilizes his professional network in underserved areas of Karachi to spread the word. He plans to implement a door-to-door campaign in the near future.
Implementing women-centered design in social entrepreneurship
While there are other transportation services that employ women drivers in Pakistan, they do not follow Pink Taxi's social entrepreneurship framework or women-for-women model.
"Pink Taxi has 17 female drivers in Karachi," Haris says. "We plan to add an additional 24 drivers to the service once a new pool of female recruits are trained."
In addition to driving skills, the women also learn communication, customer service, first aid, crisis management, digital literacy, self-defense, and English-language skills. Pink Taxi also has a specialized safety department that drivers can call 24/7 in case of an emergency. This extra layer of security is attractive to both drivers and passengers.
Haris and his colleagues are currently developing partnerships to provide Pink Taxi services in other cities in Pakistan, including Sukkur, Peshawar, Lahore, and Islamabad. Haris is eager for more companies to create jobs and opportunities for women so that women have the support to move ahead financially and make a lasting contribution to the economy.
"I am hopeful that with Pink Taxi, we will have a better tomorrow for these women, and for women in the transport industry across Pakistan," Haris says. "When I advocate for these women, I am doing the least that I can do to make my sister proud of me."
The Global Undergraduate Exchange Program in Pakistan is sponsored by the U.S. Department of State with funding provided by the U.S. Government and administered by IREX.