An Examination of MOOC Usage for Professional Workforce Development Outcomes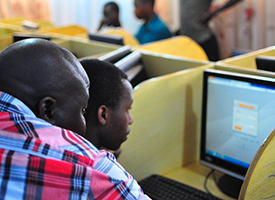 This report hopes to illuminate the Massive Open Online Course (MOOC) landscape in developing countries to better understand the motivations of MOOC users, and afford insights on the advantages and limitations of using MOOCs for workforce development outcomes.
The potential of online learning has long afforded the hope of delivering quality education to anyone, anywhere in the world. The recent development of Massive Open Online Courses (MOOCs), however, heralded an exciting new breakthrough, offering instruction and professional skills development at the highest academic levels. Suddenly, anyone with the sufficient resources necessary to access the internet could take courses from the world's leading universities, often free of charge.
The Advancing MOOCs for Development Initiative (AMDI) was launched through funding from the United States Agency for International Development (USAID), in partnership with IREX, the University of Washington's TASCHA program (Technology & Social Change Group), and CourseTalk.
El aprendizaje en línea proporciona desde hace mucho tiempo, la esperanza de acceder a educación de calidad a cualquier persona, en cualquier parte del mundo. El reciente desarrollo de cursos en línea masivos abiertos (MOOC, por sus siglas en inglés) representa un nuevo y emocionante avance en este sentido, al ofrecer el desarrollo de habilidades profesionales y de enseñanza en los más altos niveles académicos. Hoy en día, cualquier persona con los recursos mínimos para acceder a Internet podría tomar un MOOC, a menudo de forma gratuita, impartidos por las principales universidades del mundo.
En enero de 2015, se puso en marcha la Iniciativa de Fomento de MOOC para el Desarrollo (AMDI, por sus siglas en inglés) financiada por la Agencia de los EstadosUnidos para el Desarrollo Internacional (USAID), en asociación con IREX, el programa TASCHA (Grupo de Tecnología y Cambio Social) de la universidad de Washington y CourseTalk.
Este informe analiza el panorama MOOC en países en desarrollo con el fin de comprender mejor las motivaciones de los usuarios y proporcionar perspectivas sobre las ventajas y limitaciones del uso de los MOOC para alcanzar objetivos de desarrollo laboral y profesional.