Learn with IREX at CIES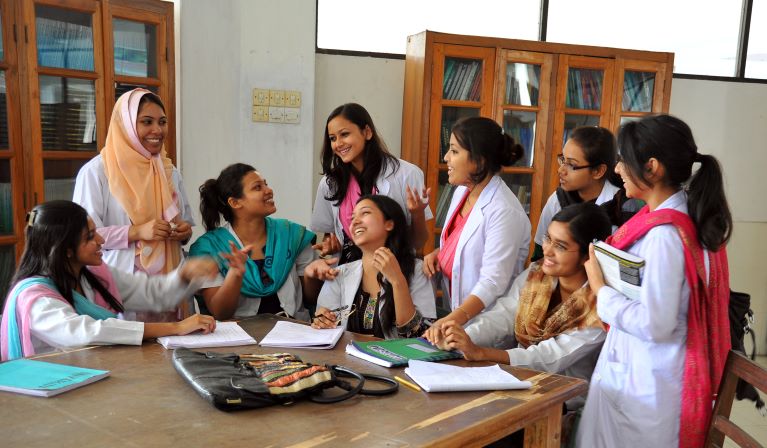 IREX technical experts in youth, education, and media literacy will share their insights and learnings at this year's Comparative and International Education Society (CIES) Conference in Minneapolis, MN.
IREX sessions at CIES highlight key technical work including higher education capacity building, teacher workforce/pre-service teacher education, girls' education and empowerment, digital literacy and critical information consumption, youth essential skills/skill measurement, and implementation research.
Join IREXers virtually and in-person for the following sessions:
Monday, April 18, 6:00 to 7:30 a.m. CDT, Virtual Pajamas Session, VR 110-4
Presenter/Discussant:  Emily Miller
Youth globally need to adapt to the changing nature of work, making the skill of "Learning to Learn"—a skill that enables youth to harness a "growth mindset," learn independently, and adapt to change—especially critical. This presentation will introduce listeners to IREX's Youth Essential Skills (YES) Toolkit, which prepares young people for the opportunities and challenges of the future by developing crucial soft skills and preparing them to become adaptable learners in a time of rapid change.  We will discuss how the 11 research-backed essential skills honed by this toolkit, particularly Learning to Learn, equip youth to navigate and thrive amidst complex change.
Monday, April 18 – 6:00  to 9:00 a.m. CDT, Virtual Pajamas Session, VR 105
Presenter/Discussant: Brian Batayeh, Monica Salazar Vides, and Chris Ouma
In this interactive, virtual, three-hour workshop, participants will learn about Youth Excel's Research-to-Change (implementation research) approach and, in small groups, will participate in a research planning exercise using the tools. Participants may bring their own research ideas or may use case studies to learn about the tools.
Monday, April 18 – 9:00 a.m. to 12:00 p.m. CDT, Hyatt Regency - Minneapolis, Floor: 2, Greenway A 
Presenter/Discussant: Rebecca Ward and Tom Fenton
Participants will be introduced to, and have opportunity to use, a "Research Management 360" (part of a wider Higher Education Institutional Capacity Assessment Tool) designed to highlight priority areas for investment that support the objective of positioning "Global South" institutions to lead research on issues that affect them.
Tuesday, April 19, 9:30 to 11:00 a.m. CDT, Hyatt Regency - Minneapolis, Floor: 2, St. Croix
Presenter/Discussant: Kaspars Ruklis
This poster will highlight the overall achievements of the Media Literacy in the Baltics Program and explore the program's integration media literacy and critical information engagement as part of university curricula in Estonia, Latvia and Lithuania.  Using data from monitoring and evaluation results, the poster will illustrate students' progress throughout their Journalism in the Era of Disinformation course in 2020-21.  The presentation will be widely applicable to CIES participants interested in media literacy, journalism, effective tactics to combat misinformation, responsible digital citizenship and incorporating media literacy into formal university curriculum, as well as measuring impact of these interventions.
Tuesday, April 19, 9:30 to 11:00 a.m. CDT, Hyatt Regency - Minneapolis, Nicollet D2
Presenter/Discussant: Cai Thomas, Sarah Bever, and Hannah Spiers
IREX will present and examine the impacts of SHE's GREAT!, a holistic community-based gender responsive program, on 320+ youth aged 13-18 in three countries: the Kyrgyz Republic, Jordan, and Georgia. IREX staff will discuss the program framework and design, and three representatives will explore the unique findings and challenges and unpack the realities of young people in each country.
Tuesday, April 19, 3:00 to 4:30 p.m. CDT, Hyatt Regency - Minneapolis, Floor: 2, Mirage
Presenter/Discussant: Rebecca Ward
IREX will present synthesized data from over 50 UASP participants' assessments of their universities' capacity, and qualitative data from participative training workshops, to provide a snapshot of management capacity, threats, and opportunities that impact institutions' ability to lead research collaborations on issues that impact them. Barriers relating to management of sponsored research, research governance, data management, faculty management, dissemination and visibility, and knowledge and technology transfer will be explored before priority development needs are drawn.
Tuesday, April 19, 5:00 to 6:30 p.m. CDT, Hyatt Regency - Minneapolis, Floor: 2, Greenway D
Presenters and affiliations: Rebecca Ward
IREX will share insights on the design and implementation of a nationally representative survey on perceptions of the teaching profession in Jordan, the data arising, and how this is being used to inform teacher education policy and practice.
Wednesday, April 20, 2022, 6:00 to 7:30 a.m. CDT, Virtual Pajamas Session, VR 113
Presenter/Discussant: Zaira Lainez, Tsega Belachew, and Brenda Xum
This panel presentation will explore youth-led research from three interrelated lenses. The first presentation will share Youth Excel's Intersectional Rapid Gender and Protection Analysis tool alongside a case study of how it was applied in the Kurdistan Region of Iraq. The second paper compares and contrasts youth perspectives and development practitioner perspectives in uncovering what specific supports youth require for their learning-to-earning journeys. The third presentation explores how youth-led research processes may both reinforce and demolish internalized power differentials between and within groups and the impacts of continuing to silence marginalized groups.
Thursday, April 21, 2022, 9:00 to 10:30 p.m. CDT, Virtual Pajamas Session, VR 110-2
Presenter/Discussant: Katya Vogt
This panel will present and discuss what constitutes today's media and information literacy education, present evidence that it is an effective resilience tool against disinformation that threatens democracy, make an equity case for integrating it into education and discuss several models and best practices of how to do it to maximize impact on students' information engagement habits, and illustrate these points with both domestic and international examples.