Learn with IREX at CIES
CIES 2023  Sessions         Resources         Insights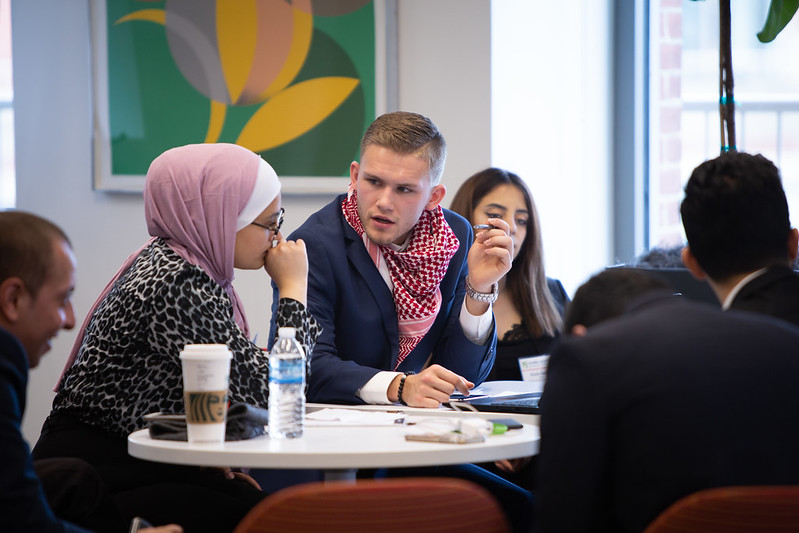 IREX technical experts in youth, education, and media literacy will share their insights and learnings at this year's Comparative and International Education Society (CIES) Conference in Washington, DC.
IREX sessions at CIES highlight key technical work including higher education capacity building, teacher workforce/pre-service teacher education, girls' education and empowerment, digital literacy and critical information consumption, youth essential skills/skill measurement, and youth-led research on youth workforce transitions.
Join IREXers virtually and in-person for the following sessions:
Building higher education capacity in a post-conflict context: approaches to supporting administrative functions at the liberated university of Tikrit.
Tuesday, February 14, 11:15 a.m. to 12:45 p.m. ET,  On-Line Component, Zoom Room 106
Presenter/Discussant: Benjamin Hobbs
 With the support of the U.S. Embassy in Baghdad, IREX has been facilitating institutional capacity building projects with universities in Iraq in order to improve equity and access to quality educational services to affected populations in a post conflict zone. The Investing in the Liberated University of Tikrit (ILUN) program provides an intersection of three strategic partnership projects with U.S. Higher Education expertise that seeks to support and develop critical institutional and administrative functions at Tikrit University. In this panel presentation, IREX will share its approaches and tools to measuring institutional and administrative capacities, and welcome panelists from several U.S. university partners to share insights on their capacity-building projects with Tikrit.
Evidence based teacher training model for catalyzing inclusion and stabilizing communities post-conflict
Wednesday, February 15, 11:15 a.m. to 12:45 p.m. ET, Virtual 
Presenter/Discussant: Lindsey Powers, Stanley Currier, Marissa Wong, Mohammad Jassim
In this panel presentation, IREX will highlight effective methods, that support increased inclusion, equity, emotional wellbeing, and peaceful co-existence in post Da'esh areas of Iraq as demonstrated through the recently implemented Education for Co-Existence in Iraq program. The panel presents learning on sustainable and adaptable methods educators can apply for teacher development;  as well as effective tools and strategies teachers can use to promote emotional wellbeing for students and inclusion in their schools.  
Technology Enabled Learning In Kenya: ''Kwa Ground'' Insights on Building Resilient Distance Learning Ecosystems
Sunday, February 19,  09:45 a.m. to 11:15 a.m. ET, Grand Hyatt Washington, Floor: Independence Level (5B), Franklin Square.
Presenter/Discussant: Becky  Ward 
In Kenya there is a saying, "Kwa ground vitu ni different," which is often used to reference the disconnect between policies that exist at a national level and what is really happening on the ground. To inform the design of new education development programs in Kenya, IREX partnered with Education Design Unlimited, a Nairobi-based education research firm, to give voice to "kwa ground" individuals and organizations to answer the question, "How might we work with hard-to-reach communities and local innovators to co-design technology enabled learning systems that are resilient to future shocks?" Taking an intentionally solutions oriented approach, the research gathered insights from focus groups and interviews with 76 caregivers, learners, teachers, system leaders, and local innovators in four communities that have limited access to digital infrastructure.
How youth-led research surfaces gaps and influences policy in local youth workforce development systems 
Monday, February 20, 9:30 a.m. to 11:00 a.m. ET, Grand Hyatt Washington, Floor: Declaration Level (1B), Penn Quarter A
Presenter/Chair: Rachel Surkin 
Panelists  will share four specific examples where youth-led research uncovered important gaps in local and global bodies of knowledge around youth workforce development systems. We will also explore what changes to policy or practice were made as a result of the findings and what ripple effects have occurred based on these findings to date. Click here for more information. 
Download the session presentation here.
Media and Information Literacy: Building Youth Resilience to Manipulative Information
Monday, February 20, 4:45 p.m. to 6:15 p.m. ET, Grand Hyatt Washington, Floor: Declaration Level (1B), Cabinet
Presenters/Chair: Stanley Currier, Kaspars Ruklis, Simon Mairson
Panelists will discuss and showcase different ways to increase media literacy skills and build resilience, including the Learn to Discern (L2D) approach to media literacy, securitization of media literacy, and cross-sectoral approaches to resilience building among informationally vulnerable communities.
Teachers as #Influencers: Educational Innovation Driven by Teachers
Monday, February 20, 4:45 p.m. to 6:15 p.m. ET, Grand Hyatt Washington, Floor: Independence Level (5B), Independence D 
Presenter/Discussant: Whitney Hough, Emily Dudley
IREX will share case studies highlighting impact made by Fulbright Teacher Exchange Alumni around the globe. These case studies demonstrate how teachers are best positioned to propose and authentically contribute to the improvement of educational outcomes globally, develop innovative solutions to globally shared challenges, positively influence policy and practice, and empower students as agents of change in their communities as well.
Education System Strengthening Through Increasing Affinity between Education Outcomes, Governance and Mindset
Tuesday, February 21, 9:30 a.m.  to 11:00 a.m. ET, Grand Hyatt /Independence Washington B
Presenter/Discussant: Cameron Mirza
IREX will present on the design, development and implementation of a National Teacher Policy Framework – the case of Jordan. Key aspects of the presentation will include how effective cross government governance, collection of evidence, use of teaching workforce data and a national communications strategy has provided a platform for policy reform for pre service teacher education in Jordan.  The presentation will also focus on the path forward through the development of a sustainability roadmap to ensure that the mechanisms, systems , policies and political will remains long term.
Promoting US and Ghanaian Youth STEM Interest, Self-Efficacy and Global Mindedness through a Binational STEM Program
Tuesday, February 21, 4:45 p.m.  to 6:15 p.m. ET, Grand Hyatt Washington, Floor: Independence Level (5B), Independence D
Presenter/Discussant: Amanda Nepomuceno, Sarah Bever
IREX will present on the initial impact of the National Science Foundation (NSF) World Smarts STEM Challenge program that connects youth in the United States and Ghana. The World Smarts STEM Challenge is a virtual exchange program that supports science, technology, engineering, and math (STEM) education and innovative technology experiences for students and teachers. In this panel presentation, IREX will discuss the applied research conducted by NC State University, key findings, and the tools and strategies used to promote STEM education and global competence in formal or informal school settings in the U.S. and Ghana.
Improving primary education teaching for diverse learners through play based pedagogies: insights from Ghana, Kenya, Rwanda and Vietnam
Wednesday, February 22, 1:30 p.m. to 3:00 p.m. ET, Grand Hyatt  Washington, Declaration Level 1B Declaration 1A
Presenter/Discussant: Sarah Bever (joining other colleagues in the LEGO Foundation Learning through Play with Technology Initiative)
The four programs represented in this panel are part of multi-year, multi-country teacher professional development (TPD) initiatives that seek to understand how play-based, learner-centered pedagogies can be best embedded in primary education structures and practiced in primary school classrooms in a systemic, sustained way. The presentations in this panel provide a glimpse of how teachers, school leaders, and education system stakeholders are engaging with teacher professional development and teaching-learning improvement efforts at this juncture of ambitious curriculum changes and post-COVID challenges.