What we learned about improving online learning and knowledge sharing during COVID-19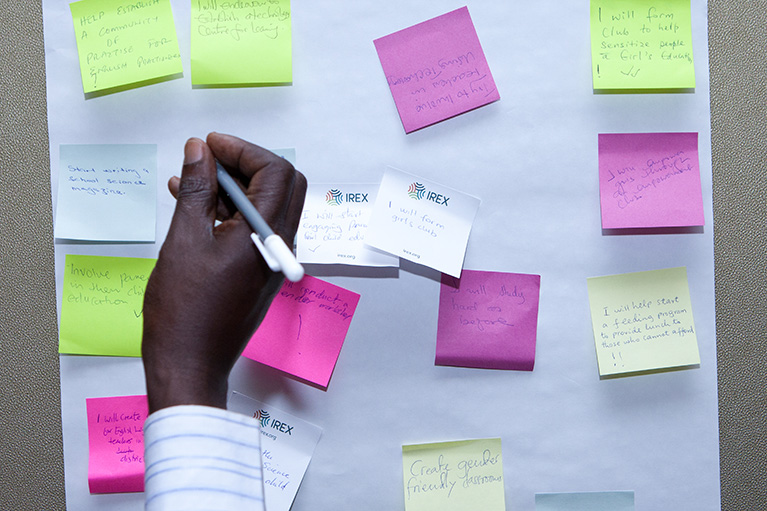 When the pandemic forced programs to go virtual last year, we wanted to support the transition by giving employees new resources and tools. By using a human-centered design process, we soon reevaluated our assumptions and learned that a different solution would be more effective.
At the beginning of the pandemic, our programs were already rapidly customizing training content for virtual environments and incorporating inclusive practices. To support our program teams, we set out to create an online library of "virtual-ready" training materials and resources so program teams wouldn't have to recreate the wheel for each virtual engagement. Our vision was to address urgent needs for our colleagues by launching a type of "app store" full of vetted training materials that our programs could tailor to their participants' needs.
When we started this journey, we assumed that employees would use this type of comprehensive resource as long as staff committed to regularly updating the materials. Fortunately, our design process helped us uncover some incorrect assumptions that would have prevented this project from succeeding. We pivoted away from our original idea and arrived at a solution that better matches the needs of our program teams.
We'd like to share five things we learned during this process:
1. Instead of asking people what they want, learn about their behaviors, constraints, and needs
We used surveys, focus groups, interviews, and prototypes to assess whether potential users wanted and would use a new online library of training materials. At first, we interpreted employees' enthusiasm as a sign that people would use this online library and that they would be willing to commit time to maintain it and improve it.
However, as we studied colleagues' responses, we observed that most people simply did not have much time to dedicate to keeping the online library relevant. We realized that our colleagues' responses to surveys did not fully assess whether the online library would address one of their urgent needs. Their actions and their willingness to spend time using the library were more telling about whether they would actually use the library on a regular basis.
2. Engage your IT professionals as strategic partners, not just as implementers
We engaged our IT team at a strategic level from the outset. As a result, they were able to offer important insights about the long-term behaviors, preferences, and usage patterns of individuals and teams.
Our IT team also understood critical platform specifications, the organizational roadmap for using technology in our global development work, and key privacy and security requirements. It was critical to work with them to map out the ways in which IT could be involved to help ensure the initiative's success.
3. Create space for reflection to help you act on learning
To ensure that we were consciously absorbing our colleagues' input, we integrated "pause and reflect" moments throughout the initiative during team meetings and discussions with our manager and colleagues.
We used this time to challenge ourselves and to ask fundamental questions about the assumptions we were making about the product itself and about whether and how people would use the resources we intended to create. This ongoing reflection enabled us to rapidly act on learning.
4. It's OK to change your mind
Our team's approach to innovation and learning uses a process of assessing at different milestones whether we need to stop, pivot, or continue along a given path for an initiative. Our experience in this initiative emphasized for us not only the importance of this approach but also the importance of cultivating a team culture where pivoting is welcomed.
Pivoting midway into a project can be challenging when strategic planning, time and resource investments, and prior decisions are already in place. However, it is ultimately more efficient and effective to learn about the problem and the day-to-day realities of the users at the outset. It is better to change direction before investing in building a full solution rather than discovering after it's built that it doesn't work as intended for users.
5. Update your knowledge-sharing practices and platforms as a team
In the end, we generated a lot of knowledge about our past knowledge-sharing initiatives, including why they worked, how they worked, and why some of them have not worked. We also surfaced insights about what we did not know.
This knowledge was essential for our own initiative, but we recognized that it could also help other employees. For example, our findings about individuals' and teams' behaviors, preferences, and constraints could help other teams share knowledge better, too. We compiled what we learned in a learning brief and shared it widely within the organization. We also continued using our process of starting small, iterating, and prototyping to explore creating an online library for one of our training curricula, the Youth Essential Skills toolkit.
COVID-19 required our teams to transition into a virtual-first environment. We had to rapidly learn and adapt to strengthen how we share knowledge across teams so the organization could consistently deliver high-quality virtual trainings and programs. Uncovering initial assumptions through iteration, prototyping, interviews, and focus groups helped us focus on the urgent needs of our users. It helped us avoid creating something that sounded like a good idea but might not have been extensively used or urgently needed.