IREX: A global development & education organization
We strive for a more just, prosperous, and inclusive world.
Impact & Learning
This publication outlines IREX's approach to institutional change which goes beyond the traditional capacity building of public serving institutions and instead supports people around the world to bring about institutional change at all levels of society.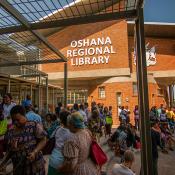 This guide is a practical tool to increase equity and inclusion in knowledge-gathering activities, which, at many global development organizations, most commonly include research and evaluation.