Youth in Kuwait advocate for entrepreneurial economic growth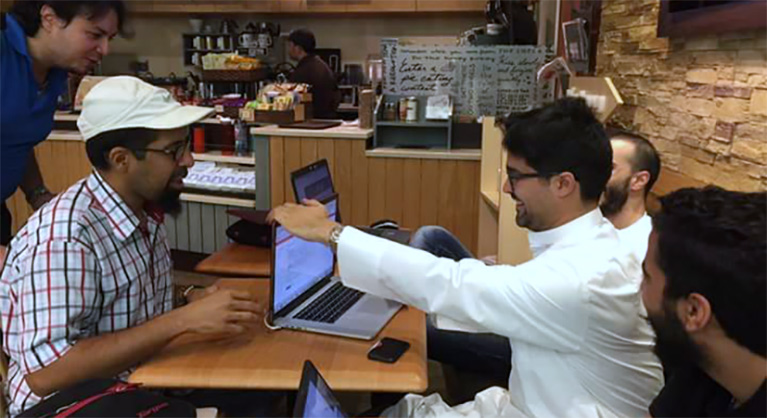 In its drive towards economic diversification and sustainable growth, Kuwait has been pointing to the entrepreneurial spirit, business acumen, and trading heritage of its people to attract foreign investment. Yet getting a good idea off the ground remains difficult for many young entrepreneurs in Kuwait because home businesses were illegal in the country until 2016.
Legalize Kuwait, one of 11 community projects developed by participants in a critical thinking youth program called n-mu ("I Grow"), has campaigned successfully to change this. In summer 2016, the Kuwait Ministry of Trade announced that small office- and home-based business would be legalized.
Transforming skills into action
The initial Legalize Kuwait team consisted of three youths—Wael El-Ahmady, Nasser Al Sulaihim and Mohammed Abdul Shoeb—who participated in one of three rounds of n-mu training, in November and December 2015.
Over the course of four weeks, they received training in active citizenship, critical thinking, advocacy skills, and media literacy, and were then asked to channel their new knowledge into action through the development and implementation of a small-scale community project mentored by n-mu trainer Ahmed Al-Gharabally. To promote constructive youth engagement in Kuwait, the n-mu program ran for one year (June 2015–2016) and was implemented by Kuwait-based NGO en.v in partnership with the U.S. Department of State, the Eurasia Foundation, and IREX.
In an economy where the public sector remains the primary employer, Kuwaiti youth are constantly exploring new entrepreneurial avenues through home businesses. Indeed, Amazon, Apple, and the Cheesecake Factory are all examples of successful global businesses that were launched from the home. Home businesses, Sulaihim explains, "allow young people and their ideas entry into the market with low risks."
Campaigning for entrepreneurial freedom
The team was determined to raise awareness and campaign for the legalization of home businesses in Kuwait.
First, as part of their research into the benefits and feasibility of legalizing home businesses in Kuwait, they interviewed 12 business leaders and government officials. Soon after, they designed and launched their campaign under the n-mu program with a campaign video, a petition, and a website.
In just two weeks, the team collected over 200 signatures for their petition, and the campaign engaged more than 1,150 people on Instagram. The team also reached out to decision-makers, including the Kuwait City Governor and Trade Ministry officials, and the media, with interviews with the local O-FM and Al-Qabas newspaper.
Continuing their advocacy
After the close of the n-mu project, the team continued to work toward their goal, witnessing the introduction of new by-laws that allowed for the licensing of small office and home offices in various business sectors. Gharabally (their mentor), Lubna Abbas (a new member),  and Fares Al Enezi (a supporter who also leads the SMEs Department and Government Restructuring Program) worked with the team to push the cause ahead.
Moving forward, the team is determined to continue their advocacy work with private- and public-sector leaders to build upon the progress they've made. Along with conducting high-level government advocacy, they seek to simultaneously mobilize the general public and the startup community in a coordinated grassroots movement.
Gharabally summed up the team's rationale: "Building a resilient nation and a sustainable, diversified economy requires innovation to be more than a mere concept.... At its core, innovation requires that new ideas be welcomed, unrestricted, and regulated over time, as opposed to a parochial permission-based system."
The Regional Assistance Program (RAP) works with civil society organizations to advance political, social, and economic reform across the Middle East and North Africa. This project is funded through the U.S. Department of State, Bureau of Near Eastern Affairs, Office of the Middle East Partnership Initiative (MEPI), and implemented in collaboration with local partners.