Twelve years of leadership development: CSP's global impact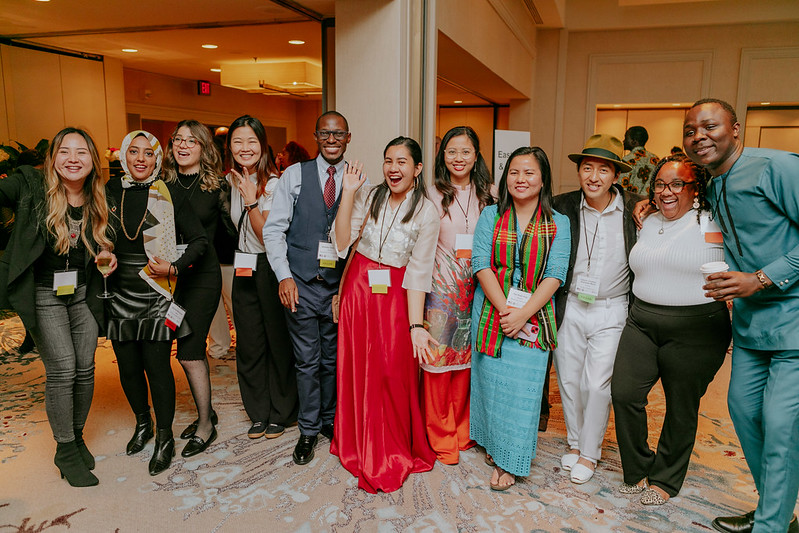 Communities around the world are facing increasing threats of conflict, climate change, inequality, and corruption. For the past twelve years, the Community Solutions Program (CSP) has supported global leaders in gaining technical skills and coaching to address these interconnected challenges.
Since 2011, CSP has provided 831 engaged civil society leaders across 89 countries with individualized leadership coaching, tailored practicum placements, and collaborative professional development and networking opportunities to amplify impact and engage communities. CSP fellows and alumni are visionary grassroots leaders, trainers, journalists, and mentors working on the ground to create sustainable change, but it can't be done alone. With a global network of like-minded leaders, personalized coaching, and opportunities for sharing expertise, CSP alumni are transforming communities and revolutionizing the way we confront complex issues.
Enhancing leadership skills
Throughout the years, CSP has taken lessons learned from thoughtful program implementation and evaluation to create a refined and purpose-oriented leadership curriculum. CSP's Community Leadership Institute (CLI), developed from IREX's Leadership Approach, strengthens CSP fellow and alumni leadership skills and provides customized support for the diverse needs of CSP participants.
As a result of the program, CSP participants have impacted over 600,000  individuals globally, working across countries and sectors to inspire others, adapt, and create more healthy, peaceful, and inclusive societies.
Since the program began, 97% of alumni have used leadership skills gained through CSP in their studies, professional life, or civil society careers. Alumni also utilize those skills when they complete their community projects, which are small-scale pilot projects implemented by fellows when they return to their home communities that frequently evolve into long sustaining projects with significant community impact.
Alumna Mariya Assinskaya (CSP 2017, Kazakhstan), who is still implementing her project from 2018, has provided over 60 underserved youth with the soft skills needed to create effective projects to prevent cyberbullying and support people with disabilities. Another alumnus, Stephen Lavalah (CSP 2013, Liberia), developed advocacy and community mobilization skills during his fellowship and went on to design an ongoing project that has received thousands of dollars in grants to establish social enterprises and environmental sustainability initiatives in his country.
"Through the CSP experience, I believe my leadership skill is stronger and more resilient. I feel more confident in myself in leading or initiating any activity because of the strong CSP supportive network and many courses for CSP fellows to develop skills."

- Reakshar Chhorn, CSP 2021, Cambodia
Expanding collaboration and mutual understanding
CSP alumni are not only changing their home communities, but also influencing change in communities throughout the United States. CSP has partnered with over 450 U.S. host organizations across 41 U.S. states and the District of Columbia since 2011. CSP matches fellows with U.S. organizations, universities, local government offices, businesses, and nonprofits that align with their interests and expertise to collaborate on initiatives that address key obstacles both are facing.
Emerging experts in their fields, CSP alumni learn and share creative approaches and new perspectives with their U.S. host organizations. In 2022, 85% of host organizations reported that their fellow shared at least one beneficial strategy, tool, or model with their organization. "Our CSP fellows contributed to the development of a social enterprise mindset for our Community Building Milwaukee Project.  This paradigm shift has helped lead to the development of two significant new partnerships for our project with the potential to serve 3,000 to 5,000 people," said James Bartos, a CSP host.
Fostering a global support network
Tapping into the vast CSP alumni and partner networks, CSP forges connections across cohorts, countries, and fields of study, furthering impact. In an alumni survey, 86% of alumni said they formed meaningful connections with other alumni during CSP. CSP partners also contribute significantly to elevating the program's impact.
Through small-scale grants provided by the program, CSP partners and alumni have contributed to 82 projects that have impacted more than 13,000 people worldwide. In Iraq, Shangar Khalid (CSP 2021, Iraq) and her U.S. host co-facilitated a two-day training on intimate partner violence during which they hosted a listening session with six agencies from across Kurdistan and led educational sessions with several local organizations.
"The greatest benefit of participating in CSP is being part of the network of hosts, community liaisons and fellows - all of whom provide new perspectives to my view of my work and world."

– Simon Chiew, CSP Host
Imagining CSP's future
The Community Solutions Program equips grassroots leaders with the skills and networks to effectively create a more just, prosperous, and inclusive society. To expand this work and continue to meet fellow and alumni needs, CSP will apply learnings from the past twelve years to innovate and build capacity for community leaders by providing mentorship, support, and professional development opportunities for changemakers who are responding to the world's needs and creating a more livable future for us all.