Supporting peacebuilding and conflict management in Kenya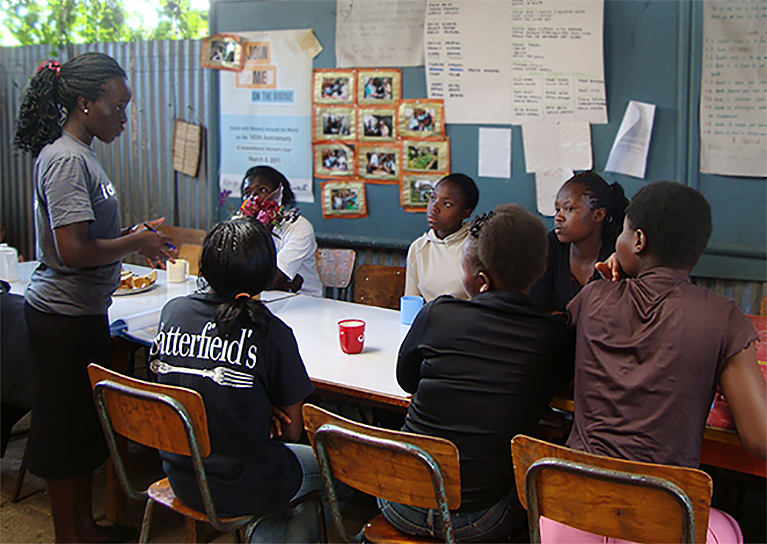 Before participating in the Community Solutions Program (CSP), Yvonne Akoth was teaching peacebuilding and conflict management strategies in Kenya with few resources. After participating in the program, she gained the leadership skills, confidence, and support networks to take her peacebuilding work to the next level.
During her childhood, Akoth and her family experienced a traumatic series of events that would spark her passion for peacebuilding and conflict management. Her parents, who come from two different ethnic tribes in Kenya, found themselves in the middle of an ethnic political conflict.
"In 1997, there was an ethnic conflict that started where noncoastal people were being evicted from the coastal region," says Akoth. "So many people from my mom's side lost their lives due to the ethnic clashes."
Since that experience, Akoth decided to work toward preventing violence in communities and empowering youth with conflict management skills.
Promoting nonviolence and peacebuilding skills among youth
After committing herself to peacebuilding, Akoth founded Impart Change, a nonprofit that uses art and technology to champion peace and promote nonviolence in Kenya. Impart Change supports young people in local communities, often prone to gender-based violence and violent crimes, by imparting peacebuilding skills and mindsets.
"We teach them how to understand conflict, what it is, and how to manage it to avoid violent behavior," says Akoth.
With limited resources, Yvonne and her staff of two part-time employees and volunteers have trained approximately 400 young people in Kenya. Despite this progress, Akoth faced significant challenges with Impart Change's organizational capacity and growth. She contends that there are not sufficient funds allocated toward peacebuilding efforts, especially for local organizations. In addition, she says that her gender has affected her work environment.
"As a woman, sometimes I'm not taken seriously. But once I get in [and have a seat at the table], they respect me," says Akoth.
To address the challenges she faced, Akoth decided to apply for the Community Solutions Program after meeting CSP alumni in her community and hearing about their experiences in the program.
Cultivating collaborative networks
"I became like the CSP alumni I met. I'm more confident, I really believe in myself, and I am even more inspired and passionate about my work."Yvonne Akoth
As a CSP Fellow, Akoth completed a four-month fellowship at Little Friends for Peace (LFFP), a Maryland-based nonprofit that empowers communities to build relationships and spread peace by cultivating learning, empathy, and mindfulness. While in CSP, she gained leadership skills, collaborated with support networks, and learned viable strategies in peacebuilding.
"My experience at Little Friends for Peace showed me that there are so many different ways I can do [peacebuilding]. I learned so many innovative strategies; things that I wouldn't normally do," says Akoth.
CSP seeks to not only cultivate leaders, but also to build and sustain professional networks among Fellows and institutions.
"One of the greatest benefits [of participating in CSP] is the ability to cultivate relationships, [as well as] being able to experience how other organizations run, and how others are doing peacebuilding," says MJ Park, cofounder and codirector of LFFP.
Upon returning to Kenya, Akoth will implement the leadership skills and technical expertise in peacebuilding that she gained through the program. Akoth will stay in contact with LFFP and seek opportunities for potential collaborations. She plans to write a children's book about Kenyan community leaders to teach children about peace and conflict management. She also plans to create an intergenerational peace dialogue program between youth and community leaders in Kenya to improve current and future peace interventions.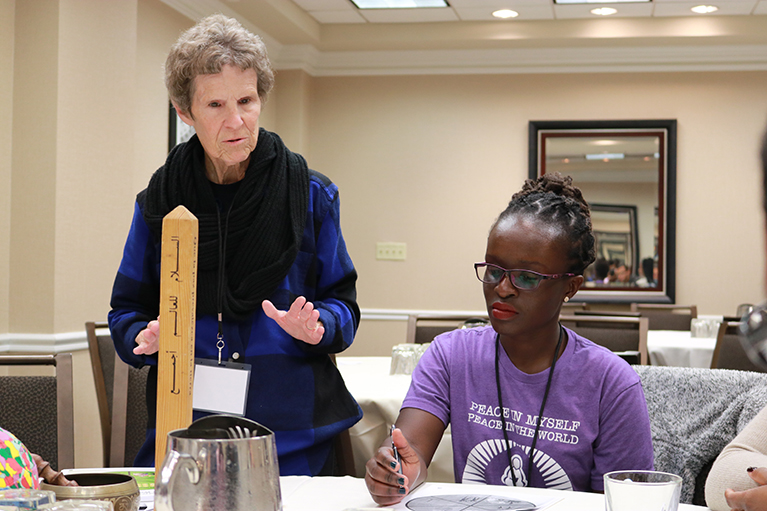 "I became like the CSP alumni I met," says Akoth. "I'm more confident, I really believe in myself, and I am even more inspired and passionate about my work."
The Community Solutions Program is a program of the US Department of State Bureau of Educational and Cultural Affairs. The program is implemented by IREX.