Strengthening community cohesion after conflict in Sri Lanka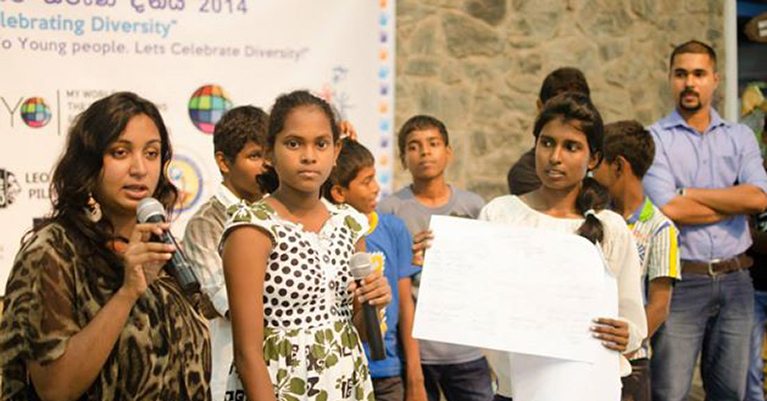 Sri Lanka has emerged from a conflict that spanned more than twenty years. Securing a peaceful future now depends on efforts to advance national reconciliation and healing. Three community leaders are working with youth, educators, and diverse religious and ethnic communities to promote transitional justice and peacebuilding. 
Nishantha Kumara, Ishika Millaniyage, and Suchith Abeyewickreme are alumni of the Community Solutions Program (CSP). The program engages key civil society leaders and enhances their skills and knowledge to help them lead peacebuilding initiatives.
In Sri Lanka, these three alumni are working on complementary projects to strengthen community cohesion—by engaging religious leaders, empowering youth, and training educators.
Healing rifts among diverse religious and ethnic communities
Kumara is a senior program officer at the National Peace Council of Sri Lanka, where he works with religious leaders in 16 districts to promote reconciliation through transitional justice.
Kumara completed his CSP fellowship in 2013. Thanks to the skills he learned through the CSP Online Community Leadership Institute—such as leadership and management skills—Kumara is better able to create relationships and partnerships with diverse districts and better manage the complex program with numerous moving parts.
"There are a lot of benefits of CSP," says Kumara. "One benefit is the knowledge and skills I received from the online leadership programming." He credits CSP for helping him to develop his knowledge, skills, and network, and for strengthening his ability to develop, monitor, and evaluate programs.
Engaging the next generation of peace ambassadors in Sri Lanka
Like Kumara, Millaniyage gained many of the skills necessary to engage youth as a peacebuilder through her 2015 CSP fellowship, where she worked with Little Friends for Peace in Maryland on youth engagement programming.
Now Millaniyage focuses on youth peacebuilding and conflict resolution at Sarvodaya, the largest NGO in Sri Lanka. Sarvodaya is a member of the National Justice Taskforce, which consults with grassroots actors to better understand the needs of Sri Lankans during reconciliation.
"My CSP experience taught me a lot about working with youth," says Millaniyage. "I learned how to customize my message for my audience. It will probably take another 30 years to reach our peace goals, so creating youth leaders is important in my work."
Educating for a secure future
Abeyewickreme, like his colleagues, also uses training for reconciliation, but focuses on training educators for reconciliation at the Office for National Unity and Reconciliation (ONUR) in Sri Lanka.
ONUR, created by the Sri Lankan government, uses a multipronged approach to build bridges across communities of different backgrounds affected by the conflict. Abeyewickreme trains provincial education officers on strengthening reconciliation through education. He regularly conducts workshops and follow-up sessions to facilitate educational exchanges between diverse communities. 
Abeyewickreme was a CSP fellow in 2013. During the fellowship, he worked with Search for Common Ground, where he contributed to planning and outreach for community dialogues on gentrification issues in Washington, DC.
"My fellowship helped me realize the importance of working at the community level, especially in areas where there is gentrification and rapid change," Abeyewickreme says. "In Sri Lanka, we are likely to have smaller scale conflicts related to diversity issues at a neighborhood level that will then be highlighted nationally to increase tensions."
Kumara, Millaniyage, and Abeyewickreme are part of a global network of nearly 400 CSP alumni. CSP works with community leaders around the globe on issues such as transparency, accountability, tolerance, conflict resolution, gender, and the environment. To learn more about the program's impact, view recent stories about CSP or browse the directory of CSP fellows.
The Community Solutions Program is a program of the US Department of State Bureau of Educational and Cultural Affairs. The program is implemented by IREX.