Promoting safety and property rights for women in Sierra Leone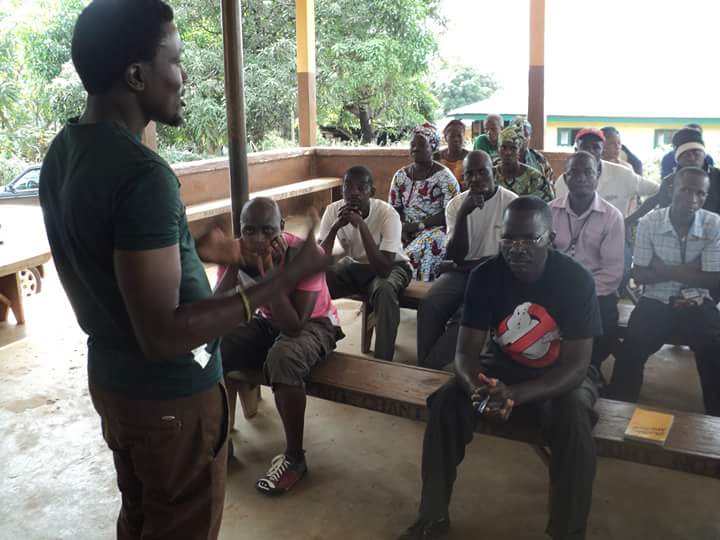 "Over the years, women have been economically dependent, they have been discriminated against, and a lot of issues are stacked against women because we don't see a lot of women advocating for women," says Martin George, a Community Solutions Program (CSP) alumnus, who is working with rural communities in Sierra Leone on issues of women's rights. George is engaging with rural women on a variety of topics – from supporting efforts for affordable documentation of marriages to educating women on their rights to own land.
Though women have had the right to own and sell land in Sierra Leone since 2007, many women are still in the dark about these rights, forcing them to be financially dependent on their husbands and other family members. As a program coordinator for the community organization, Youth Participation in Peace and Development – Sierra Leone, George is working to expand women's rights through youth advocacy and workshops. "Our advocacy is for women to know, protect, and promote the law so they can become much more economically viable in the community and to increase their participation in [leadership] activities," says George.
Training the next generation of youth advocates
That same community spirit that pushed George to fight for women's rights in Sierra Leone brought him to the US with CSP, where he worked with the Nashville International Center for Empowerment's (NICE) Refugee Integration, Support, and Empowerment Program. Through this experience, George taught civics classes to immigrant and refugee youth to help them learn about their rights and responsibilities while living in the US This curriculum gave George the framework he needed to create a similar youth outreach program in Sierra Leone to inform young men and women about their rights.
"If you can't identify the proper stakeholders your advocacy can easily fail," explains George. "The training [with CSP] gave me the proper tools and techniques to identify stakeholders and improve my negotiation and dialogue skills to work even in unfriendly communities."
George is focused on developing youth advocates in Sierra Leone because he wants to excite and inspire them into taking action to ensure the rights of everyone. He says, "[Youth] are in an environment where their rights are guaranteed, but they have a duty and responsibility to give back and end discriminatory traditions."
Ending gender discrimination with community mediation
George is training 18 – 35-year-old men and women in community mediation techniques and negotiation skills to resolve minor conflicts within rural communities. This training would allow them to avoid relying on the local chiefs who mete out decisions which often disadvantage women and youth. George is also working with police and local authorities to inform chiefs of their legal responsibilities and to fast–track cases of rape and domestic violence so that victims can get the medical and psychosocial support they need while their cases undergo legal due process.
George says, "I'm a community person and I've met and communicated with a lot of people who expressed their dissatisfaction with the way things have been done in their homes, their community, even with the authorities. That's really pushed me into working for women because their needs are aligned with the needs of the entire society."
The Community Solutions Program is a program of the US Department of State Bureau of Educational and Cultural Affairs and implemented by IREX.