Helping Ukrainian students become better journalists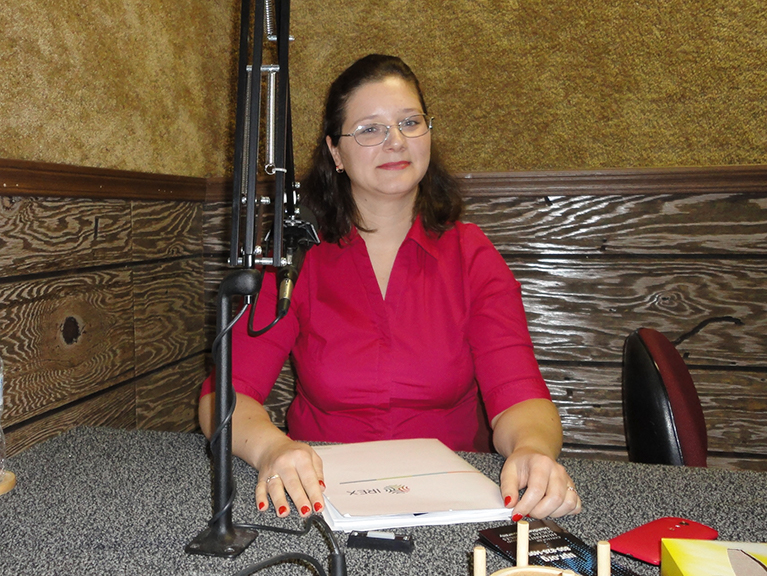 The media landscape in Ukraine has suffered from an influx of misinformation, propaganda, and safety risks for journalists over the past three years. To address this problem, Katerina Sirinyok-Dolgaryova is leveraging her experience with the University Administrator Support Program (UASP) to train the next generation of Ukrainian journalists through innovative courses on research, writing, and ethics.
"The conflict in eastern Ukraine has had a major political influence in the media world," says Sirinyok-Dolgaryova, vice dean of international affairs in the Journalism Department of Zaporzhzhya National University (ZNU). "I can't say that Ukrainian media is balanced or unbiased because that's not the case. But [now] media realizes its role in society as mediators."
Sirinyok-Dolgaryova participated in UASP to learn how to implement reforms at ZNU that will improve the quality of journalism research, garner sponsors for her university's research initiatives, and expand partnerships among researchers in Ukraine, the European Union, and the US. IREX implements the program with support from the Carnegie Corporation of New York.
Teaching the next generation of Ukrainian journalists
To raise her journalism students' capability to be credible and accurate professionals, Sirinyok-Dolgaryova is now implementing a journalism research curriculum that focuses on improving students' ethics and detecting bias among different news organizations. She believes these skills are essential for her students to understand the ethics of quality of research, develop critical thinking skills, and avoid publishing propaganda in a time of political turmoil.
Sirinyok-Dolgaryova completed her fellowship at Utah State University, where she learned how the university implements workshops for researchers to improve journalists' standards. The workshops help journalists prioritize the safety of human subjects, avoid conflicts of interest by disclosing information and increasing transparency, and communicate the advantages of ethical research. She also observed how faculty mentored graduate and undergraduate students and encouraged collaborative projects as part of their coursework.
As a result of the fellowship, Sirinyok-Dolgaryova wants to develop a journalism PhD program at ZNU to help graduate students think more critically about how current events are reported in the news. She believes the research culture needs to change in her country.
"The anticorruption movement among education administrators and faculty is still in action; however, there is little will to eliminate corruptive practices because of political pressure for researchers to continue scientific misconduct and lobby for their own interests."
Improving research integrity in Ukraine
Upon returning to ZNU, Sirinyok-Dolgaryova plans to create an Academic and Research Integrity Office to educate students and faculty about conducting ethical research, motivate the students and faculty at ZNU to demand high-quality investigative research from journalists, and enforce ethical standards in journalism research with a regulatory framework.
She also wants to create a scholarly writing course to include in the curricula of every ZNU department so students can gain practical skills in writing research proposals. According to Sirinyok-Dolgaryova, this type of course has never been taught in the vast majority of Ukrainian universities.
Sirinyok-Dolgaryova is not alone in achieving education and research reforms after completing a UASP fellowship. Alumni of the program have launched more than 80 projects in African and Eastern European universities. Their projects include establishing a college career service, creating a technology transfer center, launching a human resources management manual, and developing an internationalization policy.
"It is a matter of changing consciousness and replacing the previous pathological experience of research misconduct in Ukraine," says Sirinyok-Dolgaryova. "It's important for me to start with the small, achievable goals. This means making a realistic plan for implementing a quality journalism PhD through a very clear research management unit."
The University Administration Support Program (UASP) supports the development of higher education management capacity in public universities in Armenia, Belarus, Georgia, Ghana, Tanzania, Uganda, and Ukraine, and is generously supported by the Carnegie Corporation of New York.