Empowering citizens to advocate for transparency in Tunisia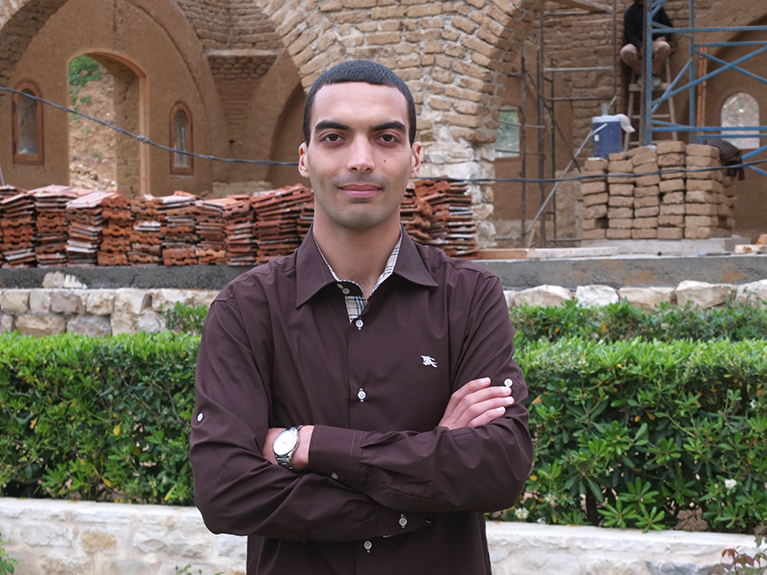 Since Tunisia adopted a new constitution in 2014, the government has been in the slow, complicated process of transitioning into a transparent democracy at the national and local levels. 
Ahmed Ben Nejma, a civil society activist and Community Solutions Program alumnus, implemented by IREX, wants to support the transition process. He works with L'Action Associative to encourage Tunisians to participate in local government processes in order to set their own agenda and voice their concerns to elected officials.
Building trust through grassroots participation
"One of the biggest problems in Tunisia is a general lack of trust in government [by citizens]," explains Ben Nejma. Because democratic values are still new legal concepts in the country, Tunisians lack experience participating in local government. Municipal governments also hold most meetings behind closed doors, deciding how to spend government funds without consulting local citizens or organizations. The transparency issues are so severe that some citizens decided not to pay their local taxes.
Ben Nejma is working to change the relationship between government and constituents by providing citizens a platform to hold their local governments accountable through the program, Eye on the Budget - the Participatory Budget in Tunisia. The program holds participatory budget forums across the country where citizens have a platform to engage with their local representatives.
Participatory budgeting shifts some of the decision-making power to the grassroots level by building trust between citizens and municipal institutions. Through public forums, citizens can vote to prioritize local development. That way, citizens decide how to invest in their communities—which could mean paving roads, improving social programs, investing in education, or strengthening communities in other ways.
Local NGOs also act as watchdogs that moderate municipal public forums. Citizens elect their own delegates to oversee how municipal leaders implement community development projects. By working with L'Action Associative, Ben Nejma is spreading the participatory budget concept to municipal governments across Tunisia before next year's local elections through public awareness campaigns and voter registration initiatives.
"We make decisions together," says Ben Nejma. "Citizens are the ones who choose the projects."
Learning democratic values and processes 
If every stakeholder respects their commitments, then it will improve relations between NGOs, citizens, and municipalities.

Ben Nejma, Community Solutions Fellow
Ben Nejma first learned how participatory budgeting can lead to better local governance while working with the Vermont Workers' Center during his 2013 Community Solutions Program fellowship in the United States. The Workers' Center advocates for economic and democratic justice for people living in Vermont. Ben Nejma had the chance to host local debates and engage in the budgeting process, giving him first-hand experience in implementing a project to promote grassroots democracy.
While completing his fellowship, Ben Nejma also collaborated with 350Vermont to start an environmental awareness campaign to protect parks and natural resources in Vermont. He says the program helped him contextualize his field experience and develop the theoretical framework to develop his own programs in Tunisia.
"It was a new experience for me," Ben Nejma says. "I learned more about strategic planning, analyzing data, and asking the right questions. When I came back to Tunisia, I started to use these skills to ensure I'm meeting people's needs."
Empowering citizens through community engagement 
Through L'Action Associative, Ben Nejma has engaged 11 Tunisian municipalities in the participatory budgeting process, empowering citizens to determine how money will be used in their communities to repair roads, build parks, or clean up schools in their communities. 
More citizens are participating at the local level thanks to the program. For example, more than 400 people attended a recent public forum that would have attracted only a few dozen people just two years ago. Citizens from these forums are also leaving more engaged in their local government and communities. Over 50 new local associations have formed to oversee municipal spending and decision making, ensuring that the government remains committed to fairness, accountability, transparency, and the will of the people.
Now, Ben Nejma is advocating for laws that improve fairness and transparency in local elections while campaigning for more voter registration initiatives to improve turnout during elections.     
"The participatory budget helped transform the relationship between people and their government to encourage everyone to participate in their [communities]," says Ben Nejma. "If every stakeholder respects their commitments, then it will improve relations between NGOs, citizens, and municipalities."
The Community Solutions Program is a program of the U.S. Department of State Bureau of Educational and Cultural Affairs. The program is implemented by IREX. 
Photo on the home page by Exchanges Photos, CC BY-NC-ND 2.0.