Information about joining the CSP selection committee for the Community Solutions Program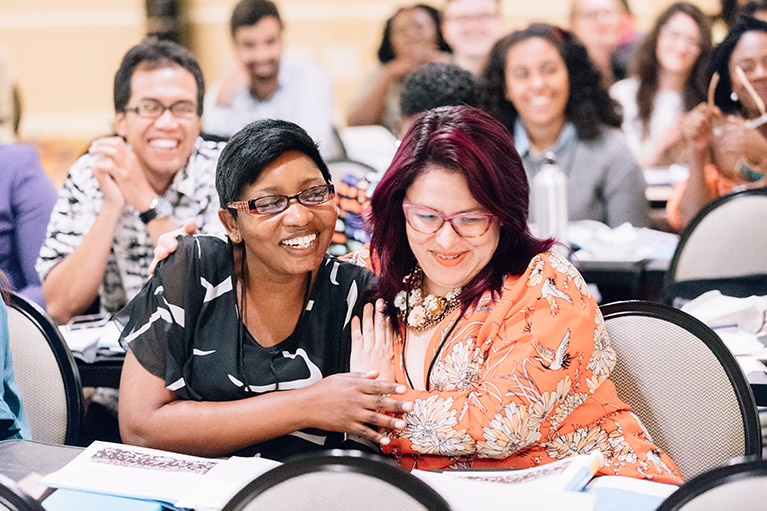 IREX seeks experienced professionals to read and evaluate applications for the 2021 Community Solutions Program.
The Community Solutions Program (CSP) is a year-long professional development program for people who are working to improve their communities by addressing issues related to energy and the environment, peace and conflict resolution, transparency and accountability, and women and gender. For 2021-2022, community activists will be selected to participate in the program, which includes:
Fellowship in the United States: Fellows are matched to host organizations throughout the US where they complete a four-month, hands-on professional experience.
Community Leadership Institute: Fellows participate in the Community Leadership Institute, a leadership training program designed to strengthen their leadership and management skills. The Institute includes virtual live discussions, online courses, professional coaching, and networking.
Community Action Project: 

To conclude the program, fellows carry out a community development initiative or project in their home community. While in the U.S., fellows design and plan this project with the support of their host organization and the Community Leadership Institute facilitators. Once the fellows depart the U.S., they put these projects into action.
Expectations of Readers
Application readers will be responsible for evaluating applications and assessing each applicant's ability to participate and succeed in the Community Solutions Program. IREX will provide readers with several resources to guide them through the evaluation process.
Between November 4 and 18, 2020, readers will review up to 30 applications, each of which should take no more than 15 minutes to evaluate. The Reading Committee will help IREX identify semifinalists who will then complete an online interview in December 2020. In appreciation of their time and energy, readers will receive an honorarium of $100 once they have completed all assigned applications.
Select members will be invited to participate in the Interview Committee. Members of the Interview Committee are only eligible for participation if they also participated in this year's Reading Committee and successfully submitted all scores by the deadline. These members will be responsible for reviewing and scoring 20 pre-recorded interviews. If you express interest in participating on the Interview Committee, we will invite you to join the committee by November 25, 2020.
Timeline of the Selection Committee application and review process:
October 18, 2020:

Applications to participate in the Reading Committee are due

October 22, 2020:

Applicants are notified if they have been selected to join the Reading Committee

November 4–18, 2020: 

Reading Committee review period

November 18, 2020: Deadline for reviewing CSP fellow applications

November 25, 2020:

Applicants are notified if they have been invited to join the Interview Committee

December 11-22, 2020:

Interview Committee review period

December 22, 2020:

Deadline for reviewing CSP fellow interviews
Eligibility
Ideal readers are professionals with expertise in one or more of the program's thematic areas, which include Energy and Environmental Issues, Peace and Conflict Resolution, Transparency and Accountability, and Women and Gender Issues.
If you are interested in participating as a reader, please complete the application form by Sunday, October 18, 2020. Prior to completing your application, please review the Selection Committee Terms and Agreement. We will confirm with you by October 22, 2020, whether you have been selected as a reader.
Application Materials
Selection Committee Application
Selection Committee Terms and Conditions
Contact
E-mail: csp@irex.org