Youth must become "power learners" to navigate uncertainty and change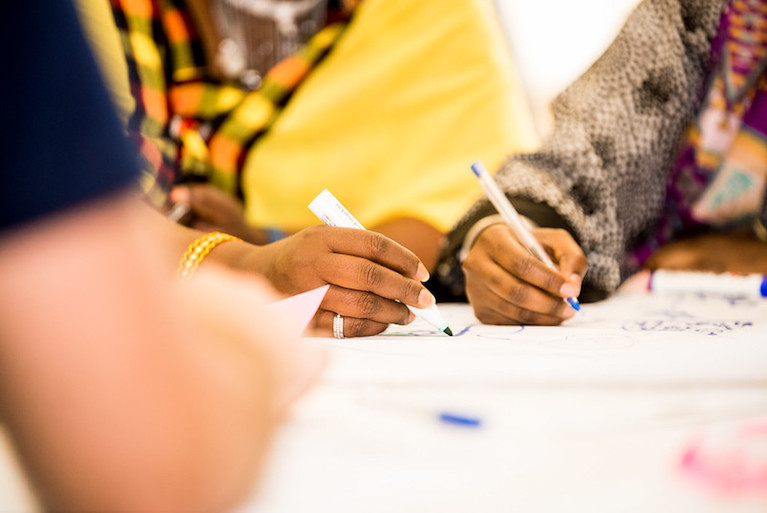 COVID-19 has created an enormous amount of change and uncertainty across the world and ramped up the speed at which economies are becoming digitized and the future of work and learning are shifting — a fourth Industrial Revolution. Young people are being hit hard by this massive wave of change and uncertainty
These disruptions are transforming the world of work and learning youth are embarking on; moving learning online, limiting access to education, causing significant job losses and shifting work opportunities. To navigate these waves of change and uncertainty, young people must become adaptable "power learners."
For many people, the nature of work is changing. To earn an income, youth must navigate evolving digital technologies, automation, and a wider variety of work types including jobs that did not exist a few years ago, self-employment, freelance work, and entrepreneurship. To succeed, they need to be agile, resilient, and competent self-reliant learners who can embrace the unknown and adapt to changing realities, challenges, opportunities, and technologies. At IREX we call such self-reliant learners power learners—people who use reflection and a growth mindset to quickly adapt, learn, and take initiative to stay on track and personalize their own learning journey.
Unfortunately, existing approaches to youth education and training do not prioritize preparing youth to be agile and self-reliant learners, nor do they effectively support youth who are marginalized to navigate disruptions to learning and work. Instead, they often prioritize memorization or reinforce the myth that people need to be born with special intellectual abilities to succeed. Often, technical skills are the focus instead of enduring and transferrable soft skills.
These beliefs about learning limit people's opportunities. Nowadays, fewer employers emphasize the need for memorization and knowledge recollection. Instead, they increasingly prioritize soft skills like adaptability, collaboration, and creative problem solving for success in education, work, and leadership. Employers also regularly see technical skills become outdated with changing technologies, requiring workers to reskill to keep up. Employees need soft skills and self-learning to adapt to new roles as organizations' needs evolve and skills requirements for opportunities change.
Research shows that educators and trainers need to teach  youth to learn how to learn by introducing evidence-based learning techniques and tools rather than relying on traditional learning approaches.
Teaching employees to be power learners improved outcomes
In Nigeria, we worked with a start-up to strengthen young employees' soft skills and conducted action research to understand the benefits of helping youth learn how to learn. 
We customized our Employee Essential Skills Suite and embedded research-backed learning techniques throughout the training modules and learning activities. We combined these techniques in our power learning tool, which employees used during the training.
This approach led to better outcomes for workers than traditional approaches implemented as part of learning and development initiatives in companies. Our results align with evidence from larger research efforts that have tested the benefits of teaching learning techniques.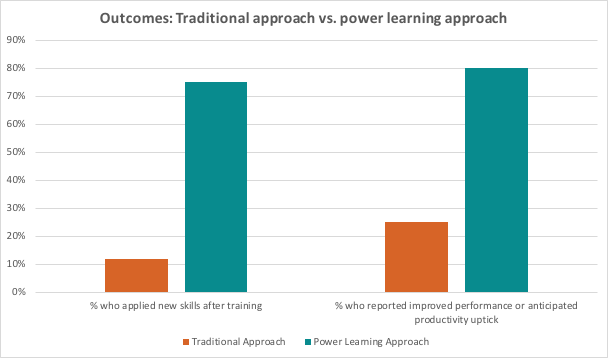 Becoming a power learner begins with cultivating a mindset for learning
Workers in a start-up must adapt to changes, pivots, and uncertainty. They need to be quick learners who can embrace the unknown to navigate ongoing changes.
Training young people to be power learners starts with training them to have a learner mindset. This requires learners to challenge and unlearn existing assumptions, be open to new information, seek input, learn from others, and use feedback to learn with humility.
To cultivate this kind of mindset in the Nigerian startup, we introduced a "growth mindset" to help learners unlearn limiting beliefs about their learning, and integrated learning into their day-to-day teamwork, habits, and shared language through employee-led learning activities. This was so successful that the start-up began hiring managers who demonstrated a learner mindset and an interest in developing others' capabilities.
Learning requires self-reflection
Improving performance was a top priority for workers in the start-up, but our research confirmed that repeated practice alone isn't enough to improve performance. To improve performance, it is crucial to combine practice with reflection. In fact, 40% of learning outcomes result from metacognition, the ability to guide one's thinking and engage in reflective practice during the learning process.
After workers were introduced to a skill and practiced it, we asked them to reflect on the value of the skill for them, their performance of the skill, and their learning goals. Identifying personal motivations, strengths, areas for growth, and goals helps learners think and become intentional about their own learning process to take ownership of their self-learning journey. To make this easy to understand for trainees and trainers, we used a framework to encourage trainees to reflect on their learning process and steer their self-learning toward skill mastery.
Design for an authentic personalized learning journey that continues beyond training
Authentic learning is a messy, meandering, and personal journey that requires time and space to learn from mistakes. Many studies find that true learning requires replacing old habits, behaviors, and beliefs and that authentic learning happens when we get uncomfortable and even struggle. This isn't easy and doesn't happen overnight, so we designed our training to address the misconception that learning is simple and that it ends when the training ends.
To help ensure that participants continue learning even after the training ends, we prioritized reflective practice to help workers connect their skill development to their own goals. We used learning activities to create low-risk environments for learning and to develop the company's learning culture. Workers felt motivated to learn because the activities created a safe space to fail, learn from their mistakes, give and receive feedback, and support their colleagues.
Educators and youth practitioners can draw from these lessons to help young people learn how to learn. Teaching people to be power learners achieves important performance gains and helps learners navigate change in work requirements. These power learning skills are more important than ever in a world where youth must navigate widespread and increasing uncertainty and change.