Who is really putting Nepal back together?
Half a year after Nepal's devastating earthquake, it's the smaller community organizations that are helping the country rebuild, while the giants of disaster relief lag behind.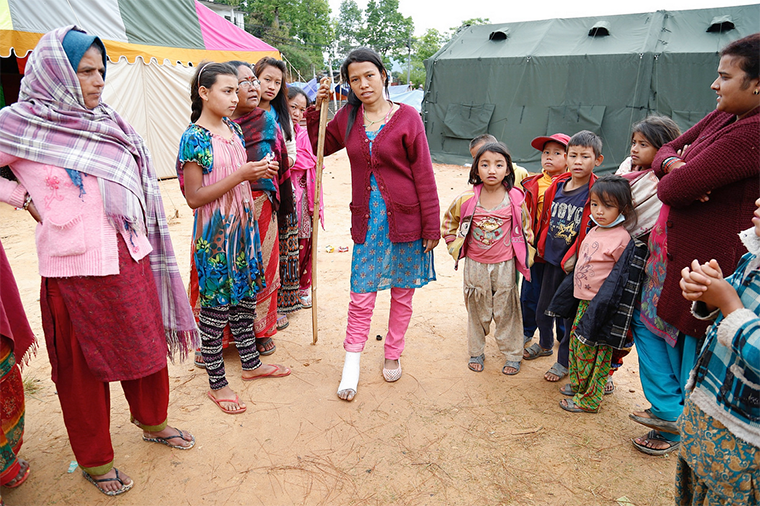 This article was originally published in Foreign Policy.
More than seven months after a devastating earthquake in Nepal killed almost 9,000 people and left millions in need of food, shelter, and basic medical care, most of the $4 billion committed by international donors has not reached its intended recipients.
Children cannot go to school, buildings remain unsafe and harsh winter weather is fast approaching. One need only drive through the Nepali countryside to see that many people in rural areas are still living under makeshift shelters using tarpaulin and sticks. Only the fortunate have tin roofs to help keep out the rain and, soon, the cold winter weather. The situation has only worsened in the past three months due to a nation-wide fuel crisis and political unrest along Nepal's border with India.
Meanwhile, even the most respected international humanitarian organizations are under scrutiny for the percentage of charitable donations intended for earthquake relief that instead go to pay for overhead. Nepalis see fleets of new SUVs showcasing the logos of international NGOs on the streets of Kathmandu - visible proof of the aid operations that have set up shop in Nepal since the earthquake - but know that most areas of the country are still seeing little to no assistance. To be sure, there are legitimate reasons for global humanitarian organizations to maintain their critical global infrastructure and these important organizations must find ways to pay those costs. However, in the wake of an urgent humanitarian disaster like the Nepal earthquake, frustration with expensive models of aid delivery continues to mount, particularly when the needs of so many earthquake victims still go unmet.