How online learning helps persons with disabilities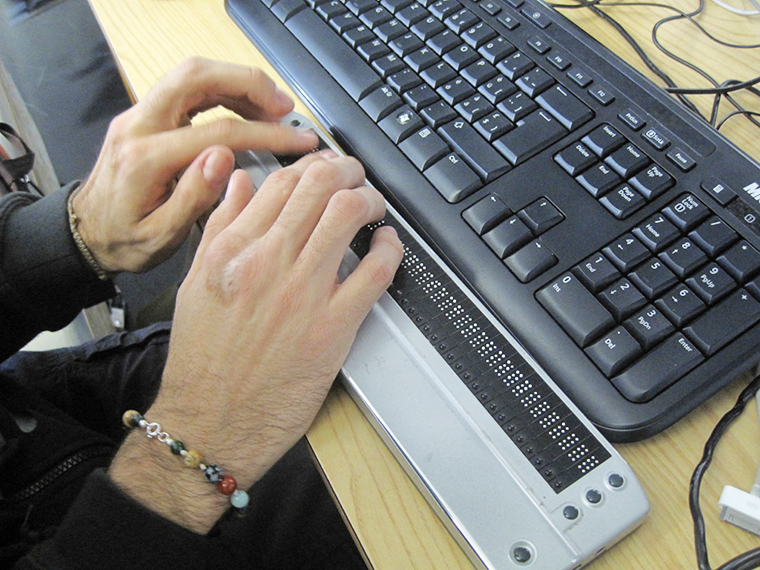 More than 1 billion people live with some kind of disability. In developing countries, 90 percent of children with disabilities do not attend school. Massive Open Online Courses (MOOCs) could dramatically expand access to education for persons with disabilities (PWDs). Yet too often PWDs have been excluded from the digital revolution.
IREX's Scott Andersen, Director of the Advancing MOOCs for Development Initiative (AMDI), recently attended the Accessible Americas II conference in Medellin, Colombia. Approximately 3 million Colombians live with physical disabilities due to civil conflict and other factors. Events like Accessible Americas offer the opportunity to bring together tech solutions—such as the solutions that IREX is researching in AMDI—and PWDs.
The conference illuminated how MOOCs and other online learning opportunities can help those with disabilities develop skills to become financially independent and fully engaged in society. Here are some insights that two participants shared during the conference:
Anna Sofia Herrera: Online learning for entrepreneurship
Anna Sofia Herrera is an established entrepreneur and leader of Comuna 4, a communal council for inclusion. At the age of two, she became ill with polio. The disease paralyzed her legs, leaving her wheelchair-bound.
Sofia participated in an ICT training program for PWDs, conducted by IREX's local partner MAKAIA. Through the program, she learned about MOOCs and online resources that are available at the National Institute for Vocation and Education of Colombia. She took several courses on leadership skills and entrepreneurship while independently researching the rights of people with disabilities in Colombia on the Internet.
The skills Sofia learned in her online courses have helped her become a successful entrepreneur. She now owns a business that manufactures leather goods for well-known companies like Vélez, and she employs three people, including one with disabilities.
After three years, the business is still small, but she attracts enough business through online marketing to earn a profit and pay her employees. She has attained a degree of financial independence that she says she could not have imagined prior to taking online courses.
Sofia is now trying to expand her business by advertising on Facebook, searching for new clients, and researching fashion trends in leather around the world. Her goal is to produce new products fast enough that she can be the first to offer them in the local market. She values e-learning and MOOCs because they provide an opportunity for her to learn about technological advances for PWDs and because they offer a way to stay ahead of the competition through marketing, business management, and sales techniques.
Dora Isabel Lopez: Tech for social justice and inclusion
Access to the Internet and MOOCs can also help families and friends advocate for PWDs.
Dora Isabel Lopez discovered that her son was deaf when he was two years old. Now he is seventeen years old and beginning to think about his future.
Dora used the Internet to research treatments and therapies. Online she discovered the Dime Colombia Foundation, where she learned about a methodology to teach deaf people to write. The foundation helped her take a MOOC through a Mexican University to learn this methodology. As a result, she was able to teach her son Spanish.
Later, Dora's online research introduced her to cochlear implants. Using information she found online, she convinced a health care company to provide the necessary treatment.
Now her son has the implant. He attends the Francisco Luis Hernández Betancur Institute, a school for PWDs, and Dora is a member of the parent-teacher association. At the school, she helps other deaf children learn Spanish and advocates for the rights of PWDs.
Dora believes that Colombia's Ministries of ICT, Education, and Health should be able to provide better support to PWDs. Events like Accessible Americas offer one way to bridge the divide.
The Advancing MOOCs for Development Initiative (AMDI) is a program partnership with USAID, CourseTalk and the University of Washington Information School's Technology & Social Change Group (TASCHA). AMDI is designed to research and expand quality online education and career training opportunities in the Philippines, Colombia and South Africa.