This young entrepreneur is preparing girls to lead the tech industry in Ghana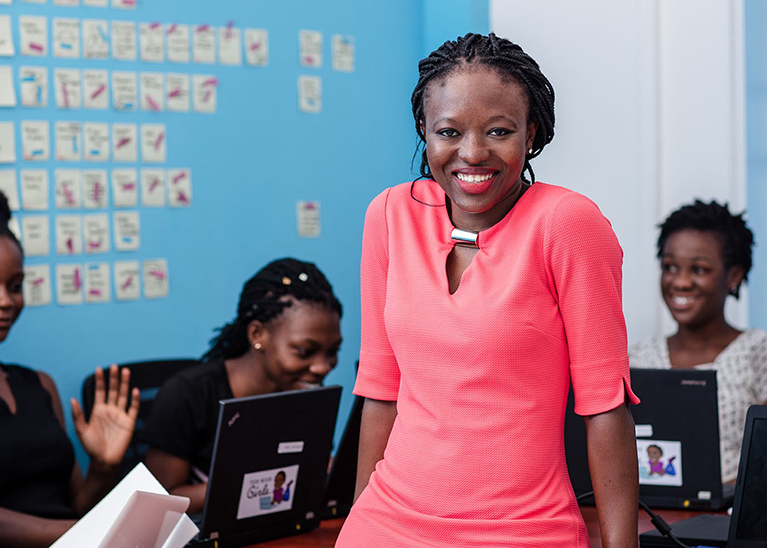 Regina Agyare, a Ghanaian software developer and Mandela Washington Fellow, has a passion for reducing the gender disparity in the technology sector through social ventures. To encourage more girls to access the internet and pursue technology careers, Agyare started two groundbreaking initiatives—Soronko Academy and Tech Needs Girls.
Agyare knew that it is essential to address gender imbalances and invest in girls' education. There is a stark gender digital divide in developing countries—the number of women and girls who are online is about 25% less than the number of men and boys online. In sub-Saharan Africa alone, there is a 40% disparity.
Bridging the gender digital divide through education
Across Africa, only 18% of people have access to the internet within their households. Often, girls must explore the ICT field at school, since many will not have the opportunity to do so at home.
Initially, Agyare found that students were not taught to think critically in Ghana's education system. Instead, they were encouraged to memorize the information that was given to them. To integrate problem solving in education, Agyare founded Soronko Academy, the first school in Ghana with a curriculum focused on human-centered design and coding.
"My goal was to create and expand the sustainable impact that this institution was having on the children," says Agyare. "At school, we aren't just empowering them once through classes, but we also make sure that we give them continuous support as they transition to [jobs and to] the next chapter of their lives."
Agyare also noticed that the overall gender imbalance in internet access contributed to biases in the classroom. One moment stands out in her memory: When a boy told his female classmate to let him use the computer because "girls didn't work in technology." This was the moment Agyare knew that she had to go beyond the classroom to challenge youth gender misconceptions regarding the tech industry. Agyare's experience in the Mandela Washington Fellowship for Young African Leaders strengthened her business and entrepreneurship skills in order to work towards this goal and scale her social enterprise.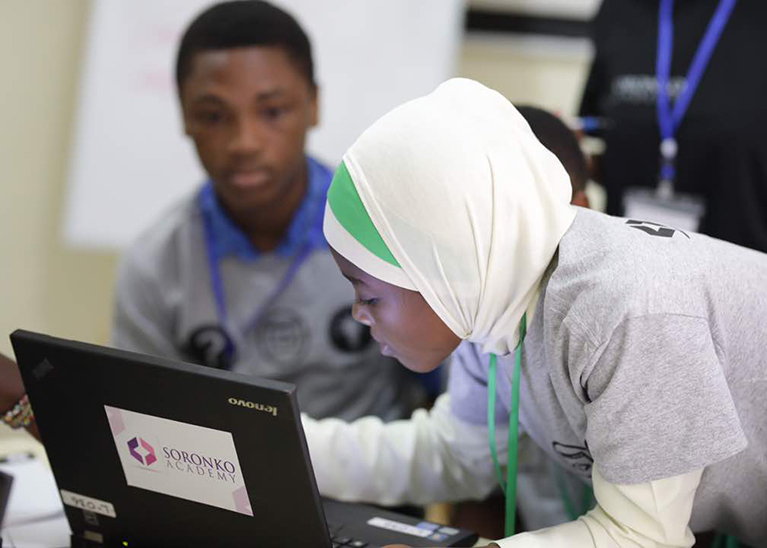 Overcoming gender-based challenges in tech
Through Soronko Academy, Agyare started Tech Needs Girls, a mentorship program that supports women and girls to enhance their ICT knowledge and skills. The program has trained over 4,185 girls in eight regions of Ghana, and 12 mentees have received full scholarships to attend Ashesi University in Ghana.
"Several of the girls who have taken part in our program have also started online businesses," says Agyare. "One of the mentees created a website to increase awareness about sickle cell disease."
Agyare attributes the lack of interest from women in West Africa to join the ICT workforce to sociocultural norms that are introduced at a young age.
"Women and girls do not have many female role models who work in the field of ICT that they can look up to. We are socialized to attend school, get a job, and get married," says Agyare. "Entrepreneurship is seen as a risk, but we need to start socializing girls to think differently and start taking risks."
Currently 3,500 girls are enrolled in Tech Needs Girls. They are taught by 200 female computer scientists and engineers, who serve as mentors and role models for the girls while simultaneously teaching them coding and technology skills.
As a leader in the field of ICT, Agyare hopes to become a role model for girls and showcase the potential of women as leaders in technology.
"I'm showing with results what can be done," she says, "and this is helping me position and create awareness for women within the market."
The Mandela Washington Fellowship is sponsored by the U.S. Department of State with funding provided by the U.S. Government and administered by IREX. For more information on the Young African Leaders Initiative (YALI), please visit yali.state.gov.