Tunisian youth lead community response to COVID-19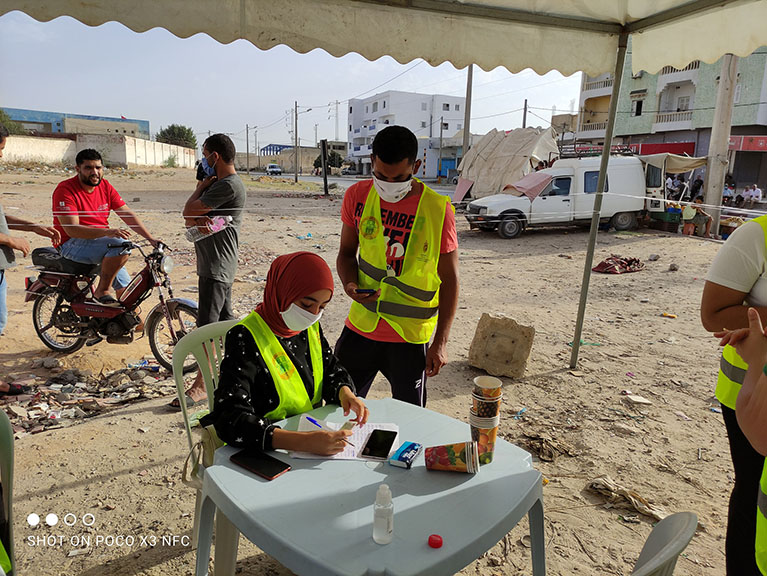 In Tunisia, the Ma3an project, a USAID program works to stabilize vulnerable communities through collaboration with local stakeholders, youth, and civil society organizations (CSO). Despite its democratic revolution in 2011, Tunisian youth continue to experience socioeconomic and political challenges, and the situation has been exacerbated by the COVID-19 pandemic. Initiatives that aim to reduce the spread of the pandemic in targeted communities (such as Sidi Abdelhamid, Sousse) help reduce the "push factors" that may otherwise make youth more vulnerable to recruitment by violent extremist organizations.
Houssem Ghadess started volunteering with the Ma3an program since it launched in his community in 2020. The young leader started his journey with Ma3an as a Youth Mapper, helping assess the needs of youth in his community. He later transitioned to become a Youth Mentor, training his peers in leadership and professional skills.  Inspired by the training and the responses of youth in the community, Ghadess, with the support of his fellow Youth Mentors, founded the Youth Association for Local Development (YALD) in June 2020, a youth-led, youth-serving organization in the Sidi Abdelhamid community in Sousse governorate.
Raising awareness about COVID-19 
Since its formation YALD has supported community efforts to combat COVID-19. As early as March 2021, after noticing a general disregard of COVID health procedures, YALD organized a two-day awareness campaign in Sousse with funding from Ma3an. The campaign took place at the Sousse weekly market, a place where various community members gather from all regions of the governorate. YALD organized and trained 40 young community volunteers who reached about 1500 people while distributing masks and educating people about hygienic practices to prevent the spread of the pandemic.
The campaign inspired the creation of a mural which communicates the importance of hygiene to combat COVID-19 while spreading a positive message about community during these challenging times. This piece of art was a collaboration between local youth and a graffiti artist; it continues to stand in place today as a reminder of the strength of impact that youth can have when they come together.
Supporting local stakeholders in vaccination efforts 
Vaccination efforts began earnestly in early 2021, yet the number of Tunisians who were vaccinated remained extremely low. Designated vaccination centers were disorganized and uncoordinated, and members of the public reported that it was extremely difficult to use EVAX, the platform to register to get a vaccine.  With this knowledge, YALD began working with other local stakeholders since July 2021 to support the community members who wish to be vaccinated, by offering mobile registration services and assisting with coordination at vaccination centers.
Within four days of YALD's involvement, 3000 community members had been registered and vaccinated. This initiative was well received by local authorities who described it as "a miracle of civil society".  Since the team had exceeded their goal to vaccinate 3000 people the collaboration with YALD and other CSOs was further extended, and the team succeeded in distributing vaccines to an additional 5000 people by early August. In recognition of their involvement at the centers YALD's members were honored by Raja Trabelsi, the governor of Sousse, because the center they helped manage was selected as the best performing center in the state.
Tunisia relies on community organized and youth-led initiatives to help overcome these socioeconomic and political challenges. YALD continues to establish partnerships with different civil society organizations within the Sousse governate 'to create a lasting flame of impact within these underserved communities", said Houssem. The work of YALD and similar peer organizations demonstrates that when youth are empowered with skills, opportunities, and support, they serve as dynamic changemakers in their communities and contribute to efficient interventions that mitigate challenges in their regions.