Supporting news for and by the deaf in Mozambique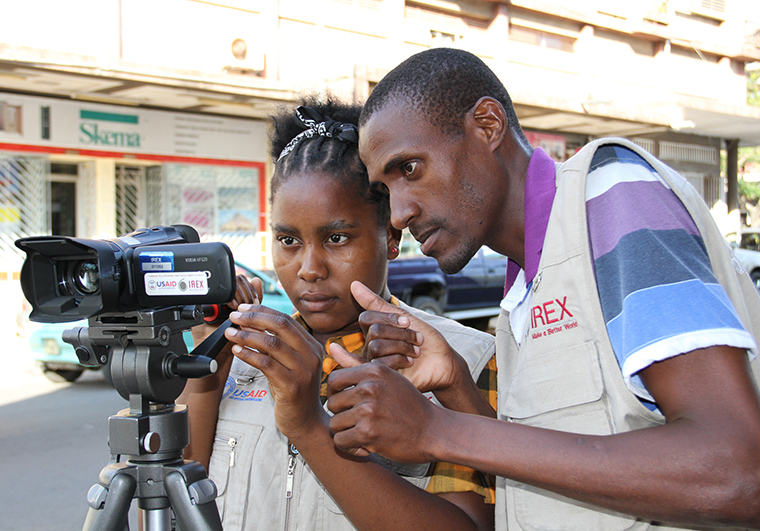 Around the world, there is an unmet need for a large yet often underrepresented community—equal access to quality education and information for persons with disabilities. Media has the power to give them a voice and advocate for their inclusion in important local news and events. In Mozambique, one television station is doing just that for the country's deaf community.
"We started to produce TV news content in order to give a voice to the deaf community and other minorities," explains Felismina Banze, a journalist at TV Surdo (Deaf TV) in Mozambique. Along with her colleagues, Banze recently concluded a report on the challenges of inclusive education, which disproportionately affect the deaf community and other persons with disabilities.
With support from IREX's Media Strengthening Program in Mozambique (MSP), TV Surdo created a newscast produced by and for the deaf. By refining and developing its agenda to focus on the rights of deaf persons, the station is shining light on the deaf community's need for equal access to information and integration into society.
Addressing community needs
Following the release of the newscast on YouTube, TV Surdo invited 30 deaf persons from different walks of life to participate in a focus group to provide feedback on the newscast. The response from participants was overwhelmingly positive and encouraging, affirming that the station was headed in the right direction.
"This is an initiative that will help us disseminate information for the hearing impaired," says Inocêncio Zandamela, a sign language teacher in special schools that integrate deaf persons.
Presented by two deaf anchors in a single block, the pilot newscast covered topics such as employment opportunities for deaf people and improving access to information for hearing impaired people. TV Surdo intends to produce the newscast weekly to help the deaf community stay up-to-date on both the latest community issues and country-wide current events. Some viewers also saw the newscast as a means to unify and consolidate the use of sign language in Mozambique.
"All of us [in the deaf community] have to use the same signs [to communicate], be it in cities or farther away," says Hélio Munguambe, one of the focus group members who encouraged TV Surdo to expand its production and coverage to other provinces.
Supporting journalists with skills to build sustainable media
In 2014, TV Surdo and IREX started working together when IREX media specialists held a training on foundational journalism skills for local reporters. Subsequently, MSP has served as a short-term incubator to TV Surdo. The station began to receive support to build its skills in media literacy and civic education. TV Surdo also benefits from the equipment, facilities, and expertise available through MSP—all of which contribute to the development of the station's long-term independence and sustainability.
"We are focusing on the same things as we do in the training of other journalists," says Sergio Albuquerque, program coordinator for MSP. "We want to help TV Surdo master all aspects of the media business, from reporting to editing to advocacy and organization."
Already, TV Surdo is gaining recognition. The station has interviewed several government ministers, and with a growing audience, is giving a voice to the deaf community in Mozambique.
The Media Strengthening Program for Mozambique (MSP) is funded by the United States Agency for International Development (USAID) and implemented by IREX. The program supports Mozambican professional and community journalists and their media platforms to provide high quality information to citizens and promote accountability and development.