Providing journalists the tools and information to support women in Mozambique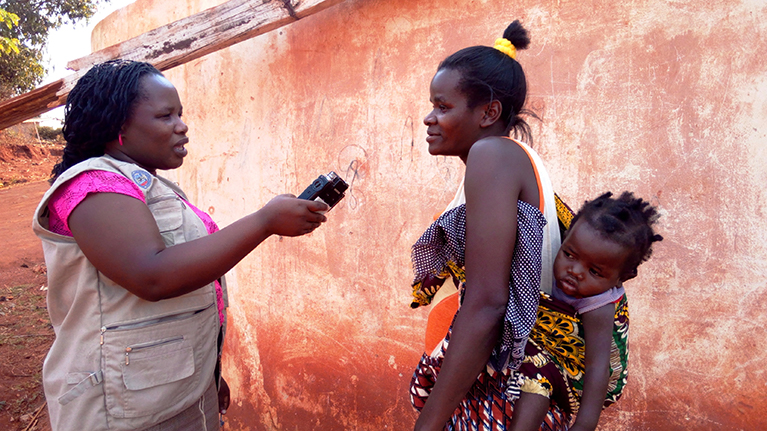 In Mozambique, gender issues are among the most serious but largely ignored challenges. More than half of women have reported experiencing domestic violence at some point in their lives. Women's rights are constantly at risk, and as families look to increase their income, many use child marriage to make ends meet. Nearly one out of two girls gets married by her eighteenth birthday. 
Eufrasia, a community radio journalist from the Alto Molocue district in Zambezia, Mozambique, wants to raise awareness about these challenges. With support from IREX's Mozambique Media Strengthening Program (MSP), she is working to increase access to information on gender issues to empower women and create change in communities.
Promoting women as leaders in professional media
Eufrasia's passion for radio was almost extinguished when she could no longer cope with harassment from her male colleagues—common in a mostly male-dominated profession. After participating in a training through MSP with 44 other journalists, Eufrasia gained the skills to better increase women's access to information on gender issues and the rights of gender-based violence (GBV) victims through community radio stations.
"Women in the community ask me to continue working on the radio as they say I represent them," Eufrasia says. "When they turn on the radio, they hear the voice of a woman speaking in their local language. This is beneficial because in general, the information that is available on gender-based violence and women's rights is in Portuguese and my community does not understand it. [With my program,] women feel secure, knowing that their issues are in the hands of a woman who is like them, who understands them, and who wants to help them find solutions."
After hearing the information provided in a radio program on women's financial independence, a local woman named Ildiana convinced her husband about the importance of women in the workforce. Eufrasia says Ildiana can now become financially sustainable and contribute to her family's economic growth.
"My husband did not want me to work outside home, and I had no arguments to convince him of the importance of working until one day Eufrasia organized a live debate about women's financial independence," says Ildiana. "He saw that with this prohibition, we were both losing. Now, he even shares job vacancies with me and encourages me to apply."
Eufrasia now produces two programs that aim to promote gender equality and women's empowerment. By applying the lessons learned from the training in their work at community radio stations, Eufrasia and the other journalists have prompted others to take action and improve their lives.
Increasing access to information as a catalyst for change
A lack of access to education and information about gender issues leaves communities at an increased risk of repeating the same lapses that exacerbate GBV and prevent inequality. The media's portrayal of these issues is key to promoting awareness and understanding—a challenge journalists in Mozambique are still trying to overcome.
According to MSP's 2015 Media Gender Assessment, media in Mozambique report more on GBV than on any other gender-related topic. However, there is a lack of information about specific cases, and media outlets rely too much on official sources, without enough cross-references, in-depth investigation, or analysis of different sources. The language used is also often stigmatizing for victims, the majority of them women.
"Most men do not really know what GBV is, even the ones who produce broadcasts which cover gender issues," Eufrasia says. "I put notes in the bulletin boards at the stations that clarify misconceptions around gender and GBV. I also try to hold small trainings with them to tackle gender stereotypes and misconceptions."
More work must be done to ensure that media coverage on GBV and gender issues includes a variety of sources, utilizes accurate terminology, and employs stronger investigative journalism techniques. MSP is continuing its support of journalists like Eufrasia to reach more women with high quality, accurate, and relevant information about their health and wellbeing. 
Helping citizens make informed decisions to improve livelihoods
To date, 68% of the journalists trained and mentored by MSP have improved the quality of the media content they produce in terms of the sources used, impartiality, structure, and relevance. In the coming months, MSP will train and establish a health and gender communication network. The conglomerate of journalists will operate in 32 partner community radio stations located in the Central and Northern regions of the country.
Through the network, journalists will dedicate themselves to the continuous production of radio content on health and gender issues that are relevant to women and their communities. MSP and the journalists will work closely with health and gender organizations, ensuring a multiplying, widespread, and a sustainable effect to improve the quality of life for communities, especially women and girls.
Eufrasia says that creating a community of women and men who are aware of gender issues is essential to empower victims. In the future, she plans to "organize more debates in the field and in local communities," apart from her own.
The Media Strengthening Program in Mozambique (MSP) is funded by the United States Agency for International Development (USAID) and implemented by IREX.
The 2015 Gender Media Assessment was created by implementing IREX's MCAT (Media Content Analysis Tool) methodology. IREX analyzed how 18 major publications report on gender issues according to four criteria: sources used, impartiality, structure, and relevance.