Kenyans build a greener and more prosperous future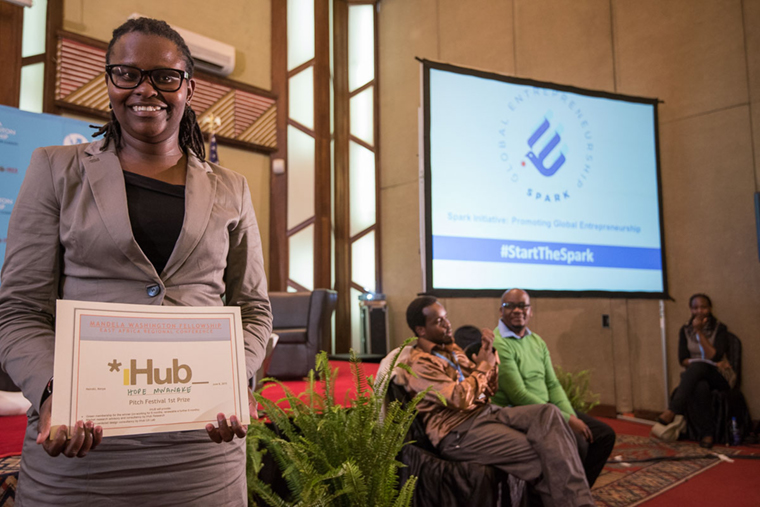 It all started when Hope Mwanake, a Mandela Washington Fellow from Kenya, and her colleague wanted to address the growing waste management problem in their community. They decided to establish a community-based enterprise that would offer door-to-door waste collection services, but four years later, they were not satisfied with the results.
Hope believed that the enterprise only partially addressed the issue—there was still an overflow of waste at disposal sites, triggering concerns over public health within the community. So Hope went back to the drawing board and came up with the idea of the Eco-Tile, a roofing tile constructed from recyclable materials.
In response to both the booming real estate industry and waste management issue, Eco-Tile aims to promote eco-friendly construction. But Hope was also determined to tackle the staggering unemployment problem among the country's youth, and therefore decided to engage youth in her town of Gilgil. To help foster youth development and employment, she set a target of creating 100 jobs for youth within her business.
As part of the Young African Leaders Initiative (YALI) and the Mandela Washington Fellowship, Hope received a 2014 U.S. African Development Foundation (USADF) grant which provided her with $25,000 in seed capital and technical support to expand her business venture. Hope also showcased an Eco-Tile prototype at the Mandela Washington Fellowship East Africa Regional Conference in Kenya, which connected her with potential investors and mentors who could help grow her business.
During her time in the Fellowship's Business and Entrepreneurship Institute at Yale University, Hope gained valuable insight from other Fellows, faculty, and community members about how to improve and tailor her project. She attended sessions on organizational management which helped her understand how to transition her venture from a grants-based business model to one that is more sustainable. The sessions on branding and leadership also helped her reflect, strengthen and build upon her ideas after the Institute.
At the end of 2015, Hope successfully set up a manufacturing plant in Gilgil that uses glass, plastic, and discarded building debris to manufacture eco-friendly building blocks and pavers, which are in high demand. Hope also secured seed capital from Via Water, an organization in the Netherlands, which will enable her to purchase machines from South Africa to help manufacture the Eco-Tile in 2016. Hope's venture is already on track to employ 15 youth, and once manufacturing begins, employment opportunities will increase.
According to Hope, she intends "to create more opportunities and engage more young people by setting up new plastic and glass collection enterprises, driven by youth, who can help outsource raw materials for the construction of eco-friendly tiles, pavers and building blocks." Hope estimates this initiative will help recover over 40 tons of plastic and glass waste each month, drastically reducing Kenya's public health problems by eliminating water contaminants and reducing blockages in drainage pipes and sewers.
Hope believes her social enterprise can have a long-term impact on waste management in Kenya, while generating employment opportunities for youth who can help drive solutions for their communities as agents of change—supporting a larger goal to build a brighter, greener future for Kenya.
The Mandela Washington Fellowship is sponsored by the U.S. Department of State with funding provided by the U.S. Government and administered by IREX. For more information on President Obama's Young African Leaders Initiative (YALI), please visit mandelawashingtonfellowship.state.gov.