IDP Councils emerge as a vital advocacy approach in Ukraine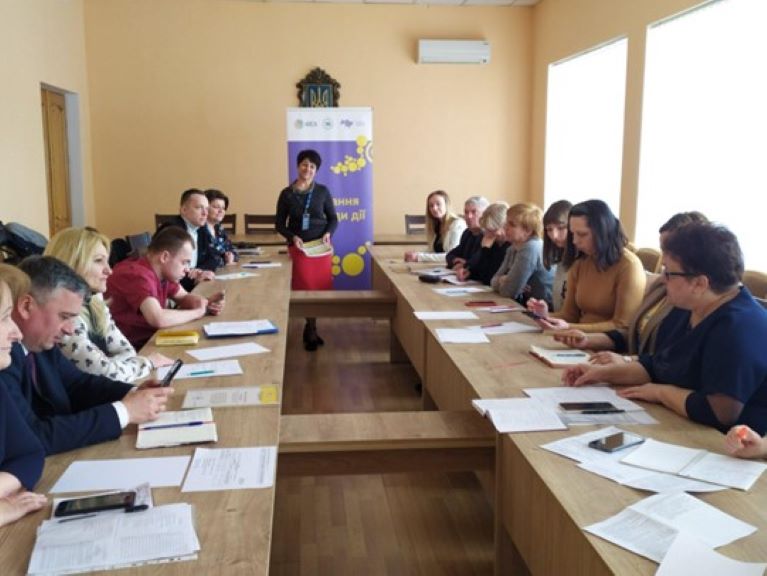 In the wake of Russia's full-scale invasion of Ukraine in February 2022, the number of internally displaced persons (IDPs) in Ukraine surged from 1.2 million to 4.8 million individuals. This influx of IDPs into communities across Ukraine created a multitude of challenges, including the search for new housing and employment, access to social and legal assistance, and the provision of education, medical care, and psychological support. IREX took an active stance in addressing these issues by helping to establish IDP Councils, first through the Cohesion Through Youth Led Action (CYLA) program and then through the United Voices in Action (VIA) program, both funded by the U.S. Department of State's Bureau of Conflict and Stabilization Operations (CSO).
IDP Councils constitute officially recognized entities operating under local or regional governments, with a specific focus on the unique needs of IDPs. IDP Councils are comprised of both IDPs and host community members, that serve as advocates for IDP rights and benefits, develop policies to address challenges faced by IDPs, and provide a platform for dialogue and cooperation between host communities, governments, and displaced individuals.
IREX and its local partner introduce and institutionalize IDP Councils
IREX's implementing partner, Stabilization Support Services (SSS), introduced and institutionalized the concept of IDP Councils in Ukraine, inspired by similar councils in Colombia. Through CYLA, IREX and SSS piloted two IDP Councils and laid the groundwork for further interest in the concept across Ukraine. Then, under the VIA program, IREX scaled up the concept, establishing another 23 IDP Councils in VIA target communities across the country. Under both programs, IREX held Regional Forums to build support for IDP Councils, introducing 1,224 people to the concept and convincing many of them to sign commitments supporting the establishment of IDP Councils.
Demonstrating the success of this initiative, Ukraine's government officially institutionalized IDP Councils at the national level by including them as a priority in the 2025 IDP State Strategy and passing a resolution about IDP Councils through the Cabinet of Ministers of Ukraine in August 2023. The new resolution regulates the activities of IDP Councils, defining their composition, and – most importantly – recommending state administrations and local self-government bodies create IDP Councils to support their integration. This resolution streamlines the process of creating new Councils and ensures the sustainability of the initiative in IREX's target communities and beyond.
"IREX has long advocated for the establishment of IDP Councils within local communities, and we are pleased to see the impactful results we envisioned years ago coming to fruition. We are proud to witness the mainstreaming of IDP Councils at the regional and local levels under the guidance of the Ministry of Reintegration. Significantly, the formation of these Councils is now a vital component of the 2025 National State Strategy for IDP Integration, solidifying their status as a national priority," stated Yuliya Solovey, Program Director at IREX. 
IDP Councils provide support to IDPs living in their communities
The IDP Council initiative has brought immediate benefits to displaced individuals in municipalities where Councils have been established. For example, in Kyiv's Obolon district, an activist collaborating with the newly established IDP Council identified an error in the Unified Social Information System that was preventing some IDPs from receiving payments. The IDP Council swiftly engaged with the developer and successfully resolved the issue, providing relief from one of the major challenges confronting IDPs.
Iryna Vereshcuk, Vice Prime Minister of Ukraine and Minister for Reintegration of the Temporarily Occupied Territories of Ukraine, explained the Councils' impact in Ukraine, saying "IDP Councils have become a crucial tool for facilitating cooperation between the community and the government…They will help people to avoid feeling isolated. They will help the authorities to hear the problems of IDPs. They will help coordinate efforts with our international partners."
Another key example of IDP Councils' impact came in Kryvyi Rih, where the Council helped to resettle people who had been temporarily placed in modular housing but were looking for a more comfortable place to stay.
Housing, food, employment, and medical assistance are still challenges for IDPs in Ukraine, but with IDP Councils there are dedicated government-affiliated bodies working to identify and address needs and support integration and wellbeing.
The establishment and mainstreaming of IDP Councils in Ukraine, championed by IREX in partnership with SSS, and embraced by the government, stands as a testament to the power of collaborative efforts in addressing the challenges faced by IDPs. As the nation continues to grapple with the consequences of the ongoing war and displacement, these councils have emerged as vital bridges of communication, hope, and support, providing tangible solutions to the complex issues encountered by those affected. The successful integration of IDP Councils into the national strategy not only underscores their significance but also reaffirms Ukraine's commitment to safeguarding the well-being and rights of all its citizens.
Disclaimer: This article is made possible by the support of the U.S. Department of State. The contents are the sole responsibility of IREX, and do not necessarily reflect the views of the U.S. Department of State.