How Ukrainian organizations are engaging citizens in local governance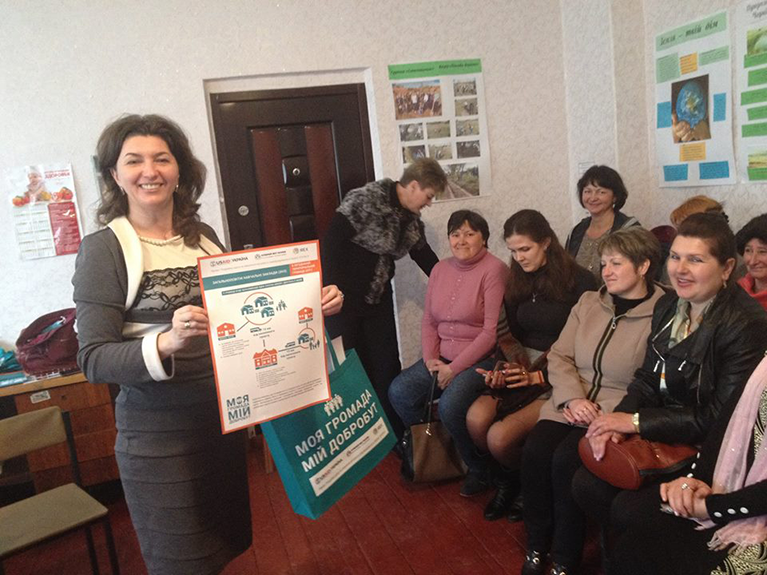 Ukraine's decentralization reform provides a window of opportunity to build a truly accountable, transparent, and effective local government system. But to engage in the process, citizens and communities need the right information—and they need to understand it, trust it, and be able to act on it.
Through the Policy for Ukraine Local Self-Governance (PULSE) project, IREX has trained 45 local organizations on how to inform people about the changes that affect their lives.
Since the beginning of the reform, more than 400 communities voted to "amalgamate"—an important step in the process to shift decision-making authority to local communities. Local governments' budgets in these communities have increased by 113%, which gives them more resources to serve their communities.
Despite these gains and national government efforts to explain the benefits of decentralization, many Ukrainians remain under-informed about how the changes affect them and about which responsibilities are shifting from the national government to local governments.
Training local organizations to inform citizens about decentralization
As a subrecipient of PULSE, a program funded by USAID Forward and implemented by the Association of Ukrainian Cities, IREX supports Ukraine's decentralization reform efforts by empowering local organizations in selected communities to help citizens learn about their rights and resources; engaging citizens in governance processes and sharing critical information about what decentralization means for their schools, roads, health care, parks, and institutions; and providing opportunities for local communities to build productive relationships with authorities and promote local ownership and accountability.
Earlier this year, IREX trained staff at 25 libraries and 20 civil society organizations on how to effectively inform and engage citizens in community initiatives. The teams that received training went on to implement more than 50 interactive events that involved over 1,000 Ukrainians. The work focused on 23 predominantly rural communities in eight oblasts of Ukraine—Khmelnytskyi, Lviv, Zakarpattya, Vinnytsia, Zhytomyr, Volyn, Zaporizhzhia, and Sumy. 
Increased awareness, hope, and urgency to act
Feedback from participants has been overwhelmingly positive. Preliminary survey results show that over 70% of participants reported receiving new and useful information about the decentralization reform, including information about how the process can solve community issues.
Local community members also expressed gratitude for the events. In particular, they mentioned how the events helped them make valuable connections with community members, organizations, and officials.
Overall, comments indicated that PULSE has energized the participants and encouraged them to improve their communities. 
We enjoyed the active format of the event.... [It] made us understand that only engagement and our ownership of where we live and work can change our lives for the better.A. Chabanyuk, a participant from Illintsi in Vinnytsia oblast
"I was impressed by the presented numbers, such as the amount of funding that the community actually receives," said Nadya Dzyuba, who participated in the event in Tokmak city, Zaporizhzhia oblast. "For us, it means that we will finally have enough funds to repair roads, cultural institutions, and schools. It is a pity that such events have not been conducted earlier. Like others in my community, I barely knew anything about decentralization and the opportunities that come with it."
Awareness about the real impact of decentralization gave participants a renewed sense of hope. "Today we received such interesting information about the decentralization reform," said Halyna Veretennyk, a participant from the Slout community in Sumy oblast. "Now we feel very optimistic about the future of our children and grandchildren. Let them have a good, new life and we will help them!"
Building local connections between citizens, activists, locally elected officials, and media turned optimism into a desire for change. A. Chabanyuk, from Illintsi in Vinnytsia oblast, reported, "We enjoyed the active format of the event.... [It] made us understand that only engagement and our ownership of where we live and work can change our lives for the better. Our path towards this is now clear."
Decentralization reform that empowers local communities and is fuelled by locally driven initiatives enables individuals to advocate effectively for their needs and aspirations. The PULSE program is now selecting its second cohort of participating communities, building on the awareness, optimism, and desire to act that the program has created.
Interested in the training materials that IREX developed for the program? View the Facilitator's Guide for Community Outreach and Engagement and the PULSE Manual on Decentralization Reform. The PULSE page includes more information and several infographics.