How a Ugandan social enterprise is supporting economic development and food security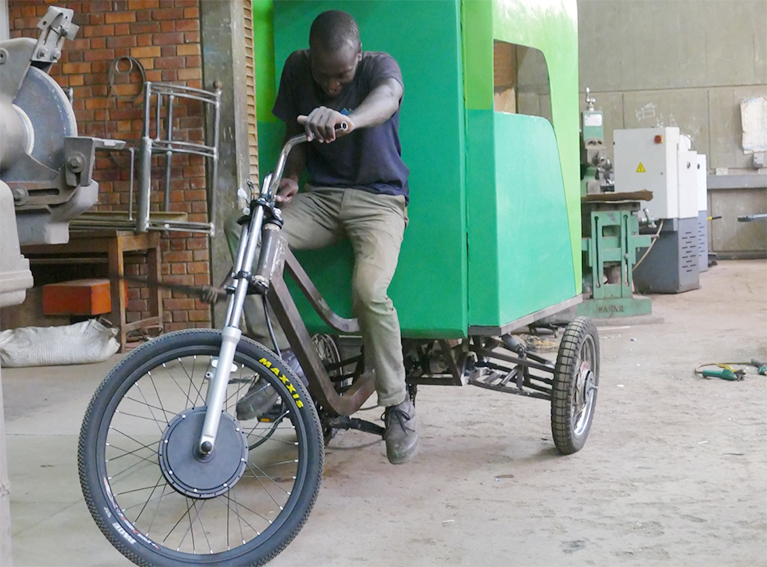 Ben Wokorach, a Ugandan social entrepreneur and Mandela Washington Fellow, wants to spur economic development through agriculture and improve food security in the process. Through an innovative social enterprise, he's working to prevent produce loss by providing proper storage and distribution equipment in Ugandan communities and beyond.
Hunger affects over 800 million people globally. In the last decade, food security in sub-Saharan Africa has declined in areas that have experienced conflict or climate-related disasters. The population of East Africa alone is projected to grow by 2.5% per year, which is expected to have an adverse effect on the availability of food resources in the region.
In particular, Uganda's influx of over a million refugees has increased the country's dependence on food and cash assistance. With the agricultural sector employing two-thirds of its citizens, innovation in this field has become a necessity for further economic development.
Innovating agriculture transportation to reach communities
After participating in a six-week leadership program at Purdue University as part of the Mandela Washington Fellowship for Young African Leaders, Ben gained the motivation and skills to execute his business plan on his journey to become a successful agripreneur.
Ben was taught to farm as a child. But as he grew his business, half of his produce yield would go to waste before he could sell it to potential customers.
"After harvest, lack of proper storage for the perishable produce was the immediate challenge," says Ben. "We often sprinkled water on produce to keep it fresh, package it in sacks, and transport it on bicycles to the market. But almost half of the produce would go to waste before selling it to customers and resulted in losing a lot of money."
During his university studies, Ben realized that this problem was not unique to his business. He wanted to create a method for farmers to reduce post-harvest losses, increase profitability, and distribute produce to their target market.
I plan to leverage these relationships [from the Fellowship] to create partnerships and collaborate with Fellows and organizations in other countries to expand my business.Ben Wokorach, Mandela Washington Fellow

 
"People in my community are still experiencing this problem today, and are part of 70% of Africa's population who greatly depend on agriculture for their livelihood," Ben says.
In 2015, Ben founded Fruiti Cycle, a social business enterprise that distributes electric tricycles mounted with refrigerated units. Fruiti Cycle's vehicles allow farmers to carry five times more produce than typical bicycles. To generate electricity, the tricycles use manual pedaling to power an engine that can travel at speeds of up to 50 km/hr. This innovation helps farmers travel longer distances to reach markets within a radius of 100 km while keeping their produce fresh.
Since it was established, Fruiti Cycle has had a direct impact on the lives of over 200 farmers and market vendors and is expected to scale to 200,000 in the next five years. Ben projects that in 2022, Fruiti Cycle will reach over 5 million indirect beneficiaries across the continent by expanding through a licensing model.
Creating economic opportunities for youth in agribusiness
As Uganda is the second youngest country in the world, Ben understands the importance of including youth in conversations surrounding economic development.
"Youth are a major economic driver, especially in Uganda," says Ben. "They have the energy and dynamism to [work in the] labor force and they have innovative, creative minds for novel solutions."
Fruiti Cycle works with young agripreneurs to provide employment opportunities that will ultimately help drive economic growth and sustainability in the country for years to come.
"Fruiti-cycle works with youth agripreneurs at various levels, [for example youth] farmers who grow fruits and vegetables and need distribution for their produce, and [youth] employees who operate the Fruiti-Cycle bike," says Ben. "This not only helps to reduce post-harvest losses, but also provides employment opportunities leading to economic growth."
Ben's experience as a Mandela Washington Fellow also helped him connect with other young African leaders across the continent to further grow his business. In the future, he plans to scale the sales of the electric tricycles to 50,000 units annually across Africa.
"During the Mandela Washington Fellowship, I had the opportunity to share and network with 24 other Fellows from 19 countries," says Ben. "I plan to leverage these relationships to create partnerships and collaborate with Fellows and organizations in other countries to expand my business."
The Mandela Washington Fellowship for Young African Leaders is a program of the US government and is supported in its implementation by IREX. For more information on the Young African Leaders Initiative (YALI), please visit yali.state.gov.