Growing global business partnerships from international exchanges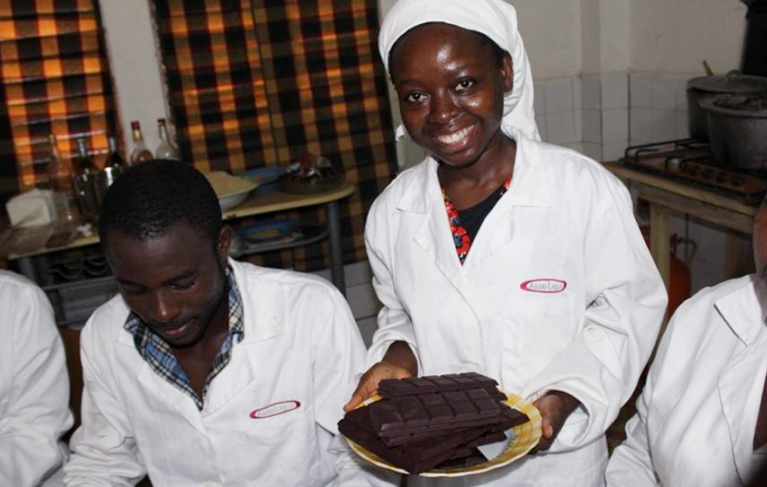 Sub-Saharan Africa has some of the fastest-growing economies across the globe, while the United States exports a large number of American goods to African countries. Nathalie Kpante, an agribusiness entrepreneur and Mandela Washington Fellow, took note of this global trade partnership. She leveraged relationships with American businesses that she cultivated during her international exchange in the US Department of State-funded Mandela Washington Fellowship for Young African Leaders to support the growth of her Togo-based chocolate company, while simultaneously driving the US export market.
In 2013, Kpante and five young Togolese entrepreneurs started ChocoTogo, a cooperative that produces 100% organic chocolate. For three years, ChocoTogo found success primarily in Europe, where they sold granular chocolate. Back in Togo, however, their chocolate was less popular given that Togolese consumers preferred the imported, refined chocolate that they saw in stores. In order to meet this new demand, ChocoTogo needed to gain the necessary production skills, acquire equipment, and expand its network of partners.
Growing business networks and American partnerships
"This is the first time the company has exported to Togo. We're excited about the possibility of expanding DCM into the African market and look forward to further partnering with Mandela Washington Fellows."

Bhavani Veerapaneni, president of DCM
Through the Fellowship, Kpante participated in a six-week Professional Development Experience (PDE) at Theo Chocolate in Seattle, Washington. She set out to learn every step of the chocolate refining process, from separating good and bad cocoa beans and working with refining equipment, to learning new recipes and developing new packaging. Kpante also helped strengthen Theo Chocolate's understanding of and partnership with cocoa farmers in sub-Saharan Africa.
"Since we work directly in Africa, taking out a crop that we then turn into a high-value product, it was very meaningful to support entrepreneurs who are doing this themselves and to have a more mutual exchange of value," says Emily Benson, supply chain impact manager and Kpante's supervisor at Theo Chocolate.
To obtain refining equipment for ChocoTogo, Kpante leveraged another relationship she cultivated in the United States with Diamond Custom Machines (DCM). She traveled to DCM's factory in New Jersey to purchase a small refining machine to take home to Togo. A year later, she imported a second, larger machine from DCM to keep up with the demand for her company's new refined chocolate.
Transitioning from local markets to a global economy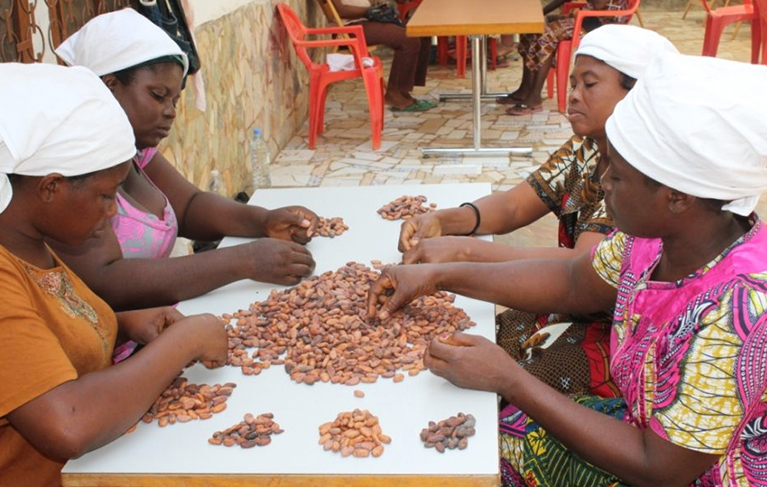 The American export market to Togo and other African countries is poised to expand and diversify in response to the growth of African businesses like ChocoTogo. American companies such as DCM that have established relationships with African businesses will be at the forefront of this market, and international exchanges present a prime opportunity for American companies to benefit and grow.
"This is the first time the company has exported to Togo," says Bhavani Veerapaneni, president of DCM. "We're excited about the possibility of expanding DCM into the African market and look forward to further partnering with Mandela Washington Fellows."
Today, ChocoTogo is successfully producing and selling refined chocolate. Kpante credits this newfound success to the relationships she developed during her experience in the Mandela Washington Fellowship.
"My PDE experience at Theo Chocolate and my participation in this Fellowship gave me many skills and [submerged] me in the world of chocolate."
ChocoTogo also continues to create jobs and promote Togo's economic development by sourcing all of its cocoa from a group of 1,700 smallholder farmers in the country. The company has also expanded its contracts with local supermarkets in Togo and is exporting chocolate to Benin and Cote d'Ivoire.
"In the future, we hope to open independent storefronts in Togo's capital, Lomé, and the tourist destination, Kpalimé, which will create additional jobs and expansion opportunities," says Kpante.
The Mandela Washington Fellowship is sponsored by the U.S. Department of State with funding provided by the U.S. Government and administered by IREX. For more information on the Young African Leaders Initiative (YALI), please visit yali.state.gov.