Engaging youth to tackle unemployment in Nigeria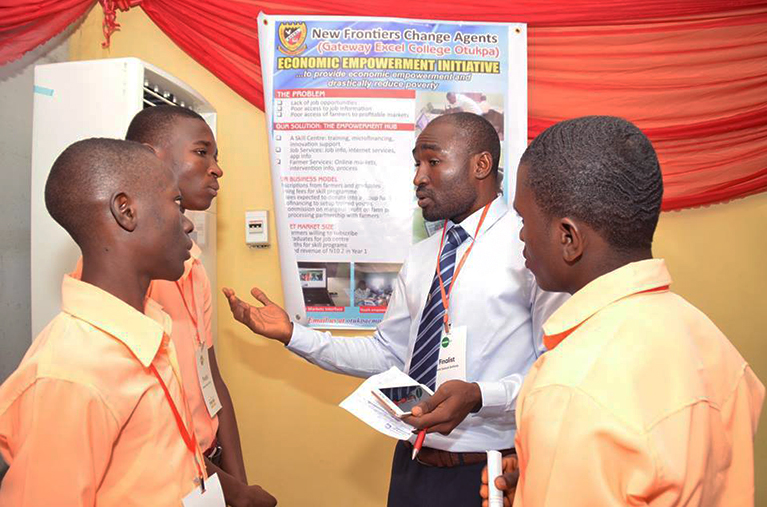 To increase economic and employment opportunities for youth, the Mandela Washington Fellowship Alumni Association of Nigeria (MWFAAN) set out to empower young people with skills not typically taught in Nigerian classrooms: critical thinking, problem-solving, and entrepreneurship.
In Nigeria, mounting population growth has led to high unemployment, especially among youth. According to a report published in June by Nigeria's National Bureau of Statistics, there are currently 7.9 million unemployed Nigerians between the ages of 15 and 34.
MWFAAN consists of over 285 Nigerian alumni of the Mandela Washington Fellowship for Young African Leaders. The alumni used the networks and skills that they developed through the Fellowship to create a national community development and entrepreneurship program for students.
Challenging youth to look beyond the classroom
"It is apparent right now in Nigeria that most students go to school just for the sake of going to school," says Olumide Lawal, former president of MWFAAN. "In other words, you go to school and study simply to pass your examination from one level to another."
This system of education can leave young people with few professional options after graduation. It also contributes to the skills gap between what students learn in school and what employers seek.
"If you don't get a paid position right away, you should be able to start something for yourself," says Lawal. "You should be able to develop an idea, business, or organization by yourself. That is the whole idea that we are trying to [teach]."
It is this vision that inspired the Beyond School Community (BSC) Challenge, a national community development and entrepreneurship program that invites students from across Nigeria to identify a problem within their community and propose a solution with social and economic impact. The program aims to not only encourage the development of critical entrepreneurial skills in young people in Nigeria, but also to inspire a commitment to their local community.
Supporting economic opportunities for Nigerian students
MWFAAN received applications from over 300 teams across Nigeria. They invited five finalist teams to the Grand Finale and Summit in Lagos to compete for a share of the prize, which included scholarship support toward their West African Examinations Council fees, three months of mentoring, and a stipend to implement their projects. Each team consisted of three students ages 12 to 18, and one facilitator, a teacher or mentor to guide the project.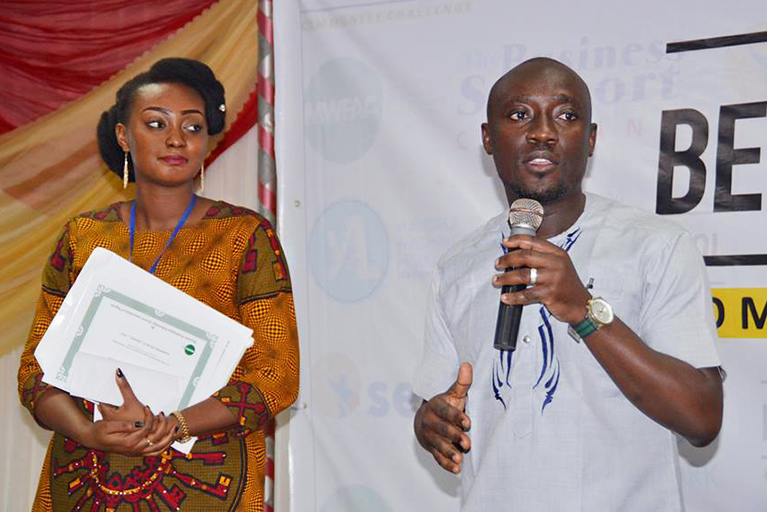 Key stakeholders in the youth development sector attended the final pitch competition, including members of the US Embassy and Consulate in Nigeria, the Nigerian Ministry of Education, and the Tony Elumelu Foundation. The program and event were widely covered by Nigerian media.
Beyond participating in the pitch competition at the two-day event, youth finalists also visited the US Embassy and Consulate's EducationUSA office, Nigerian Breweries, and So Fresh! Each visit exposed students to study abroad opportunities, social entrepreneurs, and practical leadership lessons.
The winning project, pitched by Team New Frontiers from Benue State, intends to tackle unemployment and promote economic empowerment in their community through the creation of a job center. Already in the planning stages for next year's BSC Challenge, MWFAAN aspires to institutionalize the process and make the Challenge an annual event.
"This is a milestone achievement for MWFAAN as we strive to reposition the education system in Nigeria towards self-reliance and critical thinking," says Lawal. "The entire process has been that of dedication, commitment, grit, and an avowed desire to give back to our country."
Creating entrepreneurial
initiatives inspired by US
communities
At the core of the BSC Challenge are values that Lawal says he and his peers learned during their US-based portion of the Mandela Washington Fellowship: community engagement and volunteerism.
We learned that people are more important than projects and that we must promote integrity over expediency.

Olumide Lawal, Mandela Washington Fellow
"[The Mandela Washington Fellowship] helped us think a lot about impact-driven projects," says Lawal. "We learned about the importance of commitment to community and volunteerism. We also learned that people are more important than projects, and that we must promote integrity over expediency. And, of course, I learned to promote service over the position you hold."
The Mandela Washington Fellowship strives to build enduring networks to support, sustain, and multiply the impact of Fellowship programming. More than 77% of Fellows have reported sustained relationships with other Fellows to foster a strong network across 49 countries in sub-Saharan Africa.
The BSC Challenge is a powerful example of Fellow-led entrepreneurial initiatives within the growing Mandela Washington Fellowship network. Through the BSC Challenge, MWFANN plans to continue making an impact in African communities while empowering youth every step of the way.
The Mandela Washington Fellowship is sponsored by the U.S. Department of State with funding provided by the U.S. Government and administered by IREX. For more information on the Young African Leaders Initiative (YALI), please visit yali.state.gov.