Engaging youth to counter violent extremism in Nigeria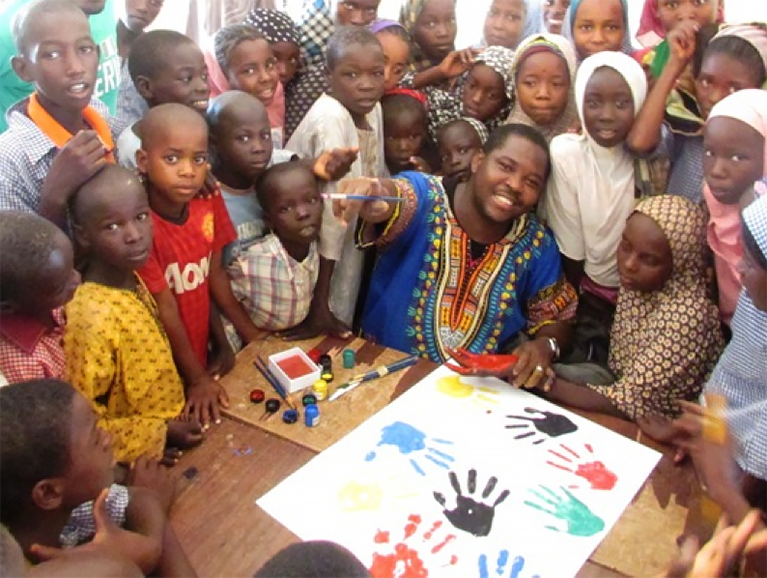 Olakunle Joel Adewale, a young African leader from Nigeria, is an educator and a visual artist. He is employing a unique approach to empowering victims of Boko Haram and countering extremist narratives.
Alternative approaches to countering violent extremism
Empowering victims of terrorism is a critical component of countering violent extremism (CVE) programming and strategies. Not engaging with victims of violent extremism can leave communities vulnerable to recruitment, as victims are often seen as easy targets. Therefore, civil society must effectively engage with marginalized populations and build greater trust through community dialogue by working with youth who are disenfranchised.
Through the Mandela Washington Fellowship in 2015, Adewale was introduced to ICEHA, a US-based nonprofit that provides relief and assistance in conflict and postconflict areas. Interested in tapping into Adewale's experience in community development and expertise as a visual artist, ICEHA wanted to develop a project that would focus on empowering young victims of Boko Haram.
Since then, Adewale has successfully used theater, painting, and dance to cultivate a community of young ambassadors who promote peace and tolerance by sharing their stories. In particular, activities encourage youth to use visual art to express the trauma they have endured as a result of the conflict in northeastern Nigeria.
Rebuilding communities by rehabilitating young victims of violent extremism
For example, Abubakar, a 12-year-old boy from Gwoza, was forced to flee his home due to the conflict. He found an outlet for his trauma by painting his story and the journey of his displacement.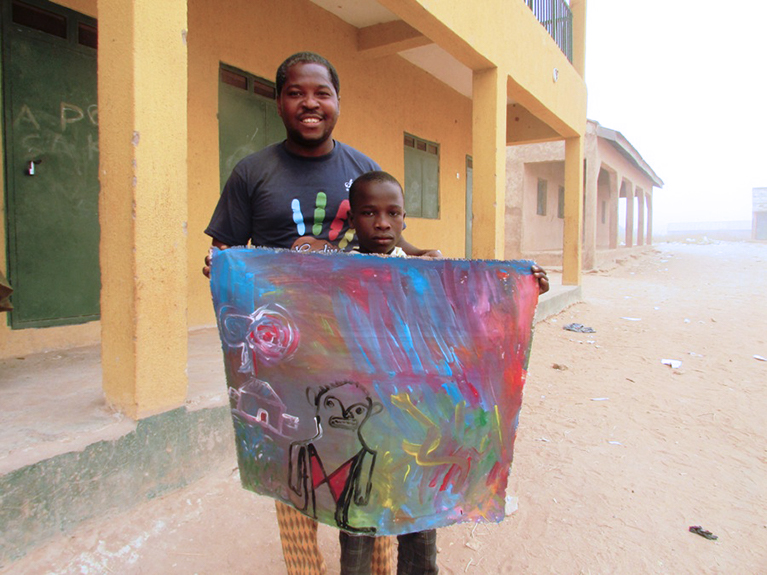 Abubakar is now focusing on going back to school. His goal is to become a doctor one day. He credits the program for his renewed sense of focus and faith in the future.
According to a report issued by UNICEF in December 2015, the ongoing violence in northeastern Nigeria has forced more than 1 million children out of school. Not only are these children at risk of dropping out of school altogether, but also they are seen as potential recruits for Boko Haram. They are vulnerable to radicalization and promises of income and support, a tactic employed by many terrorist organizations.
Moreover, issues around identity are often seen as critical drivers for the radicalization of youth. Rehabilitation programs that focus on providing victims of violent extremism with a sense of belonging and community solidarity are critical during periods of conflict.
Adewale has also worked with young women who have lost members of their family to the ongoing conflict and whose husbands are vulnerable to recruitment by Boko Haram. Young women often face the most stigma and find reintegration particularly difficult.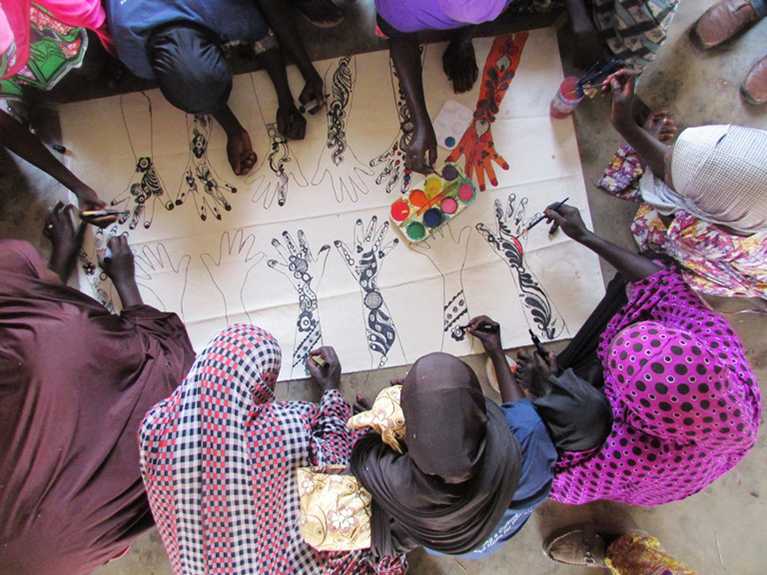 Many of the women in Adewale's program found their voice and can now share their stories. They often collaborate on joint projects.
Since launching the program, Adewale and ICEHA have worked with over 3,000 survivors of Boko Haram. Adewale believes that the "power of unity is key in rebuilding communities." By helping victims develop credible and constructive narratives, Adewale helps to ensure that displaced youth are effectively engaged and reintegrated through interventions that are relevant to their lives.
IREX works with Mandela Washington Fellows in West and East Africa, convening virtual and in-person discussions to understand how youth-led strategies are preventing and countering violent extremism. Young leaders like Adewale understand first and foremost how to empower other youth. They are therefore critical agents of change who can identify local solutions to global problems.
The Mandela Washington Fellowship is sponsored by the U.S. Department of State with funding provided by the U.S. Government and administered by IREX. For more information on President Obama's Young African Leaders Initiative (YALI), please visit mandelawashingtonfellowship.state.gov.