Empowering young entrepreneurs to improve health care in Nigeria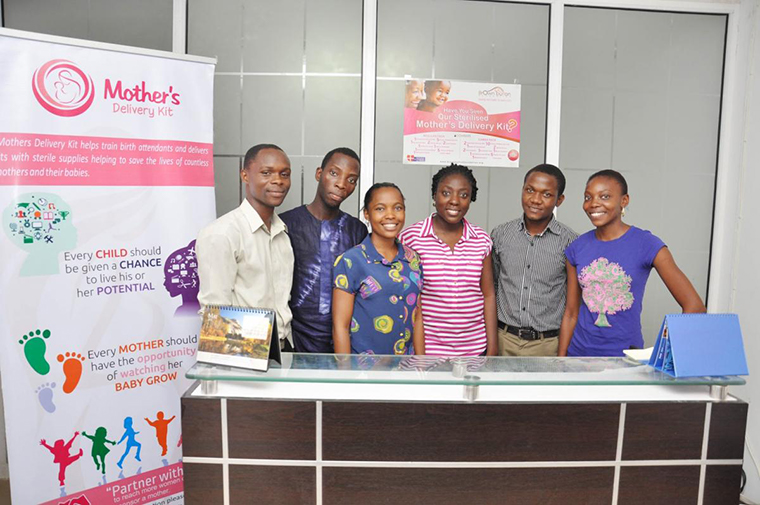 "Every mother should be entitled to expert heath care, regardless of [her] economic status and location, in order to ensure the health, safety, and well-being of herself and her baby," says Adepeju Jaiyeoba. She is an advocate for women's rights and a participant in the Mandela Washington Fellowship for Young African Leaders, which IREX implements.
Last May, Jaiyeoba was recognized at the White House for her work as an emerging global entrepreneur. The company that she founded, Mother's Delivery Kit, manufactures and distributes birth kits in Nigeria. Jaiyeoba's goal is to offer affordable, lifesaving delivery supplies to women, particularly in rural communities.
Promoting maternal health rights and economic empowerment 
According to UNICEF, Nigeria loses about 2,300 children under five years of age and 145 women of childbearing age daily—making it the second largest contributor to the under-five and maternal mortality rate in the world. Rural areas of the country often lack sterile equipment, which contributes to unsafe delivery conditions. Meanwhile, many midwives and delivery assistants use alternative methods to deliver babies, resulting in the death of both mothers and their children.
Jaiyeoba founded Mother's Delivery Kit in 2014 after a close friend died during child birth. Jaiyeoba realized that deaths like this could be prevented by empowering women and teaching them behavioral changes in health care.
"We are focused on providing simple lifesaving solutions, increasing economic opportunities for disadvantaged women, and connecting women in rural communities with the lifesaving supplies they need at childbirth," says Jaiyeoba.
Gaining sustainable knowledge and skills
Jaiyeoba learned about the Mandela Washington Fellowship from a close friend. A lawyer by trade, Jaiyeoba realized that the Fellowship was a great opportunity to hone a set of skills that would be necessary to reach more women in her community and build the sustainability of her company.
Sometimes, all that is needed to unlock the potential in someone is the right opportunity. The Mandela Washington Fellowship woke up the giant in me.

Adepeju Jaiyeoba
Through a six-week program in the Business and Entrepreneurship Institute at the University of Texas, which was part of the Fellowship, Jaiyeoba expanded her knowledge of the business and entrepreneurship field. The experience enabled her to increase her customer base while doubling production to serve more communities in Nigeria.
"At the Institute and during my time as a Fellow, I gained background knowledge in business and learned to focus on sustainability as an important tool for the growth of my organization," Jaiyeoba says. "I also networked with a number of Fellows which has assisted in spreading our work to other countries like Ghana."
Jaiyeoba was one of 100 Fellows selected to complete an eight-week internship in the United States following the Fellowship. She interned with the United Nations Foundation, enhancing her knowledge of the global health field.
"There is no limit to the power of young people with a common goal determined to do whatever it is they set their mind to," Jaiyeoba says. "Sometimes, all that is needed to unlock the potential in someone is the right opportunity. The Mandela Washington Fellowship woke up the giant in me."
Leveraging growth for success
Jaiyeoba's experience as a Fellow not only helped her improve her company but also prepared her to train midwives and delivery assistants on safe delivery methods. Additionally, she was able to connect and train women in rural areas to become agents of change in their communities. These women earn a commission on delivery kit sales, enabling them to build financial sustainability for their family.
Jaiyeoba was also awarded a $25,000 seed grant from the United States African Development Foundation (USADF) as well as a $10,000 grant from the social venture organization D-Prize. Both awards have helped her company double its distribution and strengthen its team to expand services to more rural areas in Nigeria.
Through a Speaker Travel Grant provided by IREX with support from USAID, Jaiyeoba spread awareness of her work and showcased her company's growth at Diaspora Demo Day, the largest gathering of African startups in the Washington, DC area. As a result, Jaiyeoba was named a Young Innovator by the World Innovation Summit for Health.
Jaiyeoba is currently focusing on leveraging the growth of the company within Nigeria and taking the lessons learned to other parts of Africa. In the next five years, she hopes to make an impact across many African communities, connecting women to lifesaving supplies at childbirth and improving their odds of survival.
"Our success right now lies not in the number of kits we have sold, but in the number of women we have empowered, as well as the number of women and children alive today."
The Mandela Washington Fellowship is sponsored by the U.S. Department of State with funding provided by the U.S. Government and administered by IREX. For more information on President Obama's Young African Leaders Initiative (YALI), please visit mandelawashingtonfellowship.state.gov.