Quick Facts
Novateca is a network of more than 1,000 public libraries in each of Moldova's 35 administrative regions, providing the public with 21st-century technology tools, digital literacy learning resources, and community services that address local needs.
More than 450,000 library visitors have learned general internet skills and 260,000 have used Novateca library resources to access government information and services online.
National and local authorities matched IREX's $3.5 million in 2016 project funding with $1.5 million of their own support for 21st-century tech tools and staff capacity at public libraries. Local businesses and civil society groups contributed another $210,000 for joint community initiatives and internet connectivity for public access computers.
Novateca employs a rigorous monitoring and evaluation methodology, collecting data with an array of surveys and reporting tools. These are complemented by regular national surveys that assess Moldovans' ever-changing information needs.
Novateca's e-Ambassador Initiative has transformed 29 libraries into accredited e-service training sites whose librarians have trained more than 630 patrons, library staff, and private-sector entities in use of e-government services.
Moldovans are now better able to participate in their communities and access key information to improve their lives. In 2016, 73% of Novateca library patrons surveyed reported learning about community or civic activities as a result of library tech; 88% reported improving their health; 42% participate in informal learning opportunities; and 45% say they are better qualified to find employment as a result of public library services. For more on public library use in Moldova, see the Bill & Melinda Gates Foundation's Global Libraries Data Atlas.
Key Novateca initiatives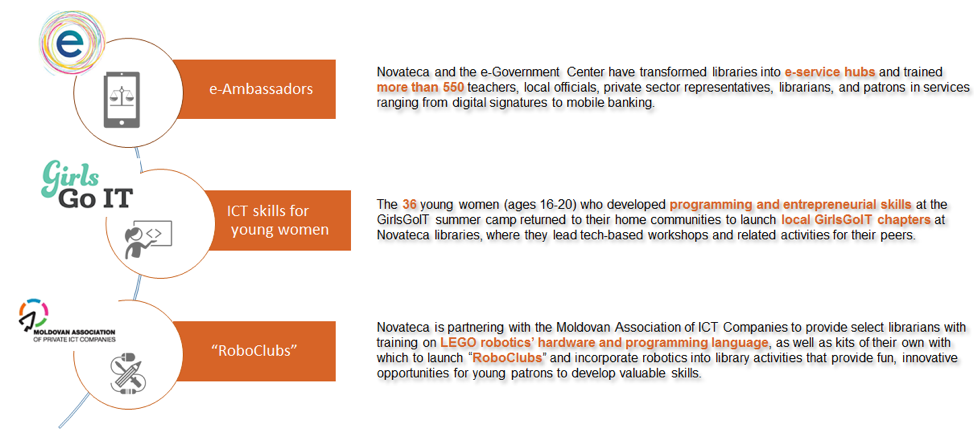 Watch Moldova's National Public Library Awareness Campaign
See the previous Public Library Awareness Campaign »