YLAI Program partner opportunities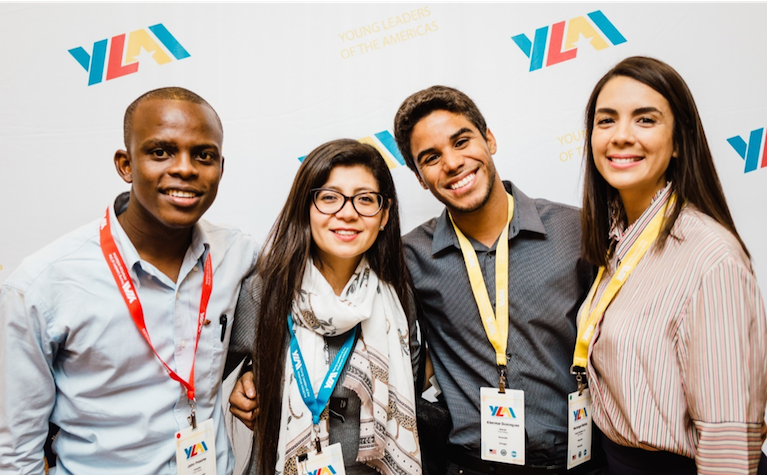 The Young Leaders of the Americas Initiative (YLAI) Program is seeking partners across the United States. 
YLAI Fellows are innovative entrepreneurs and business leaders from 37 countries across Latin America, the Caribbean, and Canada. Starting in January 2021, they will complete one-month substantive fellowships at businesses and organizations across the United States to grow their networks, business expertise, and leadership skills. 
Partnership Opportunities
Host a fellow at your organization:

 Host a fellow who will substantively contribute to your organization during a supervised fellowship completed any time between January 11 – March 26, 2021. The fellowship duration, schedule, and weekly time commitment are flexible. IREX is seeking companies, small and medium-sized businesses, start-ups, incubators, accelerators, and community organizations across many sectors that are passionate about cross-cultural idea exchange.

Share your expertise as a mentor:

Become an entrepreneurship mentor to a small group of fellows to share your expertise and support their learning journey.

Promote cultural understanding as a cohort ambassador:

Support the experiential learning, leadership development, and cultural exchange experience of a group of fellows by convening fellows on a weekly basis and hosting meaningful opportunities for fellows and Americans to connect.

Sponsor networking events and U.S. host exchanges:

Support and engage in our Closing Forum as a sponsor, speaker, or facilitator. Event partners receive exposure to 280 fellows and organizations supporting economic development across the region.

Engage fellows as a guest speaker:

Share your knowledge and inspire fellows by leading an online module in your area of expertise or during other virtual programming opportunities.

Help recruit and select fellows:

 Share the YLAI Fellowship application with your networks in Spring 2021 to help us reach entrepreneurs across the Americas and/or serve on the Selection Committee to review applications and interviews of potential fellows. 
Why partner with IREX? 
Connect with innovative entrepreneurs: YLAI fellows are early and midcareer business professionals in their sectors and countries, who are motivated to contribute to and learn from U.S. businesses and organizations. IREX evaluates applicants through a robust selection process to ensure that leaders have several years of professional business experience and are poised to actively contribute to their host organizations.
Expand your professional network and business opportunities in Latin America, the Caribbean, and Canada: Hosting and mentoring a YLAI fellow often leads to new contacts and long-term international collaboration. Hosts may also apply for collaboration grants, which can be used for travel if it is safe and feasible.
Gain diverse perspectives and relevant expertise: Host organizations and businesses benefit from the diverse experiences and cultural backgrounds of leaders who bring a fresh perspective and expertise that meets their organization's needs. (see list of countries below).
Enhance your organization's visibility: Outstanding host organizations receive free promotion through IREX to a network of approximately 700 U.S.-based organizations and over 750 business leaders throughout the Americas.
Contribute to the region's economic development: Your expertise, ideas, and time builds the fellows' ability to address pressing business challenges and introduces them to new trade and investment opportunities.
No cost: IREX sponsors leaders' expenses and English language testing, provides complete financial support, and monitors and supports the business leaders' activities throughout the duration of the program.
Host Organizations' Contributions 
Designate a supervisor: Host organizations will designate a full-time, high-level staff member to guide the fellow in their professional growth. This individual should be excited to help expand the fellows' business skills and support their development as business and social leaders.
Share knowledge and collaborate: Host organizations should be prepared to share their experiences and knowledge to help their fellow achieve their learning goals for the fellowship. Hosts are encouraged to provide guidance as fellows design action plans to implement at their own businesses or organizations after the fellowship, and to collaborate with their fellows on the implementations of the action plans.
Foster networking opportunities: Host organizations should be excited to facilitate their leader's experiential learning and foster networking opportunities within their business sector and professional network.
Additional Information 
Go to the Partner Interest Form
YLAI Fellows' Countries 
Antigua and Barbuda, Argentina, Aruba, Bahamas, Barbados, Belize, Bolivia, Brazil, Canada, Chile, Colombia, Costa Rica, Cuba, Curacao, Dominica, Dominican Republic, Ecuador, El Salvador, Grenada, Guatemala, Guyana, Haiti, Honduras, Jamaica, Mexico, Nicaragua, Panama, Paraguay, Peru, St. Kitts and Nevis, St. Lucia, St. Vincent and the Grenadines, St. Maarten, Suriname, Trinidad and Tobago, Uruguay, and Venezuela.
Contact 
To learn more about partner opportunities, please fill out our Partner Interest Form. For questions, please send an e-mail to Erin Patrick (epatrick@irex.org).