Opportunity for young entrepreneurs in the Americas: YLAI Fellowship Program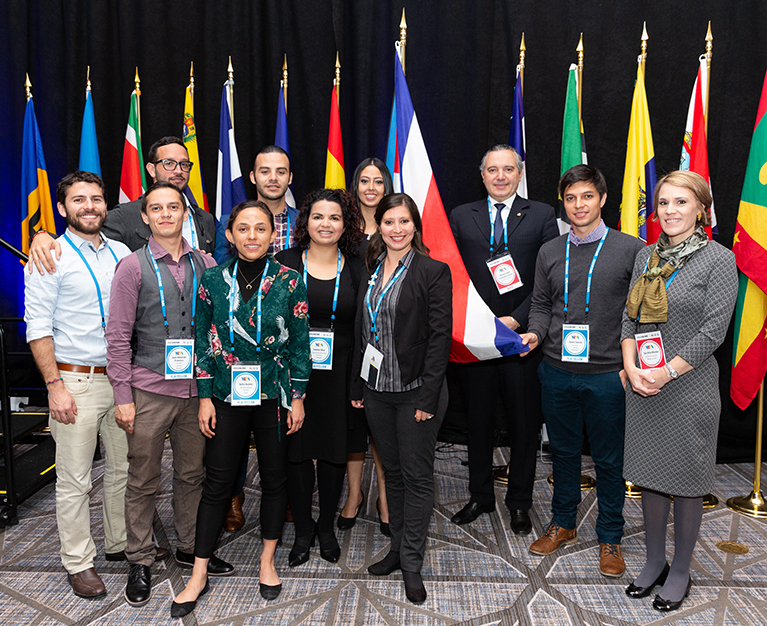 The application process for the next Young Leaders of the Americas (YLAI) Fellowship Program is now open. Please review the information below for details.
The Young Leaders of the Americas Initiative (YLAI) empowers entrepreneurs to strengthen their capacity to launch and advance their entrepreneurial ideas and effectively contribute to social and economic development in their communities.
Since the initiative's launch in 2015, more than 750 YLAI Fellows from Latin America and the Caribbean have expanded their leadership and entrepreneurial experience through fellowships at businesses and organizations across the United States. Through the YLAI Entrepreneurship Institute and the individualized Fellowships, YLAI Fellows have accelerated their commercial and social ventures' success and developed specific action plans to carry out upon return to their home countries. YLAI Fellows built networks, linkages, and lasting partnerships to attract investments and support for their entrepreneurial ventures. Program components have included:
Four-Week Placement:

 In cities across the United States, YLAI Fellows gain valuable professional development skills and experience at U.S. entrepreneurial organizations from each Fellow's business sector. Fellows will collaborate with their fellowship host on their Entrepreneurial Leadership Action Plan (E-LAP), which the Fellows will implement upon return to their home countries.

YLAI Entrepreneurial Leadership Curriculum:

 The YLAI Fellowship Program includes online and in-person coursework, developed by IREX and Arizona State University (ASU), that combines technical entrepreneurship training and leadership development. Using the E-LAP, Fellows will set and achieve their entrepreneurial leadership goals.

U.S. Orientation and YLAI Closing Forum in the United States:

 YLAI Fellows participate in the U.S. Orientation in Tempe, Arizona, and YLAI Closing Forum in Washington, DC, as well as networking events with business and social entrepreneurial leaders, and U.S. government representatives.

Post-Fellowship Sustained Engagement:

 After successful completion of the U.S. Fellowship and YLAI Entrepreneurship Institute, YLAI Fellows continue their collaboration with U.S. partners and have access to ongoing professional development opportunities, mentorships, networking, and alumni activities. YLAI Fellows will have the chance to welcome a Fellowship host to their country through the Outbound Program, sharing their expertise on the entrepreneurship climate in their country.
Financial Provisions of the YLAI Fellowship Program
There is no fee to apply to become a YLAI Fellow. The U.S. Government will cover all YLAI Fellowship Program costs. Financial provisions provided by the U.S. Government will include:
J-1 visa support. No visa support will be offered to dependents, as this is an unaccompanied program.

Round-trip travel from participant's home city to the United States and domestic U.S. travel, as required by the program.

YLAI Entrepreneurial Leadership Curriculum coursework and mentoring.

U.S. Orientation in Tempe, Arizona, and YLAI Closing Forum in Washington, DC.

Four-week professional placement with host organization.

A limited accident and sickness benefit plan.

Housing and meal stipend during the program.
Who Is Eligible to Apply?
Candidates will be considered without respect to race, color, religion, sex, gender, sexuality, national origin, disability, or any other protected characteristic as established by U.S. law. Applicants with disabilities are eligible and encouraged to apply for the YLAI Fellowship Program. The YLAI Fellowship Program is open to young entrepreneurs who meet the following criteria:
Are between the ages of 25 and 35 at the Fellowship start date.

Are a resident and citizen of one of the participating countries:* Antigua and Barbuda, Argentina, Aruba, Bahamas, Barbados, Belize, Bolivia, Brazil, Canada, Chile, Colombia, Costa Rica, Cuba, Curacao, Dominica, Dominican Republic, Ecuador, El Salvador, Grenada, Guatemala, Guyana, Haiti, Honduras, Jamaica, Mexico, Panama, Paraguay, Peru, St. Kitts and Nevis, St. Lucia, St. Vincent and the Grenadines, St. Maarten, Suriname, Trinidad and Tobago, Uruguay, Venezuela.
* In the specific cases of residency in Aruba, Curacao and St. Maarten, citizenship in the Netherlands is accepted.

Are eligible to receive a U.S. J-1 visa.

Have a demonstrated track record of successfully growing their own business or social venture for at least two (2) years.

Are not a U.S. citizen or permanent resident of the United States.

Are not a U.S. government employee.

Are proficient in reading, writing, and speaking English.
The U.S. Department of State and its implementing partner IREX reserve the right to verify all of the information included in the application. In the event that there is a discrepancy, or information is found to be false, the application will immediately be declared invalid and the applicant ineligible.
Applications not meeting the above technical eligibility requirements will not be forwarded to the selection committee. If you do not meet the technical eligibility requirements for this program, we invite you to join the YLAI Network and visit exchanges.state.gov for information on other U.S. Department of State exchange opportunities.
What Are the Criteria for Selection?
The YLAI Fellowship Program is an open, merit-based competition. There is no cost to apply. After the application deadline, an independent selection committee of regional and technical experts reviews all eligible applications. Those applicants selected to be semifinalists will be contacted to schedule an interview in October. All applicants will be notified of their status by January 2020.
The YLAI Fellowship Program candidate selection committee will use criteria like the following to evaluate applications and interviews:
Demonstrated professional entrepreneurial experience and knowledge.

Commitment to community or public service, mentorship, or volunteerism in your home country and to applying entrepreneurial and leadership skills, experience and knowledge to benefit your community and country.

Demonstrated understanding of how your personal and professional goals align with program objectives.

Demonstrated leadership, commitment to your organization's or business's success, positive attitude, initiative, and perseverance.
Application Information
The purpose of the application is to collect information and to better understand an applicant's qualifications for the YLAI Fellowship Program. Questions are designed to capture the applicant's professional background, experience with their own business or social enterprise, and English language proficiency. The application will also include the applicant's work history and business profile.
General Application Instructions and Tips
The YLAI Fellowship Program uses an internet-based application system. You will need access to a computer or mobile device and the internet to apply. If you are unable to complete this online application due to a disability, please email apply.ylaifellowship@irex.org. The YLAI Team at IREX will coordinate with you directly regarding application accommodations.
You do not have to finish your application in one session. You may save your work and return to complete your application as many times as necessary. Once you have submitted your application, you can no longer add any additional information or make any changes. All information must be entered prior to your final submission. You must submit your completed application by the deadline.
Answer all questions on the application in English.
All fields marked with an * must be completed.
All answers in the application, including written responses to essays, must be your own, original work. Using language copied from other past applicant essays or using language from websites is considered plagiarism and will result in disqualification.
You may wish to review the application and its questions before filling out the application. Some applicants find it helpful to draft their responses offline (in a separate Word document for example) and then cut and paste their responses into the appropriate sections of the application.
This is the official application for the YLAI Fellowship Program administered by the U.S. Department of State. Only those applicants who complete this application will be considered. Applications and information submitted through email or other means will not be considered.
Applications must be submitted online at ylai.irex.org by February 25, 2021 at 11:00 AM EST to be considered. Applications that are mailed, faxed or emailed to IREX will not be accepted. Please direct any questions after reading this document to apply.ylaifellowship@irex.org.