J Visa Exchange Program: Application process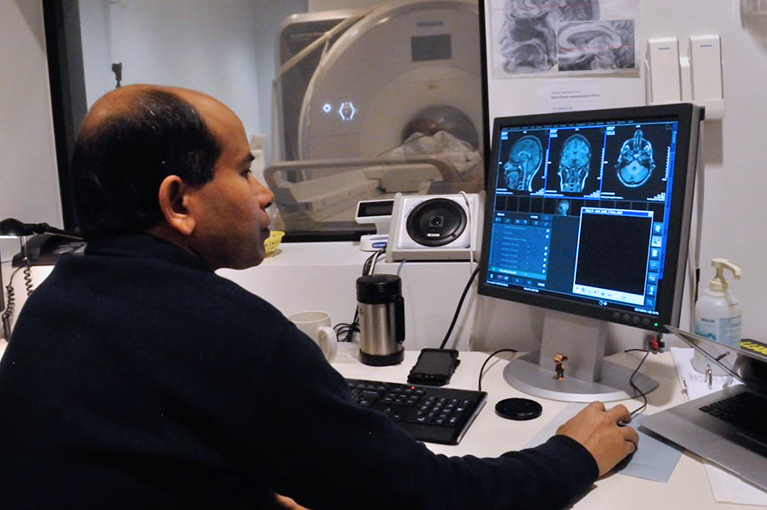 IREX's J Visa Exchange Program supports foreign researchers, scientists, and academics to obtain J-1 "exchange visitor" visas. Exchange visitors engage in collaborative research with U.S. host organizations on a visiting basis.
Exchange visitors and their U.S. counterparts mutually benefit, gaining cutting-edge skills, fresh perspectives on scientific problems, and lasting relationships with professionals, institutions, and laboratories around the world.
Learn more about eligibility and program parameters »
Prospective exchange visitors and U.S. host organizations must submit an application and supporting documents to IREX and be accepted into IREX's program before they can initiate a J-1 visa application.
We recommend submitting applications to IREX at least 4–6 weeks before the proposed research start date to allow adequate time for the visa process and relocation.
Overview of the application process
Step 1: Submit an application to IREX that defines the research aims
When a foreign researcher and U.S. organization identify a research collaboration of mutual interest, they must submit an application to IREX that articulates the program or project objectives and the applicant's qualifications. The researcher, host organization, or immigration attorney should consult IREX for a copy of our application and to discuss any program questions.
To begin the process, contact an IREX visa expert by sending an e-mail to jvisaexchange@irex.org or calling 1-202-628-8188, extension 179.
Step 2: IREX processes the application and prepares program agreements
IREX processes complete applications within approximately two business weeks (one full business week with an optional rush services fee). For approved applicants, IREX will issue written agreements for exchange visitor participants and host organizations that define program terms and roles.
Step 3: IREX issues the DS-2019, and the exchange visitor applies for a J-1 visa
Once the host organization and the exchange visitor return countersigned agreements to IREX, IREX will issue and ship the DS-2019 form(s) to the exchange visitor along with resources for navigating U.S. visa processes and acculturation. The DS-2019 is necessary for the J-1 visa application at the US embassy.
Step 4: The exchange visitor begins the research program
Assuming J-1 visa approval, the exchange visitor may begin their research program on the start date of the DS-2019. IREX will provide exchange visitors with instructions for their arrival check-in reporting. Other reports are required during the research exchange program as detailed in the exchange visitor's Terms and Conditions and Program Handbook.
Any changes to the original research program terms require approval by IREX.
Frequently asked questions
I represent an organization involved in scientific research, but we are not a university and we are not a J-1 sponsor. Can we still be involved in the J-1 program?
Yes, you can apply to be a host organization, assuming your organization and the research project or program you operate align with the U.S. Department of State's parameters for the J-1 Research Scholar or Short-Term Scholar programs. Contact IREX for free consultation.
What are the differences between the J-1 Research Scholar and J-1 Short-Term Scholar categories?
The categories are similar, but there are a few important differences:
Research Scholars may participate in research programs in the U.S. for up to 5 years, whereas Short-Term Scholar programs are limited to 6 months maximum.
To be eligible for a Research Scholar program, a person must not have held any J visa status for 6+ months of any part of the past 12 months.
There is a 24-month waiting period to be eligible for a Research Scholar visa after previously participating as a J-1 Research Scholar;

 repeat participation as a Short-Term Scholar does not require the same defined waiting period. However each Short-Term Scholar program must have a unique objective that sets it apart from previous Short-Term Scholar programs, and be truly short-term in nature (it cannot be used on a repeat basis to effectively "extend" the activities of an earlier Short-Term Scholar program).

Research Scholars must be conducting research, consulting, or receiving training in connection with a research project at qualified host organizations. Short-Term Scholars may be involved in research or participate in other academic activities, such as seminars, workshops or study tours.
I've noticed IREX works with many programs in developing countries. Are participants from wealthier countries eligible to participate in IREX's J Visa Exchange Program?
Yes! Although much of our work focuses on global development, IREX also has robust partnerships with the private sector in administering our exchange programs. Generally, foreign scientists, researchers, and academics from any country are eligible to participate in IREX's J Visa Exchange Program.
Visa sponsorship fees earned from this program directly support IREX's broader work and mission to build a more just, prosperous, and inclusive world.
Can IREX sponsor J-1 visas for other programs besides research? For example, can I participate in a hospitality internship in the U.S.?
IREX is a designated sponsor of J-1 Students at postsecondary accredited institutions. We have developed and administered customized exchange student programs for a variety of universities and colleges. Institutions can contact our team if hosting exchange students is of interest.
IREX does not sponsor any professional J-1 programs outside of those for researchers. We cannot assist with J-1 Intern, Trainee, or Summer Work Travel programs.
I wish to obtain a J-1 visa but I do not have an invitation from a U.S. host organization. Can IREX help me find a research program?
No. Unfortunately, IREX is unable to provide matching services at this time.