Community Solutions opportunities for partners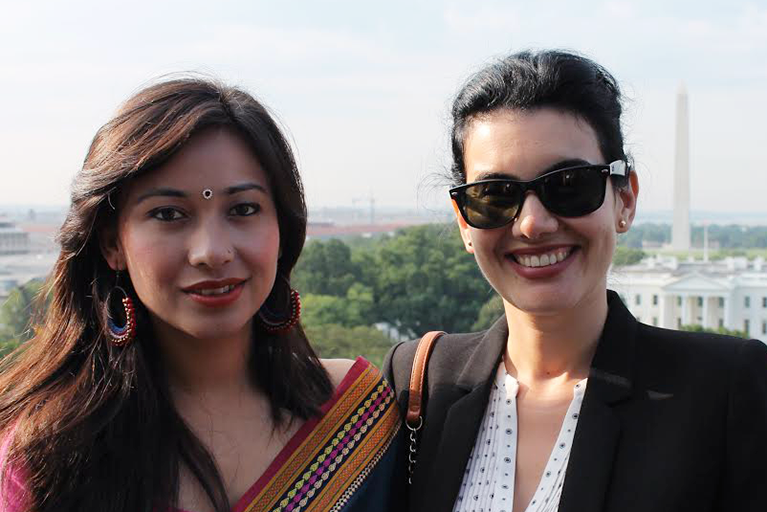 IREX seeks organizations to partner with the Community Solutions Program (CSP).
Engage with Fellows by hosting a Fellow at your organization, mentoring a Fellow, connecting Fellows, teaching Fellows, helping select and/or recruit fellows, and more. If you are interested in partnering with CSP, please complete the Partner Interest Form.
Community Solutions participants are among the best and brightest global community leaders working in transparency and accountability, tolerance and conflict resolution, environmental issues, and women and gender issues. Community leaders participating in the program come from over 60 countries for a fellowship in the US from August to December each year. 
Partnership opportunities
Recruit Fellows: Share the Community Solutions application with your networks to help us find the best and brightest Fellows.
Select Fellows: Serve on the CSP Selection Committee, which reviews applications and interviews potential Fellows.
Host a Fellow at your organization: Host a CSP Fellow at your organization for a 35-hour per week practicum from August to December. Alternatively, partner with another organization in your city to co-host a Fellow. IREX seeks community-based organizations, nonprofit organizations, grassroots organizations, government offices, or legislative bodies that actively engage in community development projects within the US.
Mentor a Fellow: Become a community mentor for a CSP Fellow and help them navigate their host city and experience its culture.
Host a Fellow at home: Host a Fellow in your home and share with them what makes your community great.
Connect with a Fellow: Become a connector in your host community to arrange discussions and events that connect leaders with one another and local community members.
Teach a Fellow: Volunteer to share your knowledge with CSP Fellows at in-person workshops in Washington, DC in August and December, or in online workshops throughout the year.
Collaborate with a Fellow: Learn more about the work Fellows do in their home countries and explore ways to collaborate.
Application materials
Why host a Community Solutions leader at your organization?
Outstanding community leaders: IREX pre-screens applicants through an extensive selection process which includes detailed reviews of candidate applications, interviews in English and language testing, ensuring that leaders are qualified to contribute actively to the life of the organization and the surrounding community.
Diversity: Hosts benefit from the diverse cultural and professional backgrounds and ideas of leaders (see list of countries below).
International networks: Interaction with leaders can lead to new contacts and areas for future international collaboration.
Publicity: Organizations receive free publicity through IREX and the community leaders.
Lasting change: Hosts have the opportunity to contribute to positive lasting change in community leaders' home communities by sharing their expertise and networks.
No cost: IREX sponsors leaders' visas, provides complete financial support, and monitors and supports the community leaders' activities throughout the duration of the program. In fact, hosts receive an honorarium for their participation in the Community Solutions Program.
Host organizations' contributions
Host supervisor: Hosts will designate a supervisor who will meet regularly with the leader to oversee and guide his/her work and learning at the organization, as well providing him/her with contacts and introductions within and outside of the organization that are related to his/her career interests.
Community mentor: Hosts will designate a community mentor who will provide the leader with general cultural and logistical support needed outside of the workplace.
Work space: Host organizations provide office space or other work space (shared if necessary).
Resources: Host organizations offer access to computer, e-mail, and Internet facilities.
Support: Hosts provide initial support in helping the leader find housing, familiarize themselves with local resources, and integrate socially and culturally into the host institution and community
Networks: Host organizations facilitate leader's experiential learning and networking.
Collaborate: Host organizations collaborate with community leaders on their follow-on projects.
Leaders' countries
Sub-Saharan Africa: Democratic Republic of Congo, Ghana, Guinea, Kenya, Liberia, Malawi, Mozambique, Rwanda, Sierra Leone, South Sudan, Sudan, Tanzania, Uganda, Zambia, and Zimbabwe
East Asia and the Pacific: Brunei, Cambodia, Fiji, Indonesia, Laos, Malaysia, Mongolia, Papua New Guinea, Philippines, Singapore, Thailand, Timor-Leste, and Vietnam
Europe: Albania, Bosnia-Herzegovina, Bulgaria, Czech Republic, Estonia, Hungary, Latvia, Lithuania, Macedonia, Moldova, Montenegro, Romania, Serbia, Slovakia, Turkey, and Ukraine
South and Central Asia: Bangladesh, Burma, Kazakhstan, Kyrgyzstan, Maldives, Nepal, Sri Lanka, Tajikistan, Turkmenistan, and Uzbekistan
Near East & North Africa: Egypt, Israel, Jordan, Lebanon, Libya, Morocco, Syria, Tunisia, and the West Bank/Gaza
Western Hemisphere: Bolivia, Brazil, Colombia, Costa Rica,Dominican Republic, El Salvador, Haiti, Paraguay, Peru, Trinidad and Tobago, and Uruguay
Contact
Contact the Community Solutions team by sending an e-mail to csp@irex.org