CEE Program Partner Opportunities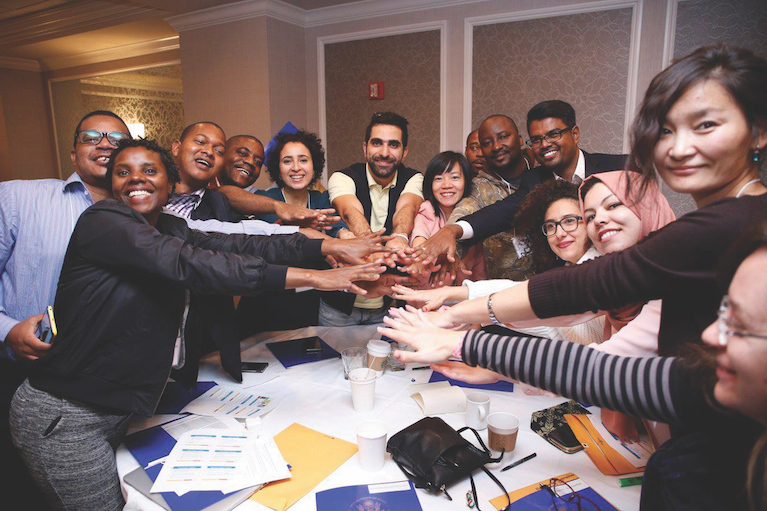 The Community Engagement and Exchange (CEE) Program is seeking civil society partners across the United States. 
CEE Fellows are emerging civil society leaders who are leveraging a global network of innovators to address critical 21st Century issues.  CEE equips dedicated visionaries with the expertise, skills, and resources to develop multisector approaches and build healthy and engaged communities in over 100 countries and the United States.
A transformational leadership development experience, CEE is a year-long program designed to enable civil society leaders, ages 21-28, to harness the power of networks, relationships, and information for the public good, specifically on issues related to civic dialogue and peacebuilding, open and participatory government, women and gender, resilience and sustainable development, and youth engagement.  
Partnership Opportunities – Come Join Us!
Help recruit and select CEE Fellows:  Share the CEE Program application with your networks to help IREX reach emerging civil society leaders across the world.  Invest your time and expertise by serving on the Participant Selection Committee to select potential CEE Fellows.    
Host a fellow at your organization:  Be matched with a fellow whose civil society initiatives and experiences align with that of your organization!  Fellows will work with U.S. colleagues on initiatives related to civil society issues they face in their own communities, during a supervised professional fellowship completed January-April 2022.  IREX is seeking civil society organizations and community organizations passionate about diversity and cross-border initiatives in CEE's five thematic areas: Youth Engagement, Women and Gender Issues, Resilience and Sustainable Development, Open and Participatory Government, and Civic Dialogue and Peacebuilding.  Organizations will include public institutions, government offices, social incubators, businesses, and non-profit organizations.
Nominate a CEE Specialist: Are you or someone you know skilled at solving community's problems through civic engagement?  Nominate a civil society expert to become a CEE Specialist.  CEE Specialists are a select group of professionals providing mentorship, expertise, and support to CEE Fellows throughout their learning journey.
Support CEE Program activities and networking events:  Support and engage in CEE's program activities as a sponsor, speaker, or facilitator.  Event partners receive exposure to approximately 130 Fellows and organizations supporting civil society across the world.
Why partner with CEE?
Connect with innovative global civil society leaders: CEE Fellows are a dynamic global network of innovators working with communities to address critical 21st Century issues.
Expand your professional network and help propel civil society initiatives across the globe: Hosting and mentoring a CEE Fellow leads to new contacts and long-term international collaboration.  U.S. host organizations may apply for the Community Engagement Project Exchange which will enable them to travel to a CEE Fellows' home country to work on community-based projects.
Gain diverse perspectives and relevant expertise: Host organizations benefit from the diverse experiences and cultural backgrounds of CEE leaders who arrive with fresh perspectives and unique expertise that matches host organization's mission and activities.  (see list of countries below).
Enhance your organization's visibility: Outstanding host organizations receive free promotion through IREX's global network, including 700 U.S. based organizations.
Contribute to global civil society development: Your investment of time, expertise, and ideas, supports Fellows' ability to address pressing civil society challenges in their communities.
No additional hosting costs: Through funding by the U.S. Department of State, IREX provides complete financial support for CEE Fellows including travel, monthly stipend, lodging, insurance, English language testing, and monitoring and support for CEE Fellow activities throughout the duration of the program.
Host Organizations' Contributions 
Designate a host supervisor and peer collaborator:  Host organizations will designate a full-time staff member to provide structure and consistent professional development support to CEE Fellows during their U.S. practicum. Hosts will also designate a co-worker of a similar age and professional status to work with their CEE Fellow on organizational or community projects and help the Fellow adjust to their new work environment.
Share knowledge and collaborate: Host organizations should be prepared to share their experiences and knowledge to help their Fellow achieve learning goals during the practicum.  Hosts are encouraged to provide guidance as Fellows design a community-based project (Community Engagement Project) to implement in their own communities after the fellowship. Host organizations will be eligible to apply for a reciprocal exchange travel grant to support collaboration and implementation of CEP action plans in a CEE Fellow's home country.
Foster networking opportunities: Host organizations guide CEE Fellows on how to support local community activities, support their experiential learning, and foster networking opportunities within local civil society actors and organizations.
Sharing CEE Program Opportunities
To share information on the CEE Program, ways to get involved, or application and instructions please see below resources.  
CEE Fellows' Countries 
Africa: Angola, Botswana, Cameroon, Democratic Republic of Congo, Ethiopia, Ghana, Guinea, Kenya, Liberia, Madagascar, Malawi, Mali, Mozambique, Namibia, Niger, Nigeria, Rwanda, Senegal, Sierra Leone, South Sudan, Sudan, Tanzania, Uganda, Zambia, and Zimbabwe   
East Asia and the Pacific: Brunei, Burma, Cambodia, Federated States of Micronesia, Fiji, Indonesia, Laos, Malaysia, Mongolia, Papua New Guinea, Philippines, Republic of the Marshall Islands, Singapore, Thailand, Timor-Leste, and Vietnam   
Europe and Eurasia: Albania, Armenia, Azerbaijan, Bosnia, Herzegovina, Bulgaria, the Czech Republic, Estonia, Georgia, Hungary, Kosovo, Latvia, Lithuania, Moldova, Montenegro, North Macedonia, Poland, Romania, Serbia, Slovakia, Turkey, and Ukraine  
Middle East and North Africa: Algeria, Egypt, Iraq, Israel, Jordan, Lebanon, Libya, Morocco, Syria, Tunisia, and West Bank/Palestinian Territories  
South and Central Asia: Bangladesh, Bhutan, Kazakhstan, Kyrgyzstan, Maldives, Nepal, Pakistan, Sri Lanka, Tajikistan, Turkmenistan, and Uzbekistan    
Western Hemisphere: Bolivia, Brazil, Colombia, Dominican Republic, Ecuador, El Salvador, Guatemala, Haiti, Honduras, Jamaica, Mexico, Paraguay, Peru, Trinidad and Tobago, and Uruguay
Contact 
To learn more about partner opportunities, please visit our Partner Interest Form and identify the ways in which you would like to get involved. A member of our CEE team will follow up with additional information. 
For questions, please send an e-mail to info.cee@irex.org