Application Process for Visiting Scholar Visa Sponsorship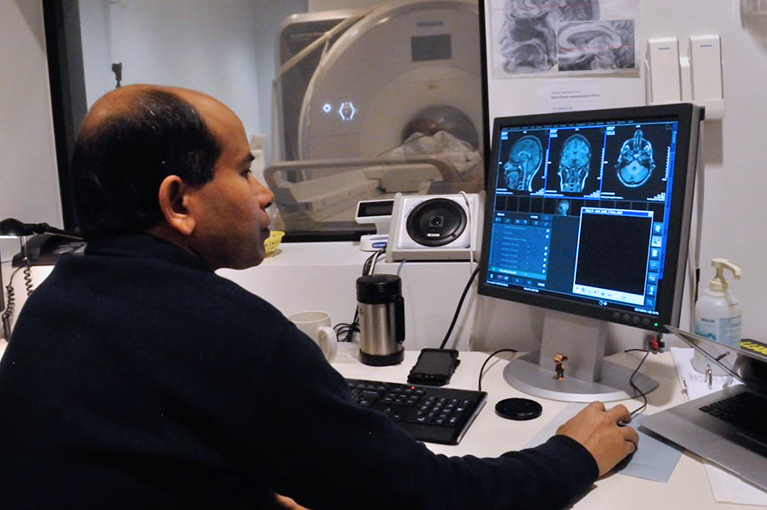 As a designated sponsor of the BridgeUSA Exchange Program, IREX supports foreign researchers, scientists, and academics to obtain "exchange visitor (J-1) visas" and visit the United States for collaborative research and cultural exchange with U.S. host organizations.
Visiting scholars and their U.S. counterparts gain cutting-edge skills and fresh perspectives on scientific problems while building lasting relationships with professionals, institutions, and laboratories around the world.
Getting Started: IREX recommends submitting an application at least 6 weeks before the desired research start date to allow adequate time for the visa process and relocation.
When a foreign researcher and U.S. organization identify a collaborative research opportunity of mutual interest, they must submit an application to IREX that articulates the prospective program objectives and qualifications of the intending exchange visitor/scholar (also called the participant). 
If this is the first time working with IREX, the researcher or host organization representative should consult IREX (please email jvisaexchange@irex.org) to discuss their program needs and to obtain access to our online application portal.
Overview of the application process
Step 1:

The exchange visitor application is submitted to IREX's online platform.

Step 2:

IREX vets and approves the application within approximately 15 business days (10 business days with an optional rush services fee). Any questions IREX has about the application must be resolved before approval.

Step 3: The exchange visitor and host organization sign program contracts within IREX's application portal. Contracts define program parameters, roles, and compliance responsibilities of all parties.

Step 4:

IREX uploads exchange visitor and program information to SEVIS and advises exchange visitor to apply for a visa at their preferred U.S. embassy.

Step 5:

IREX provides the DS-2019 "Certificate of Eligibility" form to the exchange visitor. The DS-2019 is an important document the exchange visitor must present at the visa interview and in other situations throughout the program.

Step 6:

IREX provides prearrival information and invites exchange visitors to mandatory J-1 Scholar Orientation before their program start date.

Step 7:

The exchange visitor reports arrival to IREX and begins the research program.
Throughout the program: IREX remains available to help exchange visitors navigate questions related to travel, immigration, family member sponsorship, allowable changes to program details, and other issues. Don't hesitate to reach out!
Frequently asked questions
What is a J-1 Visa Sponsor and IREX's role?
As a BridgeUSA J-1 visa sponsor of Research Scholars, Short-term Scholars, and Students, IREX has 45 years of experience helping host institutions and organizations implement customized exchange programs across diverse disciplines.
Sponsors are organizations and institutions appointed by the U.S. Department of State to vet and administer exchange programs. In some cases, the sponsoring entity (such as a university) also acts as the exchange visitor's host. For IREX exchange programs, these roles are usually separate.
As a sponsor, IREX has two main responsibilities:
First, we are a support contact, advisor, and advocate for visiting scholar participants prior to and during their stay in the United States. Besides our expertise in J-1 visa regulations, IREX staff are sensitive to issues of moving to another country (from personal experience!), and are available as a primary resource for scholars navigating immigration questions, or other tricky U.S. issues.
A sponsor's other main role is compliance: IREX will keep track of scholars under its program and report their ongoing participation (and approved changes to participation) as required by the U.S. Department of State.
Meanwhile, IREX's partner organizations are responsible to physically host and supervise the research, and provide access to local cultural activities.
I represent an organization involved in scientific research, but we are not a university and we are not a J-1 sponsor. Can we still host visiting researchers under this program?
Yes! Even if you are not a sponsor, you can apply to IREX to be a partner host organization. Your organization must demonstrate it has the necessary infrastructure to host and support visiting scholars, and activities must align with BridgeUSA Research Scholar or Short-Term Scholar criteria. Contact IREX for free consultation.
What are the differences between the J-1 Research Scholar and J-1 Short-Term Scholar exchange visitor categories?
The categories are similar, but there are a few important differences:
Research Scholars may participate in research programs in the U.S. for up to 5 years, whereas Short-Term Scholar programs are limited to 6 months maximum.

To be eligible for a Research Scholar program, a person must not have held any J visa status for 6+ months of any part of the past 12 months.

There is a 24-month waiting period to be eligible for a Research Scholar visa after previously participating as a J-1 Research Scholar; repeat participation as a Short-Term Scholar does not require the same defined waiting period. However each Short-Term Scholar program must have a unique objective that sets it apart from previous Short-Term Scholar programs, and be truly short-term in nature (it cannot be used on a repeat basis to effectively "extend" the activities of an earlier Short-Term Scholar program).

Research Scholars must be conducting research, consulting, or receiving training in connection with a research project at qualified host organizations. Short-Term Scholars may be involved in research or participate in other academic activities, such as seminars, workshops or study tours.
I've noticed IREX works with many programs in low-income countries. Which countries are eligible for IREX's exchange visitor sponsorship?
Generally, foreign scientists, researchers, and academics from any country are eligible to participate. Although much of our work focuses on global development, IREX has robust partnerships with the U.S. private sector in administering exchange programs, and we work with participants from all regions of the world.
Sponsorship fees earned from this program directly support IREX's broader work and mission to build a more just, prosperous, and inclusive world.
Can IREX sponsor J-1 visas for other programs besides research? For example, can I participate in a hospitality internship in the U.S.?
IREX does not sponsor visas for any professional J-1 programs outside of those for researchers. We cannot assist with J-1 Intern, Trainee, or Summer Work Travel programs (although research-based internships may qualify for one of the scholar programs).
IREX is a designated sponsor of J-1 Students at postsecondary accredited institutions. We design and administer customized exchange student programs for a variety of universities and colleges. Institutions can contact our team if hosting exchange students is of interest.
I wish to obtain a J-1 visa but I do not have an invitation from a U.S. host organization. Can IREX help me find a research program?
No. Unfortunately, IREX is unable to provide host matching services at this time.