IREX Mourns the Loss of Global Advisory Council Member Peter Ackerman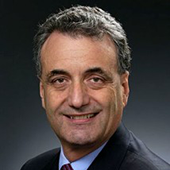 IREX mourns the loss of Global Advisory Council member Peter Ackerman, who died on Tuesday, April 26, 2022. Peter served as a member of IREX's Global Advisory Council since 2016, when the group was first formed. He provided strategic guidance on a range of IREX initiatives, especially those related to peacebuilding, democracy, strengthening civic engagement, and building citizen resilience to manipulative information. IREX recently had discussions with Peter and the International Center for Nonviolent Conflict on how to expand support for, and measure the impact of, nonviolent civil resistance movements around the world – his lifelong commitment and passion.
Peter Ackerman was a towering figure, whose impactful work to advance democracy and human rights spanned decades. The founding chair of the International Center on Nonviolent Conflict, he was one of the world's leading authorities on nonviolent conflict. He held a PhD from the Fletcher School of Law and Diplomacy at Tufts University and was the coauthor of two seminal books on civil resistance. He helped develop and edit content on several successful TV series, including the PBS-TV documentary Bringing Down a Dictator on the fall of Serbian dictator Slobodan Milosevic and the two-part Emmy-nominated PBS-TV series A Force More Powerful. He spoke and published often on the topic of democracy and civil resistance.
Peter was a leader who worked to strengthen democracy in the United States as well as globally. He founded Americans Elect, a major nonpartisan effort to change the way Americans elect their leaders. He was also an ardent champion of ranked-choice-voting efforts, which he believed would reduce toxic polarization in American politics.
Peter's influence was vast and he shared his time generously. Throughout his career, he served as the Chair of Freedom House, and on the boards of CARE and the Council on Foreign Relations. At the time of his passing, he was the co-chair of the International Advisory Committee of the United States Institute of Peace, on the Executive Committee of the Board of the Atlantic Council, chair emeritus of the board of advisors of The Fletcher School at Tufts University, his beloved alma mater, and as a member of the United States Paralympic Advisory Committee.
Kristin Lord, IREX President and CEO said, "Peter Ackerman was a man of unparalleled determination and moral clarity, with a bold vision to fight injustice and tyranny around the world. Many people talk about bold visions. Peter had a bold plan to match. And though he was inspired by high-minded ideals, he was the opposite of naïve. He was a savvy realist who wielded a formidable intellect, unsparing analytic powers, practicality, and an appetite to delve into the most obscure details if it would get the job done. In his interactions with others, he was kind, generous, and inclusive. He also relished competition and a tough fight for a good cause. I have never known anyone like him and I doubt I ever will. We will miss him terribly."