IREX announces new Vice President for Global Operations and Management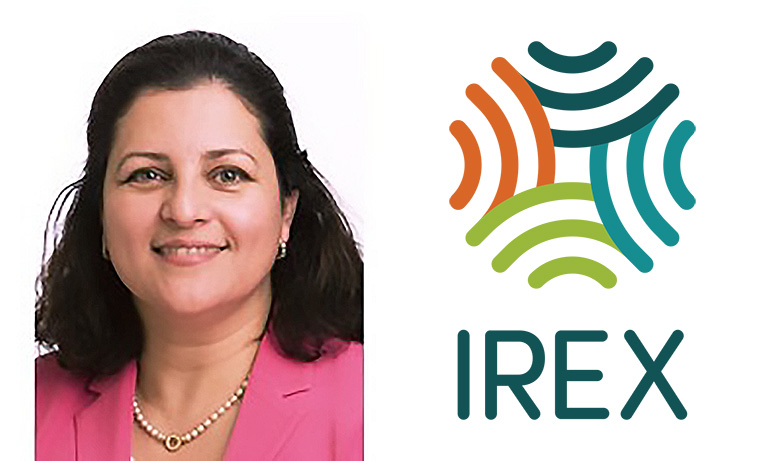 IREX is pleased to announce Margarita Fernandez as IREX's new Vice President for Global Operations and Management. In this role, Margarita will be responsible for global operations, safety and security, information technology, many elements of risk management, and cross-organizational systems and processes among other duties.
"I am absolutely delighted to welcome a leader of Margarita's caliber to IREX at this time of incredible growth and dynamism,"' said IREX President and CEO Kristin Lord.  "She will play a critical role in helping us to achieve our IREX 2025 strategic goals and to lay the organizational foundation needed to help IREX accelerate and extend our work to promote more just, prosperous, and inclusive societies around the world. We are so very fortunate to have her as part of our executive team."
Margarita brings more than 28 years of experience in international development supporting and leading programs and practices around the world focusing on public health, economic growth, public-private partnerships, governance, trade, and education. She has partnered with USAID, multilateral organizations, development banks, philanthropic foundations, and the private sector to implement high impact development programs under a variety of mechanisms, including contracts, grants, and cooperative agreements. As a development practitioner, she brings rich in-country experience and a deep understanding of operational challenges. She has been posted long term in Honduras, Bolivia, Czechoslovakia, Moldova, and Russia, while short term assignments have taken her to more than 20 countries, including middle income countries, emerging economies, and countries in conflict. Her in-country experience combined with leadership roles in headquarters shape her comprehensive perspective of international development operations.
Prior to joining IREX, Margarita was Deputy Division VP of Abt's International Public Health and International Development divisions which were responsible for more than $300M in programming. She focused on program execution and operations, risk management, integration, financial planning and budgeting, and operational improvement. She was also a member of Abt's Corporate Leadership Committee, Abt's ERP Steering Committee, and was awarded the company's Entrepreneurship Prize for her leadership in designing and implementing a company-wide talent marketplace. Prior to her divisional and corporate roles at Abt, she was a Portfolio Manager with direct oversight responsibilities for donor funded international health programs in the Middle East, Africa, and Latin America.
Margarita began her international development career at PriceWaterhouseCoopers' Office of Government Services in Washington, D.C. where she managed implementation of international development and advisory projects in Latin America, Eastern Europe, former Soviet Union, and Asia. After 14 years at PWC she joined IBM's International Development Group where she led a variety of bilateral and global international development projects prior to joining Abt. She is a graduate of the Johns Hopkins Paul H. Nitze School of Advanced International Studies where she attained an MA in international relations, and she holds a BA in political science from Carleton College. She is a bilingual English-Spanish speaker and proficient in French.