IREX announces new directors for the Education and the Leadership Practices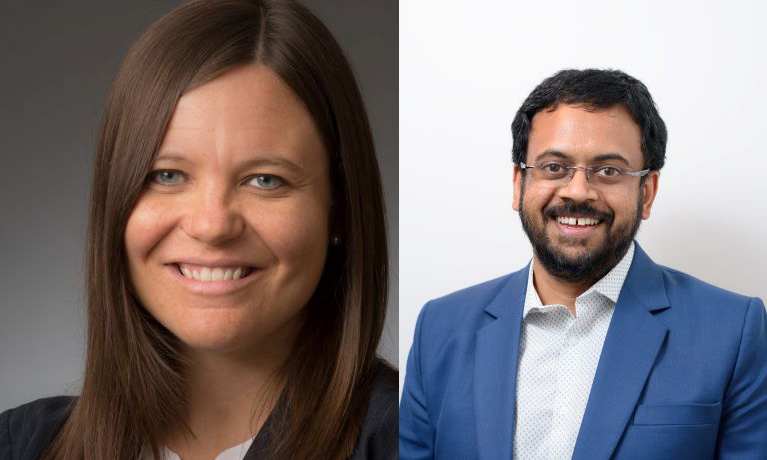 IREX is pleased to announce Amy Bernath as Director for the Education Practice and Roshan Paul as Director for the Leadership Practice. As Director for the Education Practice, Amy leads IREX's strategy and learning agenda for expanding access to quality education around the world. As Director for the Leadership Practice, Roshan provides direction for our leadership portfolio which includes multiple programs tasked with supporting leaders to create transformative change across communities, governments, and organizations. Both will serve on IREX's Senior Management Team.
"Amy and Roshan bring enormous expertise, energy, and passion as directors of the Education and Leadership practices, respectively," said IREX President and CEO Kristin Lord. "And both are stepping into their positions during immense global challenges. The COVID-19 pandemic has adversely impacted education systems, educators, and student learning thus making our work in education even more critical. There is also a real need for effective, ethical, and trustworthy leaders to bridge divides and drive positive social change. The addition of Amy and Roshan strengthens IREX's ability to promote more just, prosperous, and inclusive societies around the world."
Amy Bernath

Amy comes to the position with over 15 years of experience in managing complex international education programs. Over the last 5 years, the education practice portfolio has grown by 60 percent with Amy as part of the leadership team. She has advanced IREX's evaluation and research to measure the impact of education programs and has significantly contributed to new business efforts including USAID pre-service teacher education reform in the West Bank and Jordan. Under Amy's leadership, IREX education programs increased access to quality education globally, including in the Republic of Georgia where training for math, science, and English teachers resulted in improved lesson plans, increased collaboration among teachers, and better feedback mechanisms between administrators and teachers.
Amy brings experience working with a variety of partners and donors including the Millennium Challenge Corporation, USAID, the U.S. Department of State, the National Science Foundation, the LEGO Foundation, and the Stone Family Foundation.
Before her leadership role in the Education Practice, Amy served as country director for IREX's office in Tajikistan where she led youth and civil society programs and our team in country. Prior to IREX, Amy served as a Peace Corps university educator and community development worker in Berdyansk, Ukraine. She received her master of arts in political science from Ohio University, and she has a bachelor of science in education. Amy also represents IREX on the Basic Education Coalition board, an advocacy group that promotes expanded, equitable access to quality basic education globally.
Roshan Paul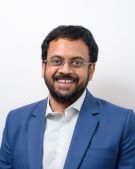 Roshan has more than 20 years of experience in leadership development, entrepreneurship, and social innovation. In 2010, Roshan co-founded Amani Institute and co-led the organization from an idea to an award-winning social enterprise with offices in Kenya, Brazil and India and projects in more than 30 other countries around the world. Under his leadership, Amani Institute has helped nearly 10,000 people from 70 countries step into or accelerate their careers in social impact. It also supported more than 250 organizations, including Deloitte, Vodafone, Oxfam, CARE, UNICEF, Ford Foundation, Rockefeller Foundation, to increase staff capacity, motivation, and impact. Based on this work, in 2021 he published "The New Reason to Work: How to Build a Career that will Change the World" that achieved Amazon #1 Bestseller status.
Before his founding of the Amani Institute, he worked at Ashoka for 10 years where he helped manage their $17 million core program and grew the world's largest network of social entrepreneurs across 70 countries. Most recently, he has served as a strategy advisor providing services to several private foundations including the Climate Leadership Initiative, Patrick McGovern Foundation, Growald Climate Fund, and the Global Good Fund. He is also an adjunct professor, teaching and guest lecturing at over 50 universities including Harvard University, University of Notre Dame, New York University, and University of San Diego.
Roshan has a master in public policy and certificate in humanitarian studies and field practice from Harvard University Kennedy School of Government and a bachelor of arts in international relations from Davidson College. He currently serves on the Board of Directors at Oxfam America, Amani Institute, and Design-a-thon Works based in the Netherlands. He also served a term on the World Economic Forum (WEF) Global Future Council on Behavioral Science (2016-2018), was awarded a Leadership in Education award by the World Education Congress in 2017, named one of the Asia Society's "Asia 21 Young Leaders" in 2018, and both a BMW Foundation 'Responsible Leader' as well as one of the DO School's Top 25 Influential Leaders in Purposeful Organizations in 2019. He delivered the Commencement (graduation) speech at the University of San Diego in May 2015 and TEDx talks at TEDxAmsterdamEd and TEDxBangaloreSalon. His writing has been published in Forbes, the Stanford Social Innovation Review, MIT's Innovations Journal, India Today, and the India Development Review.