IREX announces new board and advisory council members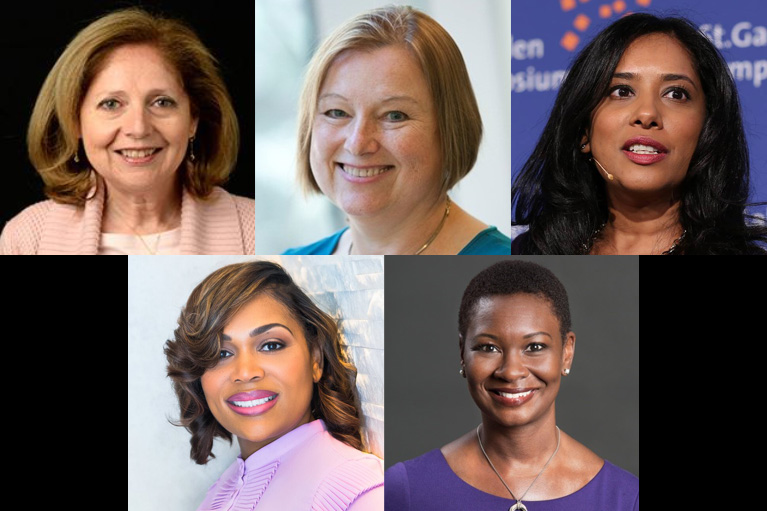 IREX is pleased to announce three new members of its Board of Governors: Liliana Ayalde, Amanda Bennett, and Zeenat Rahman. Tawana Bhagwat and Tara Hogan Charles will be joining the Global Advisory Council. The five bring tremendous insight and experience to support IREX in achieving our mission of building a more just, prosperous, and inclusive world.
"We are so proud to welcome these exceptional leaders to our board and advisory council," said IREX President and CEO Kristin M. Lord. "Their knowledge and expertise will be invaluable as we work to implement the goals put forth in our IREX 2025 strategic plan."
Board of Governors
Liliana Ayalde

Liliana Ayalde is a former U.S. ambassador who recently retired from the U.S. Foreign Service following a distinguished 38-year career with assignments in Washington, DC, and abroad. She dedicated her diplomatic career to foreign affairs, development, defense, and security in Latin America and the Caribbean.
She served as civilian deputy to the commander and foreign policy advisor at the United States Southern Command in Miami (2017–2019) and U.S. ambassador to the Federative Republic of Brazil (2013–2016), and she led the U.S. support to the 2014 World Cup, the 2016 Summer Olympics, and the 2016 Paralympic Games hosted by Brazil. Prior to this appointment, she served as the deputy assistant secretary of state for Western Hemisphere affairs in the Department of State overseeing bilateral relations with Central America, the Caribbean, and Cuba. She was also the senior deputy assistant administrator for the Latin American and Caribbean Bureau for the U.S. Agency for International Development (USAID), guiding high priority development assistance in Mexico, Haiti, and Central America. She also held assignments in Colombia, Paraguay, Bangladesh, Guatemala, Nicaragua, and Bolivia with USAID.
Ayalde is currently a senior advisor for the Center for Strategic and International Studies, member of Southern Command's Advisory Group, member of the Brazil Institute of the Wilson Center, and member of the Board of the Wilson Center's Latin American Program. She is a member of the American Academy of Diplomacy and the recipient of numerous honors and awards, including USAID's Distinguished Career Award, the Department of State's Distinguished Service Honor Award, and the chairman of the Joint Chiefs of Staff's Joint Distinguished Civilian Service Award, the highest award given to a civilian by the Department of Defense.
Ayalde earned her BA from the School of International Studies at American University in Washington, DC, and a master of public health from Tulane University in Louisiana. She is fluent in Spanish and Portuguese and has a working knowledge of French.
Amanda Bennett

Amanda Bennett is a Pulitzer Prize–winning author, investigative journalist, and editor and was director of Voice of America from March 2016 to April 2020. Through 2013, she was executive editor at Bloomberg News. She was also cofounder of Bloomberg News' Women's project. She was editor of the Philadelphia Inquirer from June 2003 to November 2006, and prior to that was editor of the Herald-Leader in Lexington, Kentucky. She also served for three years as managing editor/projects for the Oregonian in Portland. Bennett served as a Wall Street Journal reporter for more than 20 years. She has also been a contributing columnist for the Washington Post.
Bennett shared the 1997 Pulitzer Prize for national reporting with her Journal colleagues, and in 2001 led a team from the Oregonian to a Pulitzer for public service. She is the 2018 awardee of the Washington Women in Journalism Lifetime Achievement Award and the 2019 recipient of the National Press Club's Fourth Estate Award. She is a senior fellow at University of Southern California's Annenberg Center on Communication Leadership & Policy.
She was a member of the board of the Pulitzer Prizes from 2003 to 2011 and served as cochair of the Pulitzer Board in 2010. She is currently on the board of the German Marshall Fund. She is also a member of the board of the Lenfest Institute, which supports journalism in Philadelphia including the Philadelphia Inquirer; a member of the board of the Committee to Protect Journalists; a member of the advisory Board of the Nieman Foundation at Harvard University; and a member of the advisory board of the Howard Center for Investigative Journalism at the University of Maryland's Philip Merrill School of Journalism.
She is the author of six books including In Memoriam (1998), coauthored with Terence B. Foley; The Man Who Stayed Behind (1993), coauthored with Sidney Rittenberg; and Death of the Organization Man (1991) and The Quiet Room (1996), coauthored with Lori Schiller. The Cost of Hope, her memoir of the battle she and Foley, her late husband, fought against his kidney cancer, was published in June 2012 by Random House.
Zeenat Rahman

Zeenat Rahman is the director of the Inclusive America Project at the Aspen Institute, where her work focuses on how America's diverse faith communities can play a key role in fostering pluralism, building bridges across differences, and supporting a strong civil society and a vibrant democracy.
Rahman previously served as a presidential political appointee, as a special advisor to Secretaries Clinton and Kerry on global youth issues at the U.S. Department of State. In this position, she encouraged foreign governments to respond to youth issues through policy changes and created opportunities for young people to pursue their economic and civic aspirations. She created private-sector partnerships focused on youth employment and skill development, worked with U.S. embassies to create an extensive network of more than 75 youth councils worldwide, and built global entrepreneurship programs to support nascent entrepreneurs in emerging economies.
Prior to this appointment, she served as director of the Center for Faith-Based and Neighborhood Partnerships at the U.S. Agency for International Development. In this role, she led external engagement efforts with various faith-based and community organizations to build support for USAID priorities.
Rahman is a frequent speaker and commentator who has spoken at venues such as the United Nations, the Nobel Peace Prize Forum, and the White House, and has appeared on CNN, MSNBC, and many international news outlets. She is a member of the Council on Foreign Relations, a Truman National Security Fellow, and a member of the World Economic Forum's Global Future Council on Systemic Inequalities and Social Cohesion. She received a master's degree in Middle East studies from the University of Chicago and a BA in psychology from the University of Illinois.
Global Advisory Council
Tawana Bhagwat

Tawana Bhagwat is the founder and CEO of Organization At Its Best Inc., a full-service HR and executive coaching firm, with deep expertise in diversity, equity, and inclusion (DEI) and organization transformation. Bhagwat helps organizations diversify, recruit, train, and retain diverse teams that perform at the highest levels. Her expertise extends beyond human resource policy and procedures, organizational design, and employee relations, to coaching business leaders, owners, and officers.
Bhagwat guides organizations through uncomfortable times. She helps executives see and understand their own blind spots so that they can lead with open, honest, empathetic communication, helping staff feel safe, heard, and inspired. Her highly regarded DEI workshops, including the Racial Equity Bootcamp, equip organizations to build and maintain a safe, welcoming work environment, where employees can bring their best selves to work, and where culture aligns with values.
Bhagwat's expertise in corporate culture began as a global organizational leader for Procter & Gamble. While advising C-suite executives on a variety of managerial decisions, including diversity and inclusion, organizational design, culture, employee relations, executive compensation, and strategic planning, she was simultaneously responsible for the organizational operations of a cosmetic brand franchise that supported over 1,000 employees in North America, Canada, Puerto Rico, and Europe. Her work at P&G garnered attention and praise, resulting in many industry awards, including two HR Inspiration InTouch Awards.
Among her many philanthropic and civic contributions, Bhagwat is the chairwoman of Associated Black Charities in Baltimore and is committed to the empowerment of young women. She holds an MA in organizational management from the University of Phoenix and a BS in mechanical engineering and physics from Tuskegee University.
Tara Hogan Charles

Tara Hogan Charles is a senior director of racial equity partnerships and programs for the Procter & Gamble Company (P&G). 
Prior this role, Charles worked for eight years as part of P&G's global government relations and public policy team, where she helped navigate the legislative and public policy landscape, covering a broad portfolio including advertising, digital marketing, intellectual property, brand protection, health care, privacy, cybersecurity, and corporate social responsibility.
She also served as senior counsel to the global antitrust and trade relations group, focusing on promotion and pricing policies and antitrust analysis, and to the global transactions team responsible for acquisitions and divestitures. As legal counsel, Charles advised several billion-dollar brands on advertising and contract matters.  
Charles received her BA in political science and German from Agnes Scott College and her JD from the University of North Carolina at Chapel Hill.
Charles serves as vice chair of the board of the Tahirih Justice Center, a national nonprofit providing holistic legal and social services to courageous individuals fleeing gender-based violence.