IREX and partners to implement USAID's Youth Excel: Our Knowledge, Leading Change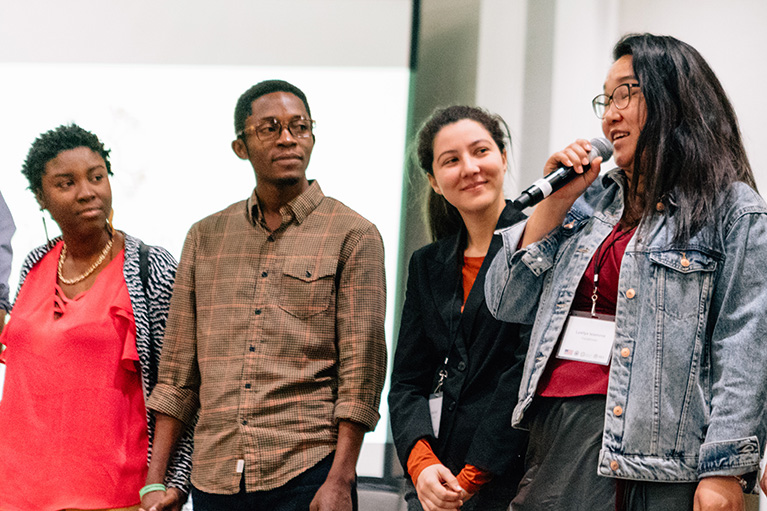 The U.S. Agency for International Development (USAID) has selected IREX and our consortium to implement the YouthPower Youth Excel program. This global program will empower young people and youth organizations to use implementation research to strengthen local, national, and global development solutions.
Youth Excel responds to a complex challenge: Too often, young people are marginalized in development, even in programs that seek to empower youth. Adults' institutions and systems can reinforce power imbalances that hinder youth from leading their own development and effecting change. There is not enough evidence about the factors that make youth programs effective, and youth's knowledge, skills, and research are often downplayed or dismissed.
Youth Excel will support young leaders and youth-led and youth-serving organizations around the globe to conduct quality implementation research—a type of research that focuses on collecting data during a program to improve the program in real time. This research will not only improve individual programs but also generate dialogue between young people and adult decision-makers so that youth and adults can together shape better policies, programs, and agendas. By elevating youth leadership in research, learning, and policy, Youth Excel will build the global knowledge base on cross-sectoral youth development, support USAID's new Global LEAD initiative, expand USAID's YouthLead network, and advance USAID's Journey to Self-Reliance agenda on sustainable local development.
IREX looks forward to working with USAID Bureaus and Missions to design approaches to youth-led implementation research that align with development priorities and to engage a broad range of partners, including the public and private sector and partner donors. We also are enthusiastic about participating in USAID's New Partnerships Initiative and identifying innovative ways to channel funds to youth-led and youth-serving organizations and groups best positioned to create local-level change.
Our consortium—Our Knowledge, Leading Change—includes a core group of talented global and regional partners who are all committed to Youth Excel's principles. IREX is excited to collaborate with ABAAD, Afrika Youth Movement, Ashoka Youth Venture, Root Change, Search for Common Ground, The Biz Nation, Tech Tribes, The Youth Café, University of Minnesota, and United Network of Young Peacebuilders. Together we will engage youth leaders and youth organizations across our networks and learn what research approaches are most effective, how to best engage adults in intergenerational dialogue, how to leverage youth networks for more impact, and which collaborative inquiry approaches create real systems and policy change.
"We are thrilled to partner with USAID and our consortium of partners around the world on Youth Excel, USAID's flagship new global youth initiative," said IREX President and CEO Kristin Lord. "Youth Excel recognizes that youth are themselves effective leaders who can advance positive change in their own societies. By building the capabilities, data savvy, research skills, and networks of youth-led and youth-serving organizations, Youth Excel will accelerate the development of policies and programs needed to support booming youth populations and amplify their full potential."
Youth Excel will support local youth organizations in selected countries to conduct implementation research on themes that are relevant to local communities. The program will offer funding for thematic, regional, and global implementation research. Youth Excel will also support local partners to conduct implementation research for their youth-focused programs. Each activity will use data and learning to generate dialogue between adults and youth and influence policy and resource decisions.
For more information about Youth Excel, please contact excelyouth@irex.org.