Community Engagement Exchange Program Launches Inaugural Fellowship Orientation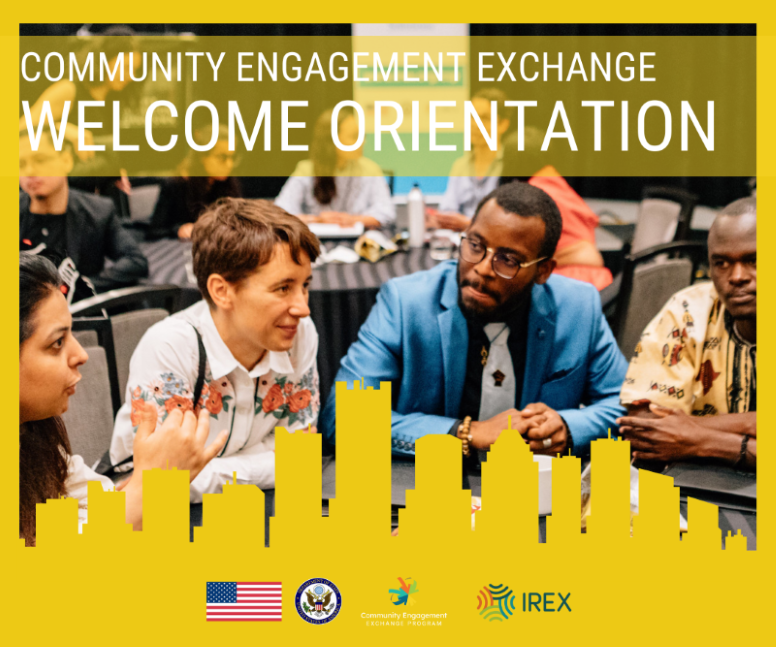 Today, over 100 young civil society leaders from more than 60 countries across the world walked into the inaugural Welcome Orientation of the Community Engagement Exchange (CEE) Program in Detroit, Michigan. The CEE Program is a bold new civil society initiative, created by the U.S. Department of State's Bureau of Educational and Cultural Affairs, that equips young community leaders with the expertise, resources, and skills to support resilient communities around the world and sustain a global civil society ecosystem.
The theme of the CEE Program's first orientation is "Community Leadership: Building Strong Communities Together," and fellows will have the opportunity to delve deeper into their understanding of their roles as community leaders, network with one another, and learn more about the current reality of civil society in the United States through engaging programming. Following orientation, CEE fellows will depart for 22 states and the District of Columbia to start a three-month practicum. For their practicums, fellows are placed with a U.S.-based host organization related to their field of work where they will gain hands-on experience and collaborate with other civil society professionals to address pressing community issues.
In this inaugural year, CEE fellows will be placed at a diverse range of 88 local non-profit organizations or social incubators across five broad themes: Civic Dialogue and Peace Building, Open and Participatory Government, Resilience and Sustainable Development, Women and Gender Issues, and Youth Engagement.  Throughout this multi-tiered professional exchange, CEE fellows will participate in a dynamic leadership development course and receive personalized coaching and mentorship from civil society experts in their fields in addition to participating in an immersive work experience with a U.S.-based civil society organization.
CEE fellows will reconvene at an End of Program workshop in Washington, D.C. at the conclusion of their U.S. practicum in December. At this event, fellows will reflect on their overall experience, share ideas for a Community Engagement Project that they will implement in their home country, and discuss methods to sustain collaboration on mutually identified challenges beyond the CEE Program's completion.
The CEE Program is sponsored by the United States Department of State with funding provided by the U.S. Government and supported in its implementation by IREX. Follow the CEE Program on social media with the hashtag #CEEOrientation or #CEEProgram. For more information on the CEE Program or how to apply for the upcoming cycle, please visit: https://www.irex.org/project/community-engagement-exchange