Career development centers likely increasing employment, according to independent evaluation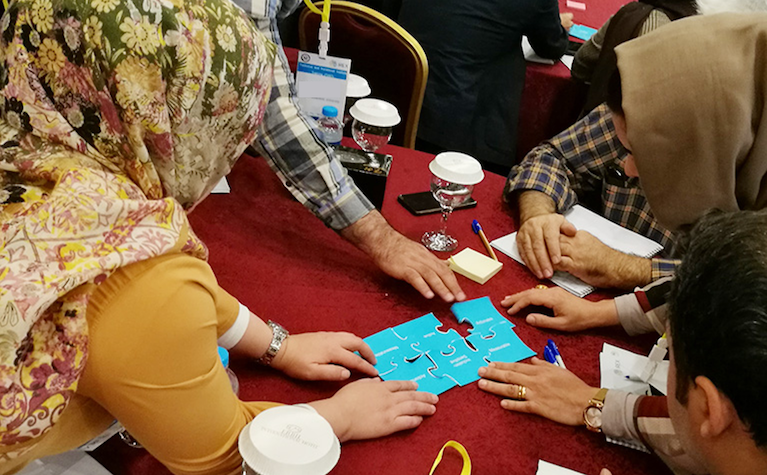 IREX partnered with IDinsight, a global advisory, data analytics, and research organization, to evaluate the impact of career development centers in preparing students for employment in Iraq. The findings (PDF, 389 KB) suggest that career centers are likely increasing employment outcomes. The evaluation (PDF, 1.6 MB) generated recommendations for university–private sector engagement to improve youth employability and support economic development.
University graduates in Iraq face a challenging economic environment, with high rates of youth unemployment, limited private-sector opportunities, and difficult labor market conditions that have been exacerbated by the COVID-19 pandemic and ongoing conflict. Career centers play an increasingly important role in coaching students in their education-to-work transition, and in facilitating opportunities for students to pursue their professional interests.
As part of the U.S.–Iraq Higher Education Partnerships Program, sponsored by the U.S. Embassy in Baghdad, IREX has worked for nearly a decade with government and industry partners to establish and support career centers at all 47 public universities in Iraq. These career centers offer experiential learning opportunities such as internships, innovation challenges, trainings, and workshops—opportunities that strengthen students' career readiness competencies while bridging the skill gaps identified by industry leaders.
Few studies have attempted to measure the impact of career center services on preparing students for the workforce and on increasing employment outcomes. To address this in Iraq, IREX and IDinsight conducted a quasi-experimental impact evaluation to answer the following questions:
What impact do career centers have on students' employability in Iraq?

How has COVID-19 impacted graduates' employment?

What do Iraqi youth and industry partners recommend to improve career services?
Graduates of four public universities in the classes of 2018 and 2019 received a web-based survey in English, Arabic, and Kurdish. The survey asked questions about their employment status, experience accessing career center services, and recommendations for strengthening career center services for future students. Nearly 550 graduates responded to this survey. The evaluators also collected data from virtual focus group discussions with current students, career center staff, and private-sector partners.
The evaluation report shows that career centers in Iraq are having a positive impact on employment outcomes. This is consistent with how employers view graduates who participated in career center activities, particularly internships. Key findings include:
Prior to the COVID-19 pandemic, 26% of career center participants were employed compared to 17% of matched noncareer-center participants.
Career center participants are less likely to report that employment has been negatively affected by the COVID-19 pandemic than noncareer-center participants.
Career center participants are more likely to report satisfaction with their job than noncareer-center participants.
Career center participants are less likely to rely on personal connections to obtain a job than noncareer-center participants.
The evaluation generated recommendations for higher-education institutes, donors, and government partners on expanding the role of career services in preparing youth for the workforce, and on effective engagement strategies for the private sector and universities to strengthen economic development. In collaboration with educational institutes, government, and private-sector partners, IREX will utilize these recommendations to invest in further efforts to prepare Iraqi youth for the 21st-century workforce, and ensure that youth are equipped with the skills and mindset to navigate challenging circumstances.
For more information about the evaluation or IREX's global work supporting career development centers, contact Stanley Currier at scurrier@irex.org.