Three recommendations for strengthening local support for migrants and trafficking survivors in Nepal and Myanmar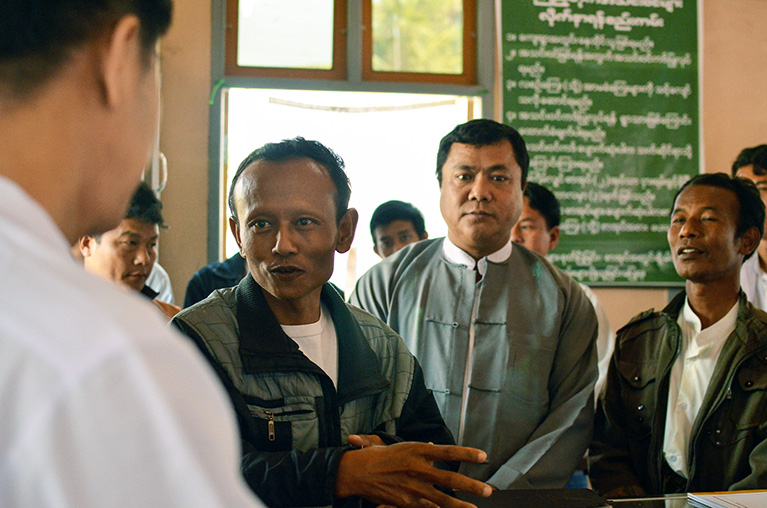 In mid-2018, IREX studied the migration and trafficking landscape in Myanmar and Nepal to prepare for activities under its new Navigator program, made possible through a grant from the Walmart Foundation. We learned that proper information on human trafficking that doesn't fuel misperceptions, transparent and systematic investigation procedures, and locally-available legal assistance are critical components to countering the practice.
Navigator is implemented in partnership with MBAPF in Myanmar and READ Global in Nepal.
In Myanmar and Nepal, nearly 10% of the population works abroad. Migrants are often vulnerable to exploitation and abuse, in part because they lack accurate information about risks, resources, and the legal process. When they return home, survivors of trafficking and other crimes struggle to access justice or compensation because of rampant corruption and serious deficits in rule of law.
Both countries' governments have taken long-term steps to regulate labor migration and counter human trafficking in order to address these issues—but implementation remains patchy, especially at the local level.
Migrants face deception and exploitation at every step along their journeys
In Myanmar, worker rights groups like the Confederation of Trade Unions of Myanmar estimate that 90% of migrant workers avoid formal recruitment agencies, due to the expensive, complex and time-consuming procedures required. Even those who try to go abroad through official processes often depend on local, unlicensed brokers because agencies are only allowed to operate in the commercial capital of Yangon. This introduces more opportunities for exploitation, as more intermediaries become part of the process.
In Nepal, licensed recruiters often illegally overcharge for their services, leaving migrants more vulnerable to trafficking and exploitation. Manpower companies typically provide receipts for recruitment fees that equal the maximum allowable amount under the law, regardless of what they charge. Migrants then only have evidence that they paid the legal amount for fees, which weakens their case if they decide to report the recruiters to the authorities.
There are not enough services for men and boys, and services for women and girls are often insufficient. Media and policy tend to focus on forced marriage and sexual exploitation. Stories frequently depict women as objects that men from other countries can "steal," depriving women of any agency. In Nepal, IREX's researchers repeatedly heard that "women are trafficked, but men are cheated." This misperception does a disservice to people of all genders.
In both countries, many of the services available to trafficking survivors are provided by women's associations—organizations that work to empower women, prevent gender-based violence, and promote women's entrepreneurship. These organizations do not always have the resources or training to appropriately address labor exploitation or human trafficking.
Men are often shut out of accessing these services, since the organizations typically have the mandate and funding to serve women and girls specifically. Gender is also insufficiently addressed at the policy level. For example, Myanmar law fails to protect the identities of male trafficking survivors during the investigation process, only allowing protections for women and children.
Within families and communities, foreign employment is viewed as a rite of passage, especially for young men and boys. Trafficking survivors frequently avoid filing formal complaints. This is for a variety of reasons, including trauma, stigma, and lack of support. Even migrants were trafficked told us that they preferred to report home with good news, in order to save face and avoid being labeled a failure by their families and friends.
Access to justice eludes virtually all returnees
Despite decades of significant investments and progress, legal systems in both countries are not yet equipped to address most migrants' criminal cases. Infractions under foreign employment laws are typically easier and quicker to bring. Even so, returnees and their families often rely on informal mechanisms, such as mediation led by religious leaders or labor unions, to resolve labor migration and exploitation cases.
Migrants still fear reporting to police, despite decades of strong capacity building work with police, prosecutors, and other members of the criminal justice system in both Nepal and Myanmar. Even if reports are filed, they often end up at a dead end. Migrants often cannot afford the required bribes to ensure their cases are investigated, while more powerful and wealthier traffickers can pay to disappear cases.
This creates a cycle in which survivors cannot trust the formal justice system, so they resort to informal approaches and never achieve appropriate justice. The formal criminal justice system is only further weakened.
Recommendations
Trafficking in persons prevention activities need to better serve communities with accurate and context-appropriate information about safer migration.

Often, informational materials exploit fear and insist on regular migration when that is not a realistic option. Migrants are often unaware of the deception and fraud that traffickers employ, such as making false promises regarding employment and wages. Lack of proper information on human trafficking also fuels a misperception that trafficking only involves sexual exploitation of women and girls.

Criminal justice system representatives, like police and prosecutors, must apply more transparent and systematic procedures in investigating human trafficking cases and providing support to survivors.

Implementation of formal victim-friendly procedures should be prioritized, as long legal processes tend to make it difficult for a survivor of trafficking or exploitation to see the case through to a resolution. Intimidation and pressure from traffickers and brokers make survivors less willing to maintain their involvement.

Legal assistance and facilitation must be available at the local level.

Pro bono legal assistance is relatively rare, and the legal process is often time-consuming and demeaning. Without assistance, the opportunity and financial costs of engaging the legal system in a trafficking or labor exploitation case often surpass the potential benefits to survivors.
Read summaries of our assessments from Nepal and Myanmar for more information: